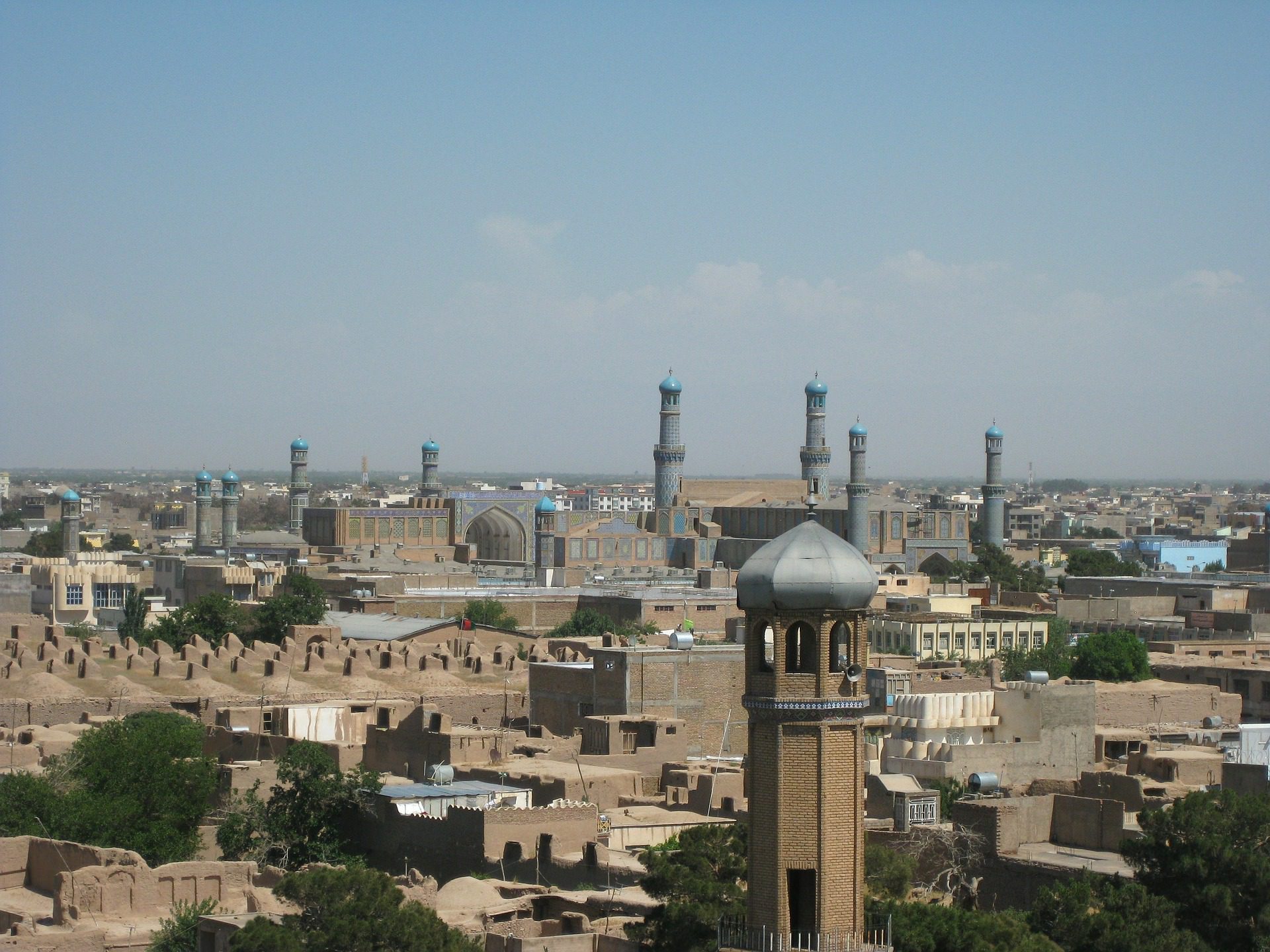 Herat, Afghanistan. Photo by David Mark.
Our recent seminar series, "Extreme Urbanism: A View on Afghanistan," explored the urban issues of Afghanistan along the border of Tajikistan to provide a broader conversation on the nation's architecture and urbanism, presented by Rahul Mehrotra, Professor of Urban Design and Planning at Harvard Graduate School of Design (GSD), and Charlotte Malterre-Barthes, Assistant Professor of Urban Design at the GSD.
Addressing primarily architectural, urban, and territorial aspects of Afghanistan, this cycle of talks delved into urban development and planning, an exploration of traditional architecture and infrastructure, and a look into today's contemporary planning in Afghanistan, identifying challenges and lessons along the way.
Planning for Urban Afghanistan
"In Afghanistan, for the last four or five decades, the condition has been really challenging. In this process of rebuilding, reconstructing, and upgrading, there have been a whole range of actors that have been involved in partnership with the government. That includes external agencies, like the World Bank, USAID, and NGOs — both national and international — and then there's civil society, which includes citizens and universities," said Professor Mehrotra.
Introducing the theme of urban planning in Afghanistan, Professor Mehrotra opened the discussion to discussants to delve into three key challenges that architects and planners face in Afghanistan.
Climate Change
Onno Rühl, General Manager at Aga Khan Agency for Habitat, discussed the issues that architects and urban planners face when presented with the extreme conditions of Afghanistan. "The risk the communities faced was getting worse quite rapidly, and this is a consequence of the risk profile changing due to climate change, particularly in high mountain areas, which are quite prevalent in the geographies that we're talking about," he said. Over 25 years, geologists mapped the hazard risk in more than 2,000 communities in these geographies, building a massive GIS database with detailed risk mapping. "Aga Khan put it in a very beautiful way: planning shouldn't be about what things are, it should be about what things ought to be," said Rühl.
"What's our challenge in Afghanistan?" Rühl asked. "It is at risk from natural disaster and climate change. [In these extreme regions], communities really struggle to survive on the battlefronts of climate change. These people get displaced by floods, rockslides, mudslides, avalanches on a regular basis. On top of that, they get displaced by violence and manmade risks." Because of that, Rühl noted that Afghanistan is a place where extreme urbanism is necessary. "We need to help those high mountain communities plan for what ought to be, plan for an opportunity to thrive, not just be marginal and just manage to scrape by and survive."
Demographic Considerations
Rühl looked at the demographic changes in Afghanistan and the need for a new approach to planning. "Some of the refugees who left Afghanistan will come back to help build a better country," said Rühl. "But even before that is the case, we need to start thinking about urban planning for Kabul that actually helps Kabul become a much better place where people have a much better life, which we believe will help stabilize the community and lower the risk of what we call manmade disasters." Upon their return, many refugees will return to the larger cities, and planners must anticipate and accommodate significant population growth — while creating a place where people want to stay and invest.
There is also the importance of designing cities for all residents and providing equal access to opportunities. "The 'city for all' approach is essential for Afghanistan's success, ensuring that residents will have the economic opportunity, location, and quality of life necessary for a thriving city — and women are at the center of this approach," said Einat Rosenkrantz, Senior Associate and Urban Designer at Sasaki Research, emphasizing the importance of deliberately designing for women in Kabul. "We interviewed almost 100 people in every city that we studied, and we were able to understand how women exercise in the city, how women come together, how they get educated, how they socialize, and more," said Rosenkrantz.
Protecting Afghanistan's Heritage
Despite these many changes, Dennis Pieprz, Principal of Sasaki Research, was keen to note that upholding Afghanistan as a historic and contemporary crossroads of culture, language, economics, and politics is key. "One of our critical approaches was to work with the existing structure of the city. This wasn't about cutting new boulevards through urban fabric, it was to work with what was there." For architects, he believes that the task is not to change the fabric of the city and uproot its culture — it is to provide places for people to live a better life in the city.
Traditional Architecture and Urbanism
In the second session of the series, Charlotte Malterre-Barthes introduced the discussion and its goal: to provide an outlook on traditional architecture and urbanism in Afghanistan, delving into vernacular and building traditions and the maintenance and preservation of historic settlements.
Adapting to Geographical Needs
Ayaz Hosham, Faculty Member in the Architecture Department at Kabul University, detailed a history of different types of housing and architecture in Afghanistan, and how their practice adapted to the different geographies and climates. "Overall, the climate is arid and dry, but, for example, in the northeast part of the country, we have severely cold climates and only nomadic people live there," Hosham said — noting that these groups require flexible and moveable housing.
Hosham discussed traditional housing within the towns and cities, most notably the courtyard houses of Herat. "They have a seasonal wind, and used the wind structure during the summer. The wind from the rooftops evaporates water, and the wind becomes wet and cool and enters the house or the courtyard, which is a great way of cooling the house," said Hosham. Through the lessons his team has learned about the different structures and geographies, they will reintroduce the courtyard housing into the contemporary urban fabric.
Conserving Heritage
Abdul Wasay Najimi, Architect and Conservator at Aga Khan Trust for Culture, discussed built heritage and its conservation, and the importance of teaching and training young architects in conservation and preservation. His team's first project was in Bagh-e-Babur, a Mughal garden established in the early 15th century, followed by work in the Old City. "We trained students of Kabul University and worked with carpenters, masons, and people who worked in that cluster," said Najimi.
In their work at each of these sites, Najimi's team learned some important lessons. "Conservation needs funds and skilled professionals, building archaeologists, architects, and planners, but there's also a need for very good coordination between the government and the departmental sectors, as well as the universities," he said. "Funds need to be allocated for post-conservation maintenance, because that is usually where we fail."
Contemporary Architecture and Urbanism
Moving to contemporary architecture in Afghanistan, Professor Mehrotra noted just how much we can learn from those on the ground. "I think the world has a lot to learn from the experiences of practitioners on the ground who are thinking through really challenging, often wicked problems in these areas," he said.
Rapid Changes to Cities
Between the 1930s and 1970s, Afghanistan set out on an ambitious program of building infrastructure. From dams and factories to roads and tunnels, in the beginning much was funded directly by the government itself, with assistance from Western countries in technical and developmental support. "It set up a race — to provide aid or development — between what was then the Soviet bloc and the West. Various countries sponsored large-scale infrastructure projects, including the Kandahar airport, which was a US-funded project, and likewise the Kabul airport funded by the Soviet Union," said Ajmal Maiwandi, Director of Aga Khan Trust for Culture.
These creations marked a stark departure from the traditional architecture of the nation. "They're quite contemporary and modern. And modern architecture during that time was also meant to be used as a veil to conceal traditional architecture, which had a stigma associated with it — that it was backwards and something that people generally didn't aspire toward," said Maiwandi. From ushering in a departure from the typical houses with courtyards to the installation of multi-story buildings and modernized buildings for tourism, the architecture of Afghanistan changed very rapidly.
Rebuilding to Revive
Over the last 20 years, the international development community has surged into Afghanistan in an effort to stabilize the country after decades of destruction and war. Koukaba Mojadidi, Architect and Founder of Wingspan Architects, and her team worked on an entry for an international competition held by UNESCO for the Bamiyan Cultural Center, in the location where two monumental Buddha statues were destroyed by the Taliban in 2001.
"As practicing architects, we are faced in Afghanistan with a responsibility to create, rebuild, and reconstruct decades [of destruction] for people who are now in need of institutions such as schools, facilities, hospitals, and infrastructure," said Mojadidi, noting the importance of understanding how architecture impacts everyday people on the ground. Her team's efforts in Afghanistan highlighted an essential factor in the urban development of Afghanistan: framing and speaking to the area, its history, and its culture — not just creating another building to feature in a magazine.
"There was a simple consideration in the end: who is this building serving, and what were the functions that needed to exist?" said Mojadidi. It has become imperative in Afghanistan to build with sustainability and culture in mind, creating venues to revive and help villages grow as a community.