Arts at The Mittal Institute
This program connects South Asia's artists with Harvard faculty and students to support research that advances the understanding of social, political, cultural, and economic issues of the world through art.
Made possible by the Arts Advisory Council, the Visiting Artist Program brings early- and mid-career artists from South Asia to Harvard's campus to engage with Harvard students, faculty, and community members. The program allows the Harvard community to engage with artists of diverse backgrounds, whose work in various mediums address social, economic, and political issues in South Asia. During their time on campus, artists attend courses, meet with student groups, give a lecture, and display their work.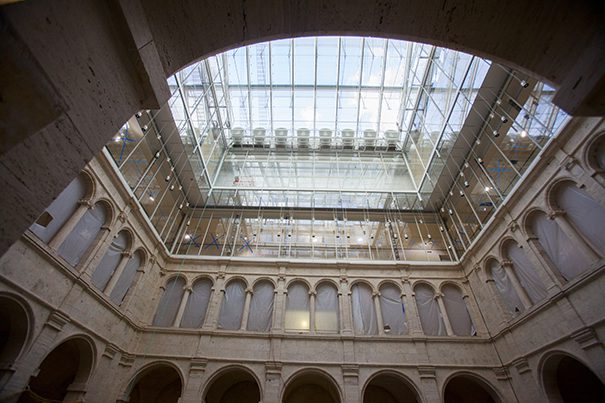 Faculty Director:
Jinah Kim
Gardner Cowles Associate Professor of History of Art & Architecture, Harvard University
The Mittal Institute Arts Initiative is made possible by generous funding from the Donald T. Regan Lecture fund.
Arts Collaborators
Graduate School of Design
The Harvard Graduate School of Design is dedicated to the education and development of design professionals in architecture, landscape, urban planning, and urban design. With a commitment to excellence that demands the skillful manipulation of form and technology and draws inspiration from a broad range of social, environmental, and cultural issues, the GSD is uniquely positioned to provide leadership for shaping the built environment of the 21st century.
---
Harvard Art Museums
Through research, teaching, professional training, and public education, the museums strive to advance the understanding and appreciation of art. Programs encourage close looking at original works of art, collaboration with campus and community partners, and the production of new scholarship.
---
Harvard Business School
The Harvard Business School's mission is to educate leaders who make a difference in the world.
---
Harvard Carpenter Center for the Visual Arts
Carpenter Center for the Visual Arts is dedicated to the synthesis of art, design, and education through the exhibition of existing works and production of new commissions. It strives to bring people, ideas, and objects together in generative ways that provide unparalleled experiences with contemporary art, ultimately enriching the creative and intellectual lives of our audiences.
Harvard Carpenter Center for the Visual Arts
---
Harvard Extension School
Harvard University's primary resource for continuing education for a century, offers open-enrollment classes in nearly 60 fields, including Museum studies.
---
Harvard Faculty of Arts and Sciences
The Faculty of Arts and Sciences, the largest division of the University, is dedicated to being at the forefront of teaching and learning and fostering cutting edge research and discovery.
Harvard Faculty of Arts and Sciences
---