India International Center
---
Why do infectious diseases emerge where they do? What makes them spread so quickly? Where do we look for the next one?
Our world is connected more than ever before by global travel and trade, by technology and by our microbes. Join us for a discussion that examines the connections between human, animal and environmental health, and discover how specialists in India and around the world track and respond to disease outbreaks.
The exhibition is part of an ongoing project at the Harvard Global Health Institute that aims to raise awareness about the factors contributing to infectious disease epidemics.
Ashish Jha
Dean for Global Strategy
K.T. Li Professor of Global Health
Director, Harvard Global Health Institute
Kayla Laserson
Adjunct Lecturer of Epidemiology
Harvard T.H. Chan School of Public Health
Dr. Preetha Rajaraman
U.S. Health Attaché for India and Regional
Representative for South Asia, Department of Health and Human Services (HHS)
Office of the Vice Chairman, NITI Aayog
Former Director, Operation Asha
START
Tue, Dec 4, 2018 at 06:00pm
END
Tue, Dec 4, 2018 at 08:30pm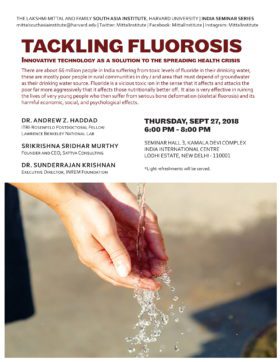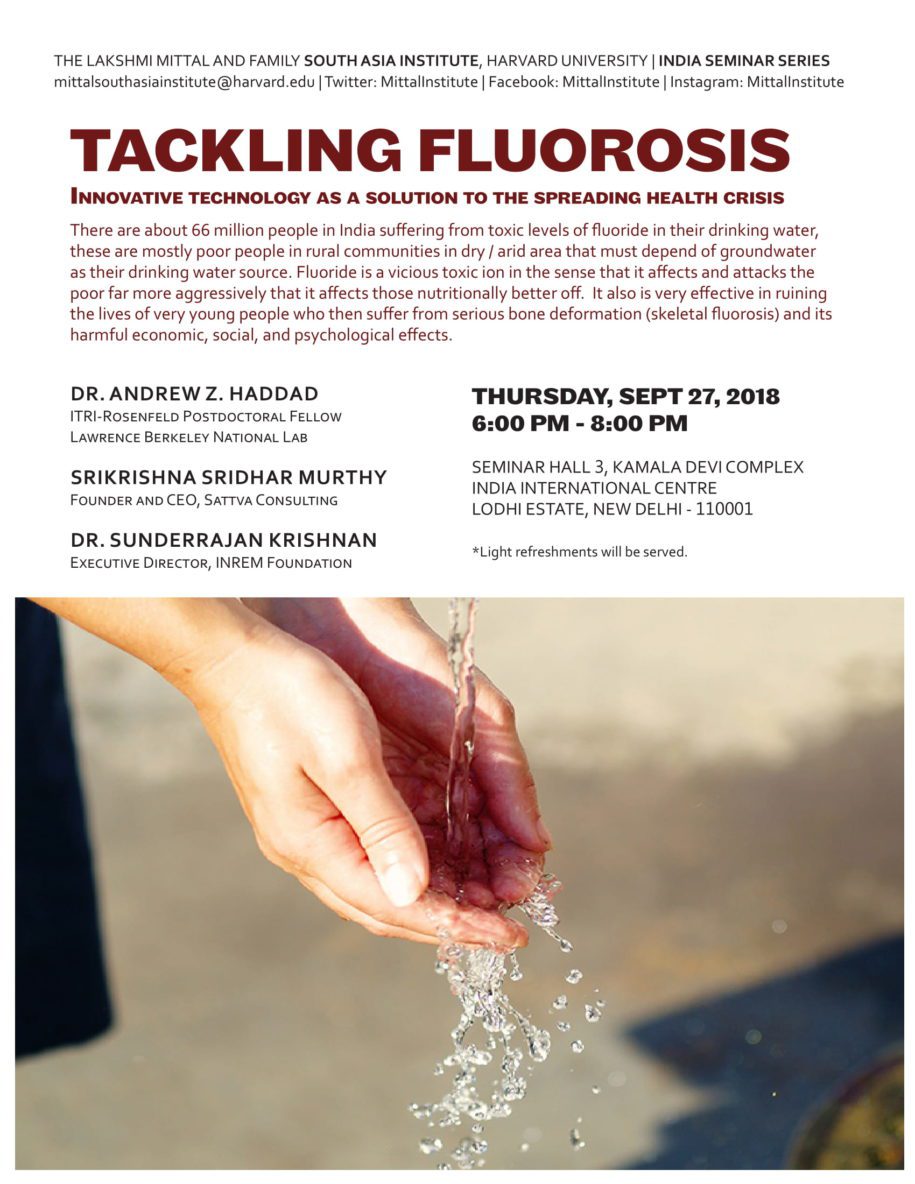 Join us for our ongoing India Seminar Series to discuss the growing challenge of Water Fluorosis, in a discussion titled, 'Tackling Fluorosis: Innovative technology as a solution to the spreading health crisis'
There are about 66 million people in India suffering from toxic levels of fluoride in their drinking water, these are mostly poor people in rural communities in dry / arid area that must depend of groundwater as their drinking water source. Fluoride is a vicious toxic ion in the sense that it affects and attacks the poor far more aggressively that it affects those nutritionally better off. It also is very effective in ruining the lives of very young people who then suffer from serious bone deformation (skeletal fluorosis) and its harmful economic, social, and psychological effects.
The panelists for this discussion include,
– Dr. Andrew Z. Haddad- ITRI-Rosenfeld Postdoctoral Fellow, Lawrence Berkeley National Lab
– Srikrishna Sridhar Murthy- Founder and CEO, Sattva Consulting
– Dr. Sunderrajan Krishnan- Executive Director, INREM Foundation
To RSVP write to mittalinsitutedelhi@fas.harvard.edu and confirm your presence at the event.
START
Thu, Sep 27, 2018 at 06:00pm
END
Thu, Sep 27, 2018 at 08:00pm
GOINGS AND COMINGS: THE CHANGING PATTERNS OF INFECTIOUS DISEASES IN INDIA AND SOUTH ASIA
RICHARD CASH
Senior Lecturer on Global Health, Department of Global Health and Population, Harvard University
THURSDAY, FEBRUARY 22, 2018
6-7:30 PM FOLLOWED BY HIGH TEA
Seminar Hall-1 at the Kamla Devi Complex
India International Center
40, Max Muller Marg
Lodhi Road
New Delhi
RSVP- Sanjay Kumar at sanjay_kumar@harvard.edu
The talk focuses on infectious diseases that have disappeared and others that are new or reemerging.
This event is free and open to the public.
START
Thu, Feb 22, 2018 at 06:00pm
END
Thu, Feb 22, 2018 at 07:30pm