Piper Auditorium
Graduate School of Design
Harvard University

---
48 Quincy Street, Cambridge, MA
---
Cosponsored Event
Julia King, Architectural designer and urban researcher, LSE Cities, London School of Economics and Political Science
Diana Al-Hadid, Designer
Dr. Atyia Martin, Chief Resilience Officer for the City of Boston; Adjunct faculty in the Master of Homeland Security at Northeastern University
Moderator:Susan Surface, Program Director at Design in Public
On March 8, 2016, Women in Design, a Harvard Graduate School of Design student group, will celebrate its third-annual International Women's Day. Dedicated to empowering women designers, we propose an open dialogue on what it means to be a creative woman developing, challenging, and innovating her craft in the 21st century. In exploring conventional and potential modes of practice, we aim to cultivate radical alternatives to the dominant roles and methods of our fields. As we reflect on strides the design fields have made toward achieving gender equity, we see International Women's Day 2016 as a catalytic platform to investigate how radical practice can re-situate—and revolutionize—our work.
Women in Design continues to challenge how women, as well as other underrepresented groups in the design disciplines, can work for equity across representation, compensation, and valuation. To mark this year's International Women's Day, we have invited pioneering women practitioners across the design disciplines to engage and share their backgrounds, experiences, and philosophies of radical practice—the what, how, and why (or why not). In this spirit, we invite you to join us in questioning and speculating how, both individually and collectively, we can radically transform the design field.
Cosponsored with Women in Design, Harvard Graduate School of Design
START
Tue, Mar 8, 2016 at 06:30pm
END
Tue, Mar 8, 2016 at 08:00pm
Urbanization Seminar
Katherine Boo, New Yorker Staff Writer, Author of Behind the Beautiful Forevers: Life, Death and Hope in a Mumbai Undercity, Senior Loeb Scholar at the Harvard Graduate School of Design
Katherine is a staff writer at the The New Yorker Magazine and the author of Behind the Beautiful Forevers, winner of the National Book Award and PEN/Galbraith Award. Her journalism on how social and economic policy affects disadvantaged communities combines immersive and investigative techniques, and has been recognized by a MacArthur "Genius" Fellowship, a National Magazine Award, and a Pulitzer Prize for Public Service.
Cosponsored with the Harvard Graduate School of Design
START
Thu, Feb 20, 2014 at 06:30pm
END
Thu, Feb 20, 2014 at 08:00pm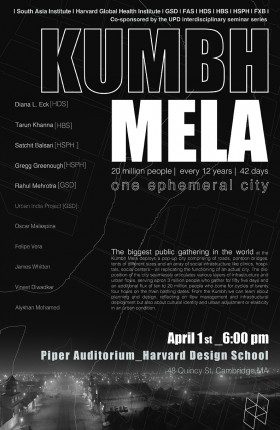 Diana Eck (HDS), Tarun Khanna (HBS), Sachit Balsari (HSPH), Gregg Greenough (HSPH), and Rahul Mehrotra (GSD)
Urban India Project (GSD): Oscar Malaspina, Felipe Vera, James Whitten, Vineet Diwadkar, Alykhan Mohamed
Reception to follow
Video the event:
START
Mon, Apr 1, 2013 at 06:00 pm
END
Mon, Apr 1, 2013 at 07:30 pm