Starr Auditorium
---

Starr Auditorium Harvard Kennedy School
START
Fri, Feb 10, 2017 at 05:00pm
END
Fri, Feb 10, 2017 at 07:30pm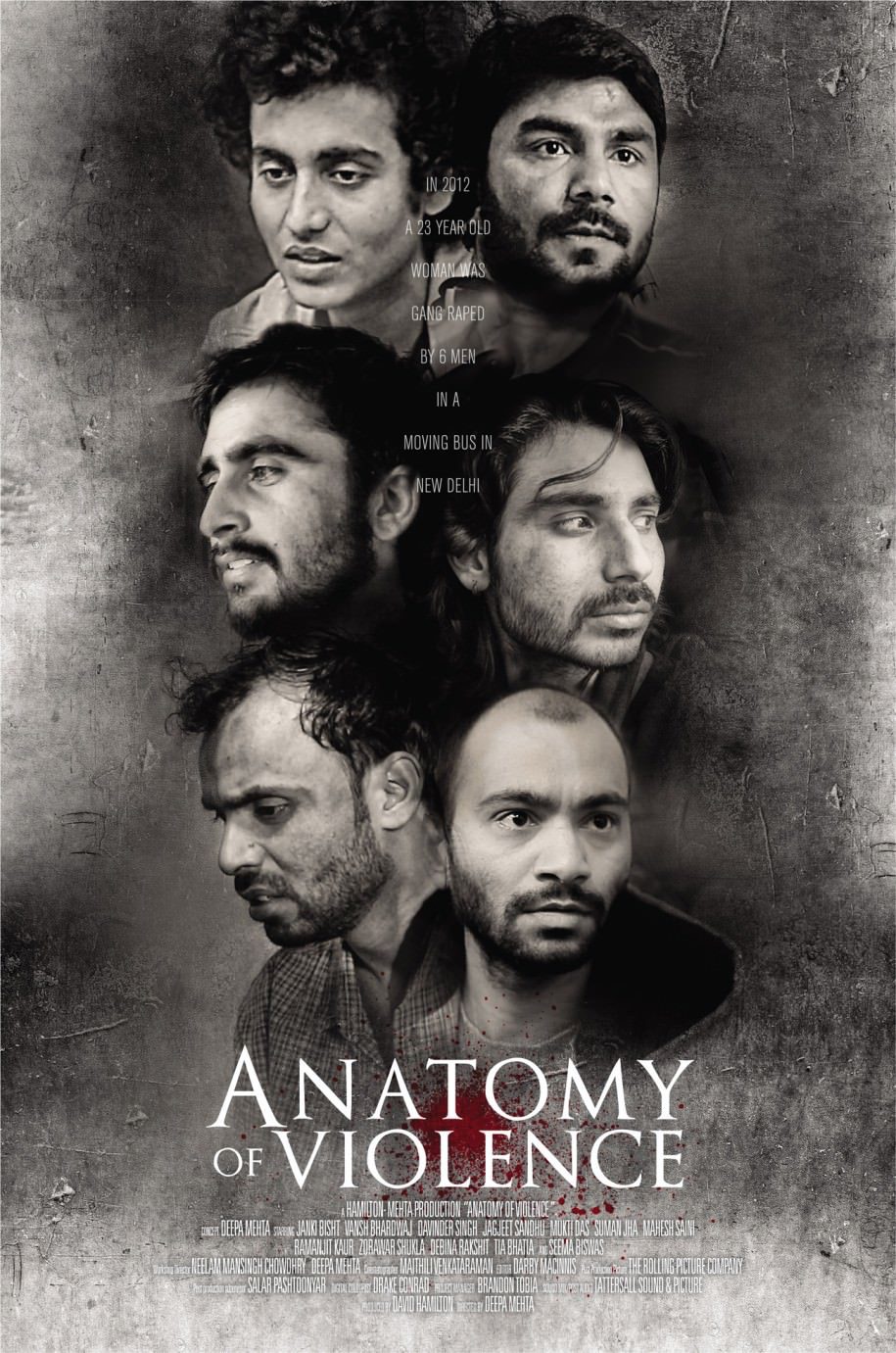 Film Screening
Deepa Mehta, Filmmaker
Deepa Mehta will be screening her latest movie 'The Anatomy of Violence' on the sidelines of the India Conference. The screening will be followed by a Q&A session with Ms. Deepa Mehta, a UN representative, Harvard student activist Gulika Reddy, and Harvard Professor Jacqueline Bhabha
Celebrated filmmaker Deepa Mehta investigates one of India's most notorious crimes — the 2012 gang rape and murder of a 23-year-old woman on a Delhi bus — in her angry, impassioned and essential new film.
In December 2012, a 23-year-old woman and her friend got on a private bus in Delhi. The men already on board — five passengers and the bus driver — gang-raped the woman, beat her friend, and threw them onto the street. The woman died of her injuries two weeks later. The case made worldwide news and was instrumental in activating Indian policy discussions about women's rights and the government's duty to prosecute for rape.
Deepa Mehta's Anatomy of Violence takes a fearless approach to the topic. In collaboration with theatre artist Neelam Mansingh Chowdhry, Mehta worked improvisationally with her actors to envisage possible sociological and psychological backgrounds and pasts for the perpetrators and the victim. The film posits formative events in the men's lives, imagining the origins of their violent, remorseless personalities, while presenting the woman's life in parallel.
This event is free and open to the public. Seating will be first come first serve.
START
Thu, Mar 26, 2015 at 06:00pm
END
Thu, Mar 26, 2015 at 08:00pm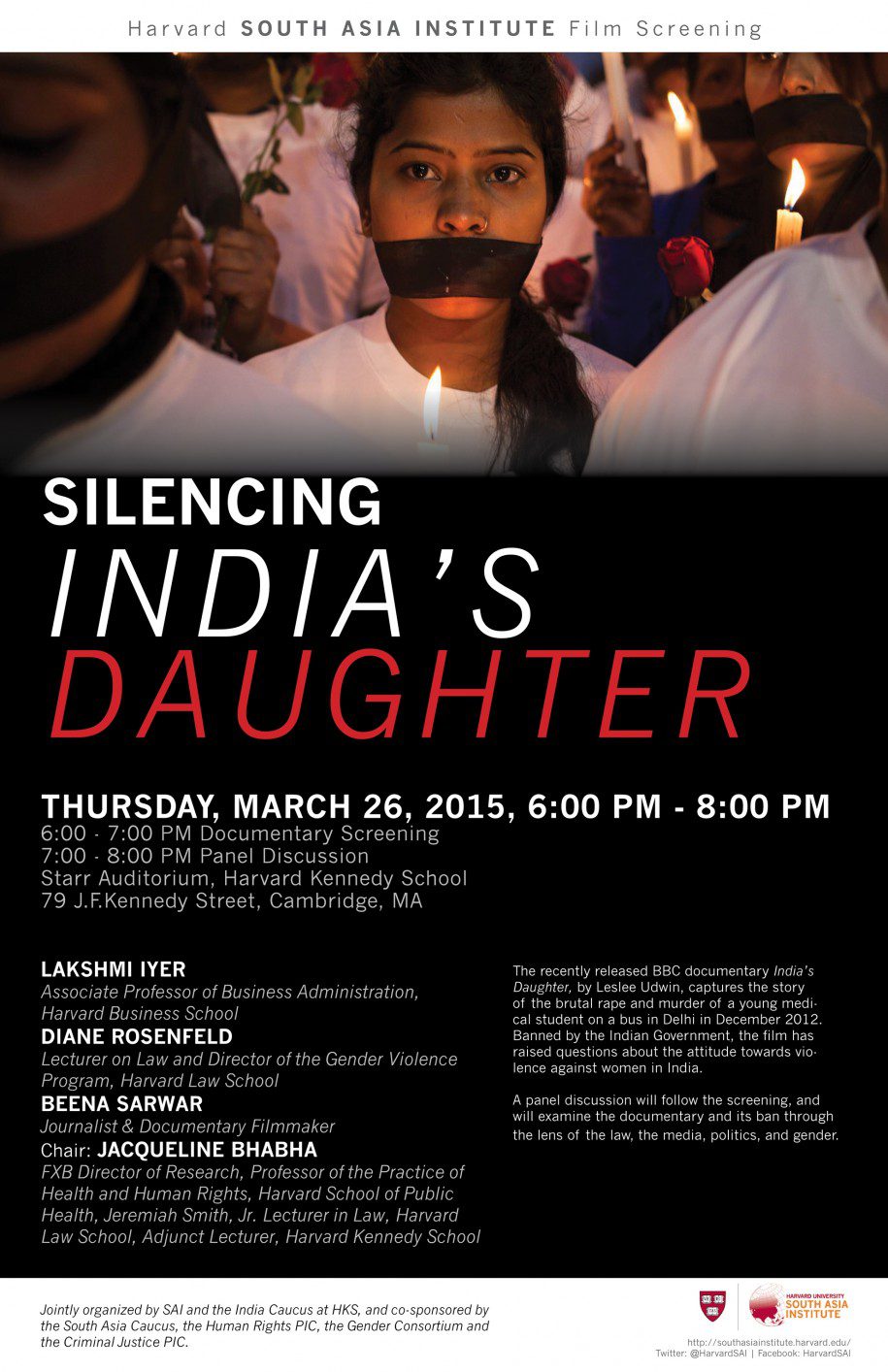 6:00 – 7:00 PM Documentary Screening
7:00 – 8:00 PM Panel Discussion
Lakshmi Iyer, Associate Professor of Business Administration, Harvard Business School
Diane Rosenfeld, Lecturer on Law and Director of the Gender Violence Program, Harvard Law School
Beena Sarwar, Editor, Aman ki Asha, Jang Group Pakistan; former Nieman Fellow and Fellow at the Carr Center for Human Rights Policy, Harvard Kennedy School
Chair: Jacqueline Bhabha, FXB Director of Research, Professor of the Practice of Health and Human Rights, Harvard School of Public Health, Jeremiah Smith, Jr. Lecturer in Law, Harvard Law School, Adjunct Lecturer, Harvard Kennedy School
The recently released BBC documentary India's Daughter, by Leslee Udwin, captures the story of the brutal rape and murder of a young medical student on a bus in Delhi in December 2012. Banned by the Indian Government, the film has raised questions about the attitude towards violence against women in India.
A panel discussion will follow the screening, examining the documentary and its ban by the Indian Government through the lens of the law, the media, and gender.
Jointly organized by SAI and the India Caucus at HKS, and co-sponsored by the South Asia Caucus, the Human Rights PIC, the Gender Consortium and the Criminal Justice PIC.