Yenching Auditorium
Yenching Auditorium
2 Divinity Avenue
Cambridge, MA 02138
START
Thu, Mar 10, 2016 at 04:00pm
END
Thu, Mar 10, 2016 at 07:00pm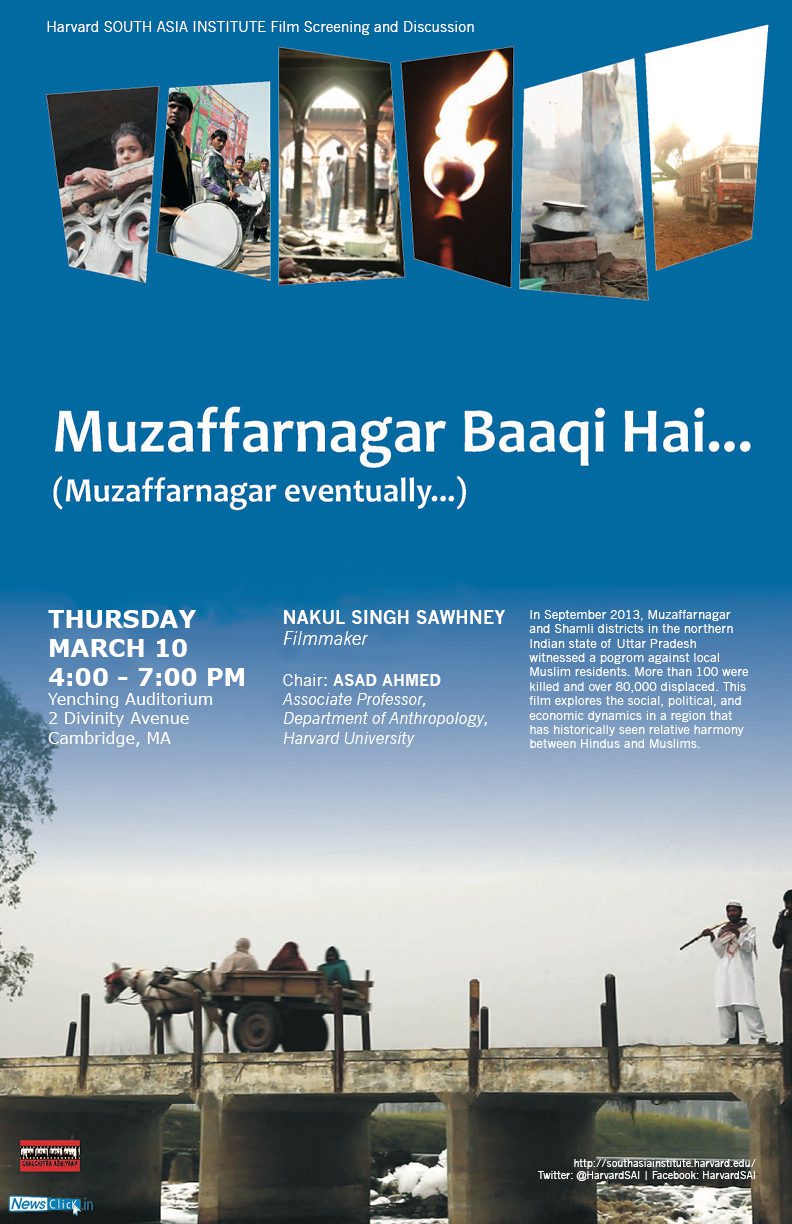 Film Screening and Discussion
Nakul Singh Sawhney, Filmmaker 
Chair: Asad Ahmed, Associate Professor, Department of Anthropology, Harvard University
In September 2013, Muzaffarnagar and Shamli districts in the northern Indian state of Uttar Pradesh witnessed a pogrom against local Muslim residents. More than 100 were killed and over 80,000 displaced. This film explores the social, political, and economic dynamics in a region that has historically seen relative harmony between Hindus and Muslims. What happened this time? The film cuts across multiple facets of violence that right-wing nationalism has wrought in north India: 'honor' politics, gender violence, caste and class polarization under the umbrella of Hindu-ness or Hindutva. The film also shows how non-Hindutva parties in the region play along with such polarizing rhetoric in the hopes of electoral windfalls in their favor.
In the midst of this violence, the film also narrates a growing resistance in Muzaffarnagar and Shamli, where the story has yet to be played out. 'What will be the fate of Muzaffarnagar, eventually?'
Sawhney graduated from the Film and Television Institute of India in 2006. His films focus on labor, gender, and caste issues in north India.
START
Thu, Sep 24, 2015 at 04:00pm
END
Thu, Sep 24, 2015 at 06:30pm
Film Screening and Panel Discussion
Geeta Aiyer, Founder, Direct Action for Women Now Worldwide (DAWN)
Elora Halim Chowdhury, Associate Professor and Chair of Women's and Gender Studies, U-Mass Boston
Beena Sarwar, Editor, Aman ki Asha, Jang Group Pakistan; former Nieman Fellow and Fellow at the Carr Center for Human Rights Policy, Harvard Kennedy School
Rahul Roy, Director
Chair: Parimal G. Patil, Professor of Religion and Indian Philosophy, Committee on the Study of Religion, FAS, Chair of the Department of South Asian Studies
In 1999 the film, When four friends meet, ends with the promise that the four young men who are the main protagonists of the film and the director will meet again in ten years. They do meet again in 2012 and the world seems to have changed in the years that have gone by. The four friends are now married, have children and entirely new ideas like the share market have made an entry into what was a working class resettlement area of Delhi. The documentary (90 min, 2013) explores through the everyday of four men the experience of a changing Delhi and how it intersects with their marriage, children, families and work. The documentary criss-crosses between 1998 and 2012 to set up a story that spans more than a decade and brings us up close to the unpredictability of life as well as continuities that belie any simple answers to the idea of the city, its working populations, change and men.
Cosponsored with the Department of South Asian Studies, Harvard Asia Center, Political Anthropology Working Group, The Sensory Ethnography Lab, and The Film Study Center
START
Wed, Sep 23, 2015 at 04:00pm
END
Wed, Sep 23, 2015
Film Screening and Discussion
Q+A with Rahul Roy, Director
Sunder Nagri (Beautiful City) is a small working class colony on the margins of India's capital city, Delhi. Most families residing here come from a community of weavers. The last ten years have seen a gradual disintegration of the handloom tradition of this community under the globalisation regime. Families have to cope with change as well as reinvent themselves to eke out a living. The City Beautiful (78 min, 2003) is the story of two families struggling to make sense of a world, which keeps pushing them to the margins.
Cosponsored with the Department of South Asian Studies, Political Anthropology Working Group, Harvard Asia Center, The Sensory Ethnography Lab, and The Film Study Center
Tuesday, September 22: Screening of When Four Friends Meet & Majma
Thursday, September 24: Till We Meet Again Screening & Panel Discussion on Masculinity and Gender Violence in India
Friday, September 25: The Factory screening and  Q & A with Rahul Roy