SAI Annual Mahindra Lecture
Past Mahindra Lectures

Madhur Jaffrey, Food Expert, Writer and Actress
A Mind of Her Own: Writing, Performing, Cooking, from Delhi to New York, 2023
Watch the video
Devaki Jain, Economist and Writer
Engaging with India: Engaging with Feminism, 2019
Listen to the podcast
Arun Jaitley, Minister of Finance and Corporate Affairs, Government of India
India's Tax Reforms, 2018
Listen to the podcast
TM Krishna, Musician and Vocalist
The Social Texture of an Artist: Listening and Empathy, 2016/17
Thodur Madabusi Krishna is a vocalist in the Carnatic tradition, as well as a renowned and respected public speaker and writer.
Read more
Nandan Nilekani, Co-Founder of Infosys
Aadhaar, 2014
Nandan Nilekani is an Indian industrialist and former Chairman of the Unique Identification Authority of India.
Read more and watch the video
Sir Fazle Hasan Abed, Founder and Chairperson of BRAC
Poverty and Development in South Asia, 2014
Read more and watch the video
Raghu Rai, Photographer and Photojournalist
2013
Read more and watch the video
Dr. A.P.J Kalam, 11th President of India
Empowering Three Billions, 2011
A career scientist who became a statesman, Dr Kalam played a key role in India's defence and space programmes for four decades.
Read more and watch the video
Nirupama Rao, Foreign Secretary of India
India's Global Role, 2009
Nirupama Roa joined the Indian Foreign Service in 1973 and served in various world capitals, including Washington, Beijing and Moscow. She then began a two-year term as the Ambassador of India to the United States in September 2011.
P. Chidambaram, Finance Minister, Government of India
Poor Rich Country: The Challenges of Development, 2007
P. Chidambaram is an Indian politician affiliated with the Indian National Congress and a former Union Minister of Finance.
Pranab Mukherjee, Minister of Defense, Government of India
India's Security Perspective, 2006
Pranab Mukherjee is the 13th President of India. He was Union Finance Minister from 2009 to 2012.
Past Lecture Images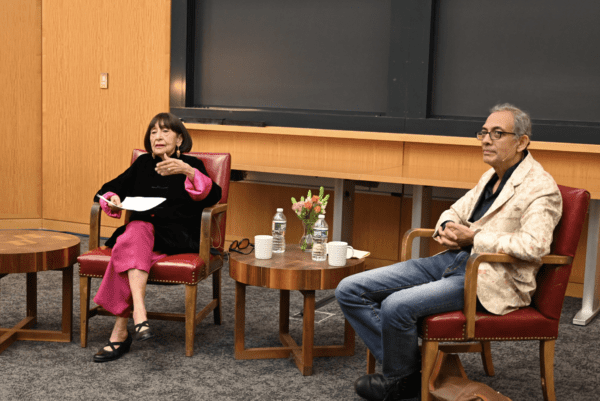 Madhur Jaffrey in conversation with Prof. Abhijit Banerjee, 2023