Harvard's South Asia-related

student groups

host many events both on campus and in the region throughout the year.
Upcoming events: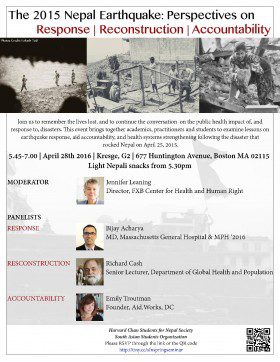 April 28, 2016, 5:45-7:00PM
The 2015 Nepal Earthquake: Perspectives on Response, Reconstruction, Accountability
Join us to remember the lives lost, and to continue the conversation on the public health impact of, and response to, disasters. is event brings together academics, practitioners and students to examine lessons on earthquake response, aid accountability, and health systems strengthening following the disaster that rocked Nepal on April 25, 2015
Bijay Acharya, MD, Massachusetts General Hospital & MPH '2016
Richard Cash, Senior Lecturer, Department of Global Health and Population
Emily Troutman, Founder, Aid.Works, DC
Moderator: Jennifer Leaning, HSPH; Director, FXB Center for Health and Human Rights
Kresge, G2 | 677 Huntington Avenue, Boston MA 02115
Light Nepali snacks from 5.30pm
Organized by Harvard Chan Students for Nepal Society, South Asian Students Organization
Please RSVP through the link: http://tiny.cc/sfnspringseminar
Please email Meghan Smith, meghansmith@fas.harvard.edu, to have your event listed here.