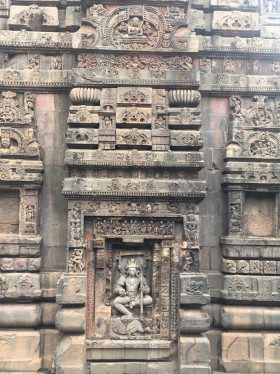 This is part of a series in which we share reports from Harvard students who have traveled to South Asia with support from a SAI grant.
By Sonali Dhingra, PhD candidate, History of Art and Architecture, Harvard
My dissertation on "Buddhist art in Odisha between the seventh and eleventh century" is based on sculptural and architectural remains from the south-eastern Indian coastal state of Odisha. A generous grant from the South Asia Institute at Harvard enabled me to learn Odia, the primary language spoken in region. I spent the summer in the green and beautiful city of Bhubaneshwar, also known as the "city of temples".
Classes were arranged through the American Institute of Indian studies, as Odia is not taught at Harvard and is seldom learned by graduate students working on South Asia. In fact, I was the only student in the program which was consequently well-tailored to my needs. The language program segued seamlessly into my field-work year and after a successful completion of the program, I visited several living temples, small villages and archaeological sites in rural Odisha, where knowing Odia is a definite asset. Medieval Odiya literature is indispensable for tracing the lives of the images and architectural spaces that I am studying for my dissertation project.