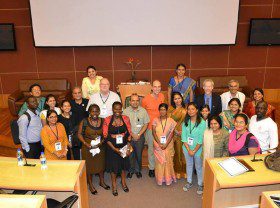 Emerging demographic, economic and dietary factors suggest that a large burden of preventable illness is poised to develop in India requiring training for a new cadre of Indian nutrition scientists. There is a great need for nutrition researchers in the country, but few training programs exist.
In response to this critical gap in training, the Bangalore Boston Nutrition Collaborative (BBNC), a collaboration between St. John's Research Institute in Bangalore (SJRI), Harvard School of Public Health (HSPH), and Tufts University, was initiated in 2009 to build capacity and to provide research training for young professionals in the fields of nutrition and global health from India and other countries in the region.
SAI supports the project, as its goals align with SAI's own vision of interdisciplinary collaboration to seek innovative solutions to critical issues in South Asia.
The Collaborative recently wrapped up its sixth annual course in January2015 in Bangalore. The intensive 2 week course provided up and coming Indian faculty and graduate students with skills needed for research careers in public health and nutrition.