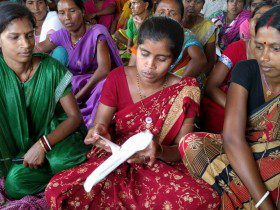 This is part of a series of profiles of Harvard alumni who are young entrepreneurs in South Asia.
Menstrual hygiene is an obstacle for women in many developing countries, including India. Even as the use of sanitary pads becomes more widespread, new environmental problems have emerged for proper disposal.
Saathi, founded by several MIT/Harvard graduates who met while studying mechanical engineering, is trying to change that. They have developed an eco-friendly pad made entirely from local banana fiber that is fully compostable and bio-degradable.
SAI recently spoke with three of the founders, Kristin Kagetsu, CEO, Amrita Saigal, CFO, and Grace Kane, CTO, to learn more about the product and how they hope it improves the lives of women in India.