Building Bharat-Boston Biosciences (B4) Program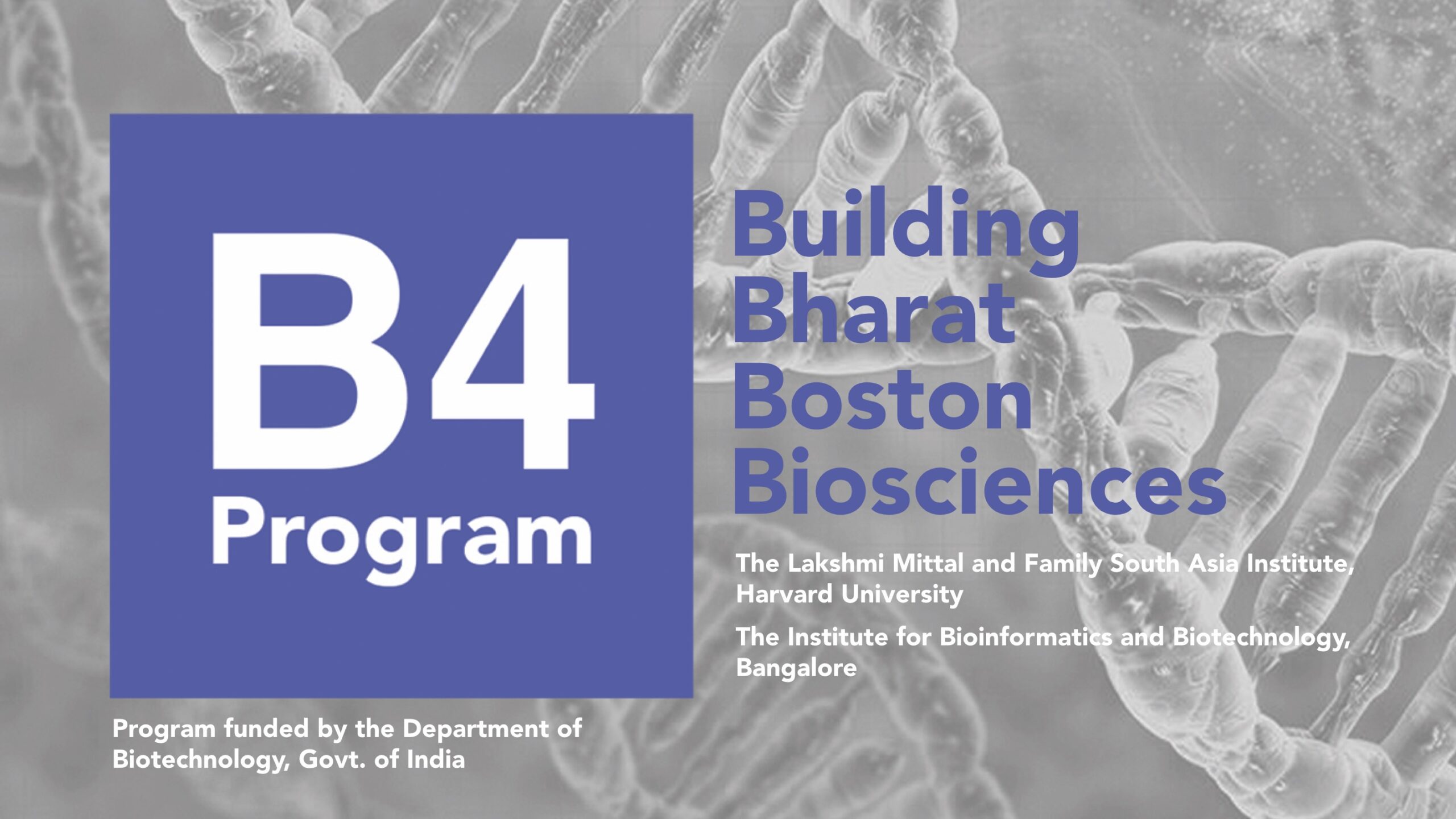 The goal of the Building Bharat-Boston Biosciences (B4) Program is to build a scientific research corridor between India and Boston in the fields of biosciences and biotechnology. The program develops partnerships with leading institutions in India and the US and regularly engages scientists from India and Harvard through exchange programs.
Faculty Director
Venkatesh Murthy, Raymond Leo Erikson Life Sciences Professor of Molecular and Cellular Biology, Harvard University
The B4 Program has built a scientific research corridor between India and Boston in the fields of Biosciences and Biotechnology, bridging numerous communities to share their knowledge and promote a culture of scientific literacy.
Funded by the Department of Biotechnology within the Government of India, the B4 program is a collaboration between the Institute of Bioinformatics and Applied Biotechnology (IBAB) in Bangalore, the Harvard Global Research Support Centre India, and the Lakshmi Mittal and Family South Asia Institute at Harvard University. The program began in 2016 and is currently in its second phase. It builds upon the Resonance Program, a collaboration between MIT, Harvard, and IIT Delhi.
Each year, the B4 Program hosts the following activities:
Fellowship: Up to eight 18-month science and technology fellowships are offered in bioscience-related fields at Harvard and other institutions in the Boston area.
Visiting Scientist Program: The B4 Program hosts Visiting Scientists for 12 months in fields related to the biosciences at Harvard University and other Boston-area institutions. This program is open to Assistant Professors/Scientists (holding Ph.D.) not exceeding 42 years of age and working in regular capacity in the academic institutions and research organizations in India during the first 7 years of their service.
Young Scientist Development Course: Two annual workshops, each spanning two weeks, are held on topics related to the biosciences and provide interdisciplinary learning for young scientists of India.
In-Country Seminar: Two annual seminars, each held in a city in India, highlight the work of the returning B4 fellows.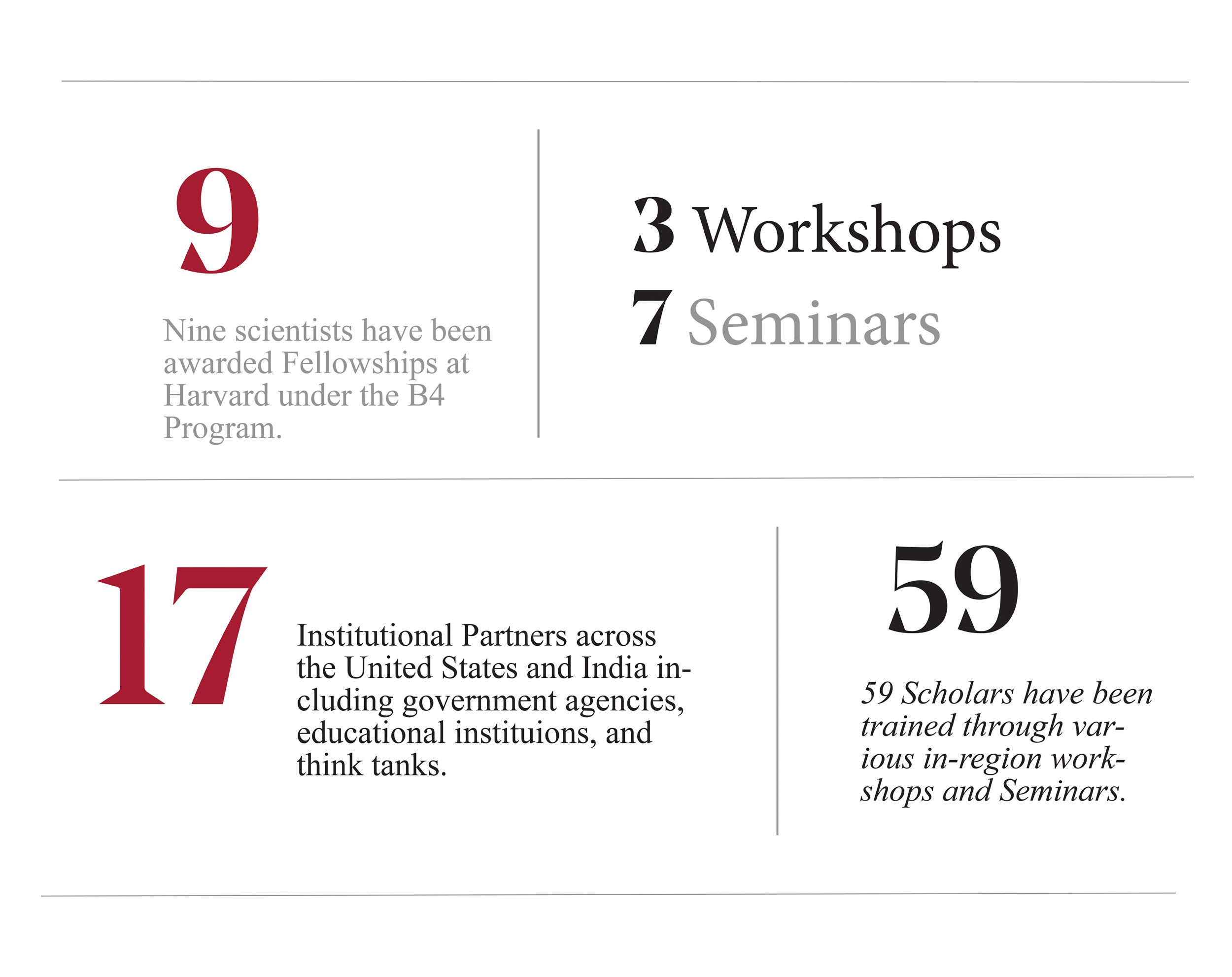 Each B4 fellow is matched with a lab in Boston that focuses on a research topic of their particular area of expertise within the biosciences. 
The B4 Program connects faculty from various research institutions in the US and India to promote innovation and entrepreneurship in the biosciences.
Partner Institutions
The Lakshmi Mittal and Family South Asia Institute, Harvard University
Department of Biotechnology (DBT), Ministry of Science and Technology
Institute of Bioinformatics and Applied Biotechnology (IBAB), Bengaluru
Indian Institute of Science Education and Research (IISER), Pune
This opportunity gave me the capacity to equip myself with new and diverse skill sets and technical knowledge to gain the confidence I needed to set up and establish my own research group once when I came back to India.
I am very excited that I will be working alongside leading scientists and will be exposed to the culture of one of the world's oldest universities. I also look forward to experiencing America firsthand.
During my fellowship, I hope to apply my past knowledge and gain fruitful exposure to the world of science. In this respect, Boston has a vast academic culture that will allow sharing of scientific experiences and will strengthen my research capabilities through exposure to challenging tasks.
We're on a symbiotic, equal footing now in India. It's not us going there and telling people in India what to do — it has striven very hard to be equal. That's why this fellowship program is very important.
The postdocs come here for training they may not have had during their own PhD studies. They can then use these skills somewhere else, and return to India to continue this research and start their careers.