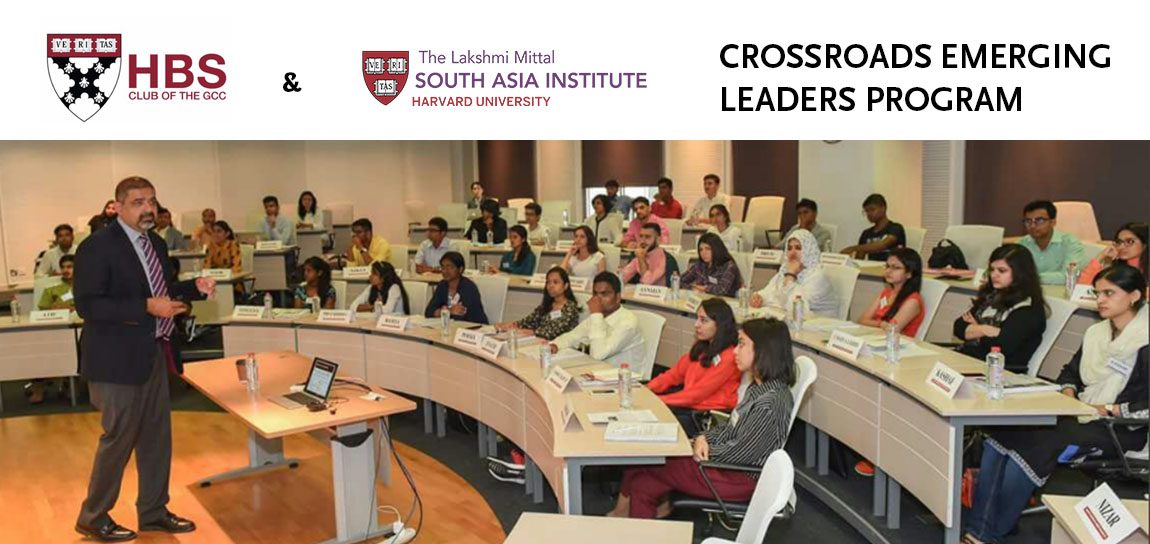 Applications for the 2018 program are now CLOSED.
Are you from South Asia, Central Asia, the Middle East or Africa?
Are you a current or recent undergraduate?
Are you a first-generation college student?
If the answer to these questions is "YES!", you may be eligible to apply for the Lakshmi Mittal South Asia Institute's Second Annual Crossroads Program, a unique, fully-funded opportunity to learn from Harvard professors, who will be teaching an intensive, multidisciplinary curriculum in Dubai from September 23-27, 2018.
Applications from other developing countries will also be considered.
The application instructions are here.
Program details
Class size: up to 120 students

Short listed candidates will be asked to submit a 2 minute video sharing their leadership experience and why they should be considered for the program.

Location: Dubai International Financial Centre, Dubai
Cost: FREE (The program will cover the costs of international travel, board, lodging and class materials. Visa costs are the responsibility of selected candidates.)
Application deadline:

June 30

, 2018 11:59 PM Eastern Standard Time (EST) for new applications,

July 5th

, 2018, 12:00 PM Eastern Standard Time (EST) for partially completed and saved applications in CARAT.
Questions? Write to hucrossroads@gmail.com
Faculty Leaders
Tarun Khanna is the Jorge Paulo Lemann Professor at Harvard Business School and Director of the Lakshmi Mittal South Asia Institute, Harvard University.
Karim R. Lakhani is the Charles E. Wilson Professor of Business Administration at Harvard Business School, co-director of the Laboratory for Innovation Science at Harvard, and the faculty co-founder of the HBS Digital Initiative.
This program is a collaboration between the Mittal Institute and the Harvard Business School Club of the Gulf Cooperation Council (GCC). Our partners are DIFC, Air Arabia, Dubai Future Accelerator and Expo 2020. The co-sponsors are Center for Middle Eastern Studies, Harvard University, and the Harvard University Center for African Studies.
Before contacting the Lakshmi Mittal South Asia Institute, please read through the answers to Frequently Asked Questions.
Deadline for New Applications: June 30, 2018, 11:59PM EST.
If you have not yet saved a partially completed application in CARAT, the application deadline is still June 30th, 11:59 PM EST.
Deadline for Saved Applications: July 5th, 2018, 12:00PM EST.
If you have saved a partially completed application in CARAT, you have until July 5th at 12:00 PM EST to complete it.