**Due to recent developments relating to COVID-19, the Seed for Change program for the 2019–2020 academic cycle has been suspended. Please check back in Fall 2020 for information on the next application cycle.**
The Seed for Change Program aims to develop a vibrant ecosystem for innovation and entrepreneurship in India and Pakistan through an annual competition run by the Lakshmi Mittal and Family South Asia Institute, Harvard University (The Mittal Institute), in which grant prizes will be awarded to interdisciplinary student projects that positively impact societal, economic, and environmental issues in India and Pakistan. Projects in the early 'seed' stages are prioritized rather than start ups that, while they may be in stages of infancy, have previously received substantial support.
India
Up to two runner-up teams may receive up to $5,000.
The winning team will receive up to $40,000.
Pakistan
The winning team will receive up to $15,000.
Teams must have at least one current Harvard student at the time of submission. This can include undergraduate students, graduate students, or doctoral students. The maximum number of people per team is four. A Harvard faculty member must submit an endorsement letter either directly into CARAT, or send it to srafey@fas.harvard.edu. The endorsement letter confirms that the team has communicated with a Harvard faculty member about the idea, and the faculty can speak to the strength of the proposal and applicants.
All applicants will submit a formal proposal and selected applicants will be asked to participate in a pitch presentation in late March. The tiered review process involves an initial internal review of feasibility, methodology, and ethical implications. The review panel will recommend proposals for the pitch presentation.
At the pitch presentation, three finalists for each India and Pakistan projects will be chosen by a mixed panel of experts. Finalists will then develop their project before the showcase event in May, where the grand prize winners will be announced. Grants will be used for the duration of one year, from May 2020 to May 2021. The grant prize will contribute to the establishment of partnerships with local organizations, and experiments to test the viability of ideas in India and Pakistan.
---
The Seed for Change Competition for the 2019–2020 academic cycle has been postponed.
Applications that are not complete will not be considered.
The Seed for Change competition is made possible by a generous grant from KP Balaraj MBA '97 and Sumir Chadha MBA '97.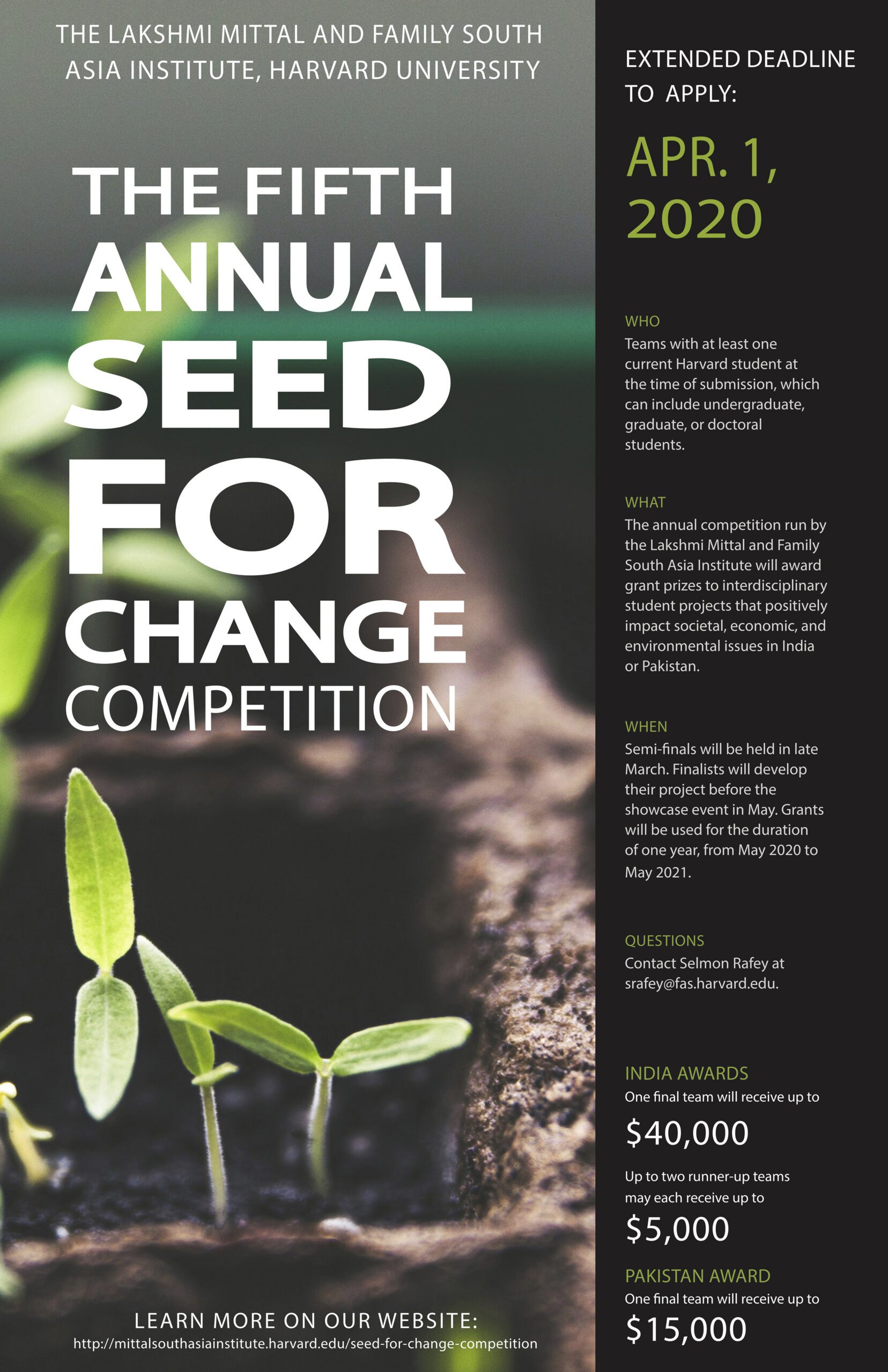 2019 Winners
Gramhal: Gramhal is a social enterprise that builds smallholder farmers' agency and increases their income by unlocking post-harvest services of storage, credit, and market linkage via a digital platform.
Vikas Birhma, MPP '19 at Harvard Kennedy School
Pankaj Mahalle, Tata Institute of Social Science, Mumbai
Riskboard: Riskboard is an app in development that will harness online data via social media and open source media data sites to monitor political risk and human rights abuses in India.
Pradeepan Parthiban, ALM '19 at Harvard and Tech + Human Rights researcher at Harvard Kennedy School
Ori Pleban, MPP '19 at Harvard Kennedy School
Arjun Bisen, MPP '19 at Harvard Kennedy School
Ryan Jiang, BA '20 at Harvard College
Meet: Meet is an employment app for India that connects verified employers and job-seekers, providing both with trusted information, such as reviews, job openings, and profiles to support better matching.
Vish Srivastava, MDE '19 at Harvard Graduate School of Design and Harvard John A. Paulson School of Engineering and Applied Sciences
Ankit Chugh, Medha, India