The Mittal Institute is excited to launch the Seed for Change Exploratory Grant Program this summer!
The Seed for Change (SFC) competition aims to develop a vibrant ecosystem for innovation and entrepreneurship in India and Pakistan through an annual competition run by the Lakshmi Mittal and Family South Asia Institute at Harvard University. Grant prizes will be awarded to interdisciplinary student projects that positively impact societal, economic, and environmental issues in India and Pakistan.
The Mittal Institute recognizes that as a result of COVID-19, we have all had to make adjustments to our daily lives. We also know that students are doing their best under the circumstances to continue learning in new and creative ways. In light of this, we're offering a one-time SFC Exploratory Grant to students who are currently working on ideas or a project that addresses intractable problems in India and Pakistan. The grant aims to support students who are interested in developing their projects by refining an idea or a product design, connecting with in-region partners and organizations, considering growth and sustainability plans to further their knowledge about the region, and more.
In addition to our annual Seed for Change competition, which will take place in Spring 2021, this Exploratory Grant Program will run from September 2020 to February 2021.
Applicants can receive up to $5,000 to support their efforts. Applications can be submitted throughout the summer on a rolling deadline until Monday, August 31st as long as funds are still available.
Students will have the fall semester and the winter session to use their grant funds. SFC grant recipients can also apply for the full Seed for Change competition in Spring 2021. Information on the application process and deadlines will be released in the coming months.
---
At this time, funds are no longer available for additional application submissions. Please reach out to Selmon Rafey (srafey@fas.harvard.edu) with any questions.
The Seed for Change competition is made possible by a generous grant from KP Balaraj MBA '97 and Sumir Chadha MBA '97.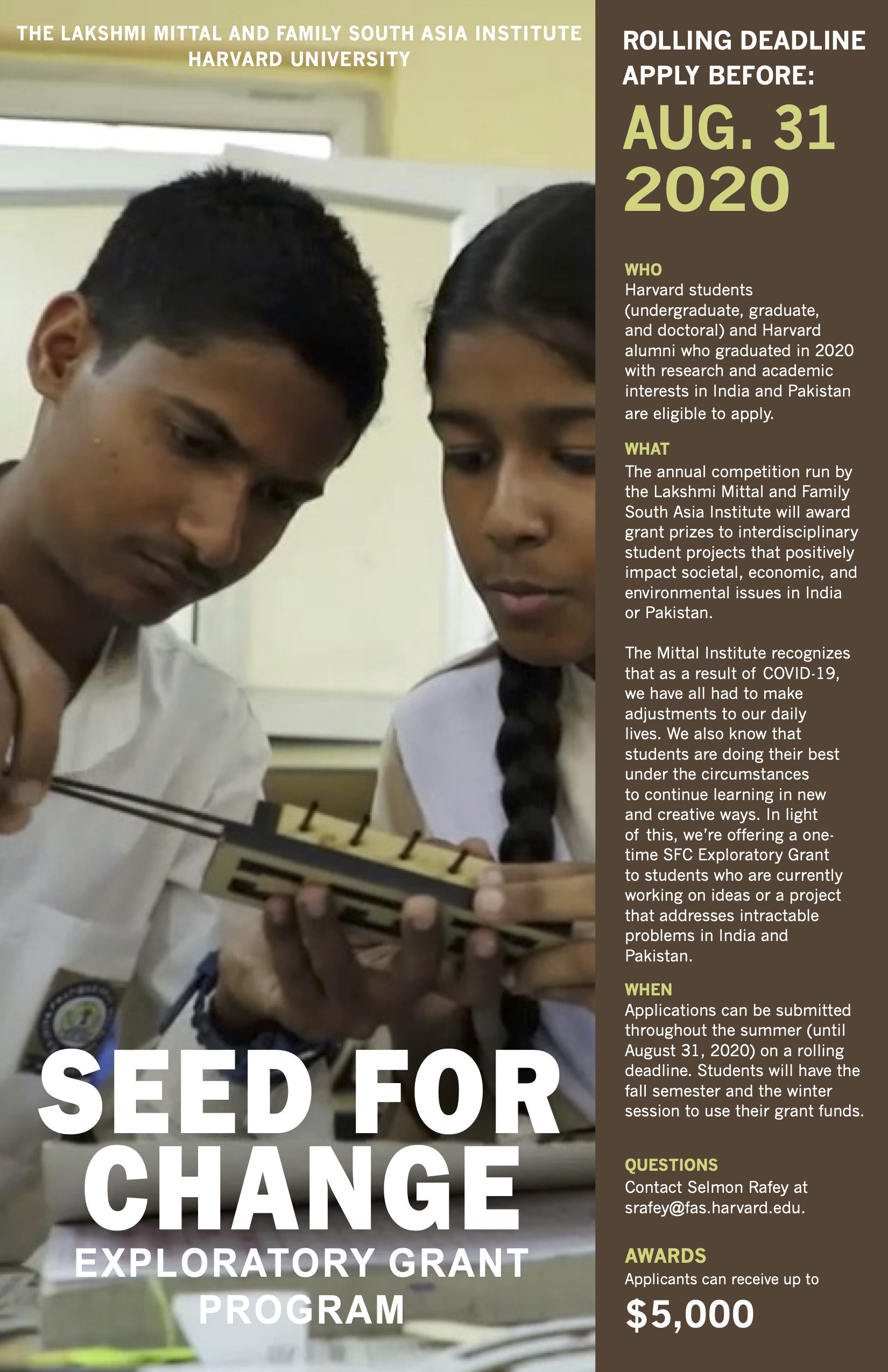 2019 Winners
Gramhal: Gramhal is a social enterprise that builds smallholder farmers' agency and increases their income by unlocking post-harvest services of storage, credit, and market linkage via a digital platform.
Vikas Birhma, MPP '19 at Harvard Kennedy School
Pankaj Mahalle, Tata Institute of Social Science, Mumbai
Riskboard: Riskboard is an app in development that will harness online data via social media and open source media data sites to monitor political risk and human rights abuses in India.
Pradeepan Parthiban, ALM '19 at Harvard and Tech + Human Rights researcher at Harvard Kennedy School
Ori Pleban, MPP '19 at Harvard Kennedy School
Arjun Bisen, MPP '19 at Harvard Kennedy School
Ryan Jiang, BA '20 at Harvard College
Meet: Meet is an employment app for India that connects verified employers and job-seekers, providing both with trusted information, such as reviews, job openings, and profiles to support better matching.
Vish Srivastava, MDE '19 at Harvard Graduate School of Design and Harvard John A. Paulson School of Engineering and Applied Sciences
Ankit Chugh, Medha, India