About
The Seed for Change Program aims to develop a vibrant ecosystem for innovation and entrepreneurship in India and Pakistan through an annual competition run by the Lakshmi Mittal and Family South Asia Institute, Harvard University (The Mittal Institute), in which grant prizes will be awarded to interdisciplinary student projects that positively impact societal, economic, and environmental issues in India and Pakistan. Projects in the early 'seed' stages are prioritized rather than start ups that, while may be in stages of infancy, have previously received substantial support.
India
Two runner-up teams will each receive $5,000
One final team will receive up to $40,000
Pakistan
One final team will receive $15,000
Teams must have at least one current Harvard student at the time of submission, which can include undergraduate students, graduate students, or postdoctoral fellows.  The maximum number of people per team is four.
All applicants will submit a formal proposal and selected applicants will be asked to participate in a pitch presentation in late March. The tiered review process involves an initial internal review feasibility, methodology, and ethical implications. The review panel will recommend proposals for the pitch presentation. At the pitch presentation, three finalists for each India and Pakistan projects will be chosen by a panel of faculty. Finalists will then develop their project before the showcase event in May where the grand prize winners will be announced. Grants will be used for the duration of one year, from May 2018 to May 2019. The grant prize will contribute to establishing partnerships with local organizations and conducting experiments to test the viability of ideas in India and Pakistan.
Applications will be reviewed by an interdisciplinary panel of faculty and area entrepreneurs.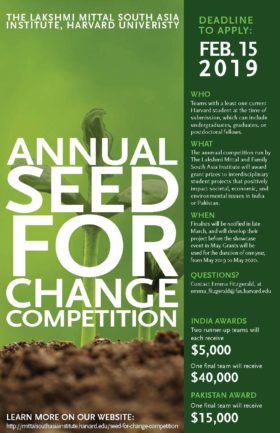 Final Deadline to apply: February 8, 2019  
Applications that are not complete will not be considered.
The Seed for Change competition is made possible by a generous grant from KP Balaraj MBA '97 and Sumir Chadha MBA '97.
2017 Finalists:
Sakhi: the team wishes to further develop menstrual cups that are high-quality, affordable, and environmentally safe in India
Congratulations to Sakhi, winners of the 2017 Seed For Change Competition!
Anantara, which converts collector-only economies into craftsmen communities whose culturally rich, value-added activities positively reinforce forest ecosystems.
Barakat Bundle, which reduces preventable infant and maternal mortalities and morbidities in South Asia by packaging together demand-inducing newborn essentials such as baby clothes and baby powder as well as low-cost evidence-based public health items such as clean delivery kits for safe births and oral rehydration salts for diarrhea.