Mapping the Landscape of Adaptation Action in South Asia
MAPPING THE LANDSCAPE OF ADAPTATION ACTION IN SOUTH ASIA
The Landscape analysis project seeks to identify and map the wide range of adaptation interventions underway in South Asia in response to extreme heat and precipitation. We will examine interventions initiated by a variety of stakeholders – individual households, civil society organizations, the private sector, and governments – and span technological/material innovations, financial instruments, law and policy, and educational, training, and awareness programs.The analysis is focused on 4 key sectors – habitats, agriculture, energy services, and health, and includes adaptation interventions to address risks and vulnerabilities at various timescales – acute, medium, and long-term. We will assess the manner in which adaptation activities are conceptualized and institutionalized at various stakeholder levels, the manner in which these interventions are deployed on the ground, and the enabling frameworks and environment required for their deployment. We will also also study the scenarios/conditions under which these adaptations will be effective and engender long-term resilience.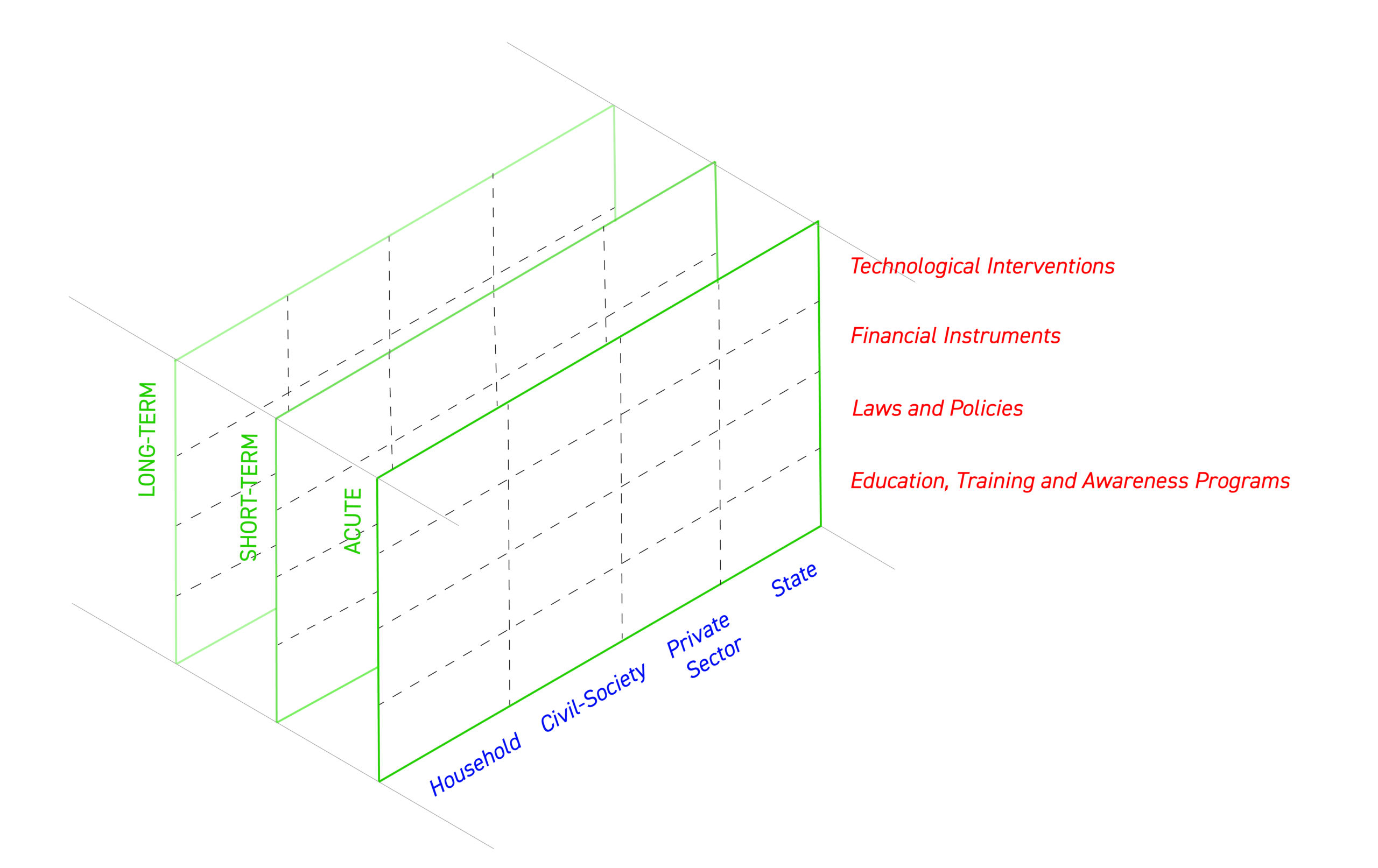 Figure: Framework of Analysis
Policy makers and the private sector have limited to little understanding of the day-to-day financial, shelter and food security challenges faced by the hundreds of millions of households working in the informal sector. This exercise aims to generate awareness about needs and priorities on the ground and build a comprehensive understanding of the state of adaptation and preparedness in South Asia.
This project will facilitate the identification of gaps and opportunities in adaptation activity at various stakeholder-levels that need addressing and harnessing. Our research will shed light on adaptation interventions initiated at the household and community level to bridge gaps in public service delivery, and highlights avenues that the state and private sector can enter to incentivize, support, and spur such localized action. Our findings will also help identify localized adaptation interventions which can serve as a pipeline of ideas and best practices that community organizations, governments, and private sector entrepreneurs can replicate and scale in other geographies and contexts for wider impact.
These analyses are being led by academics and domain experts in our partner organizations including the All India Disaster Mitigation Institute; Centre for Policy Research, New Delhi; TrustBridge; and BRAC University, Bangladesh.
Interested in partnering with us to map the state of adaptation interventions in related sectors in India and Bangladesh, and in other countries in the South Asia region, please reach out to us at lmsaiclimate@gmail.com