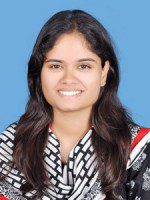 SAI Student Coordinator, 2014-2015
Mehjabeen, who grew up in Karachi and received her Bachelors degree in Computer Science at the prestigious Lahore University of Management Sciences (LUMS), thought she would spend her career as a scientist, only to discover that it wasn't her calling and that she was interested in making a tangible impact in her country.  She joined Teach For Pakistan (TFP), an internationally recognized, highly selective fellowship of recent college graduates teaching in under-resourced communities. Mehjabeen served as a math teacher for 7th and 8th graders in Karachi, where she taught 220 female students on a daily basis and challenged age-old conservative beliefs about girls' education.
In addition to her significant workload as a teacher, Mehjabeen worked within the community to engage other teachers and parents in their children's education and with her TFP colleagues, created an apprenticeship program for her students in partnership with IBM. During this time, Mehjabeen was selected for The Atlantic Council's Emerging Leaders of Pakistan Fellowship for which she was invited to the US to meet policymakers, entrepreneurs, grassroots activists and Diaspora communities. She also presented on "The State of Education in Pakistan" at a public event in Washington DC attended by State Department, UN and World Bank officials.  After completing her term with TFP, Mehjabeen joined The Citizens Foundation (TCF) –   the largest non-profit working in the education sector in Pakistan with 1,000 school units catering to 145,000 students. Mehjabeen worked to improve the quality of principals in TCF schools by making the existing mechanism for principal recruitment, training and evaluation more effective.
Mehjabeen is a Fulbright Scholar and is pursuing a Master's in International Education Policy at Harvard Graduate School of Education. On her return to Pakistan, she wishes to serve as an advocate for educational equity at the policy level, either through a think tank or as a civil servant in the Ministry of Education in Pakistan.