Friday, April 25, 2014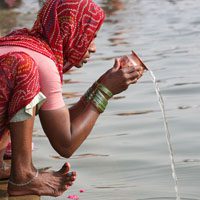 Water
8:30 am – 11:00 am
This workshop will seek to harness the intellectual strength of experts working on issues related to water in South Asia, in order to establish a sustained platform for the ongoing study of complex and inter-related issues around water use and management. By doing so, linkages will be created between existing streams of research to create synergy and maximize impact on issues related to water, including energy, agriculture, food security, and climate change.
Religion and Secularism
11:15 am – 1:15 pm
This workshop will shed light on Hindu-Muslim relations and the production of religious violence in contemporary India. By focusing on contemporary phenomena—such as the popularity of Narendra Modi on the national stage; the recent carnage in Muzaffarnagar; and the rise of Aam Aadmi Party (AAP) as a potential third front in Indian politics—we will discuss the limits of secularism in India. While many scholars would affirm the secular credentials of AAP, the party's fielding of candidates based on religious identity and its rejection of referendum in Kashmir call for a discussion on the viability of secularism.
Way Forward for the Informal Economy
1:30 pm – 3:30 pm
An estimated 93 percent of India's population is employed outside of the formal sector. How does the informal economy fit into these conversations and what needs to change so that it does?