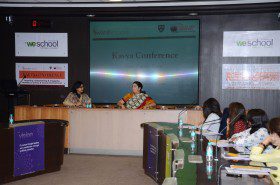 Swaniti Initiative, with the strong support of Harvard University's South Asia Institute, held its inaugural Kavya Conference on April 13, 2013, at Welingkar School of Management (WeSchool) in Mumbai. The day-long, seminar-style program was targeted towards inspiring, engaging and empowering young women from across the country to participate in policy and in social development of the country. The conference saw participation from 36 young women from various walks of life, such as corporate women, consultants, social researchers, entrepreneurs, and master students.
The program commenced with a panel on "India – A Country for Women: The Road Ahead for Us," led by Honorable Member of Parliament Ms. Smriti Irani that focused on the core issues that make it harder for women to rise in the political sphere. The second panel for the day, titled "A Life-giver's Dilemma: Gender and Healthcare in India," was led by Professor Richard Cash, Senior Professor from Harvard's School of Public Health and Ms. Neera Nundy, Co-founder of Dasra. The panel focused on innovative healthcare solutions in India that have addressed issues of female healthcare in India and globally, and triggered conversations around other equally important female health and sanitation issues that have not received due attention. The third panel that was was aimed towards "Empowering women through self-sufficiency, entrepreneurship and financial aid" was led by Dr. Nachiket Mor, Chairman and Advisor to the IFMR Trust and Ms. Revathy Roy, Founder of Viira Cabs – India's premier all female cab service. The speakers drove conversations around creating a supportive and favorable ecosystem in the country to help women grow and emerge as leaders. They also shared some interesting models in the space of entrepreneurship and microfinance that exist at the micro-level and that have empowered women in their respective communities.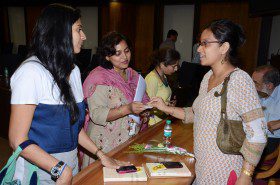 The final panel for the day, directed towards conducting learning activities for the participants, was conducted by Kavya's Program Director, Geeta Ramakrishnan, who has seen the close quarters of politics while working as a consultant to parliamentarians. This session focused on creating an environment where our participants reflect on the day's learning and can exchange concerns and ideas among each other that focus on the challenges and solutions in becoming a female leader in India. This session was created as a platform for the participants to voice the concerns that they have faced and to facilitate conversations that create ideas for solutions to these issues.