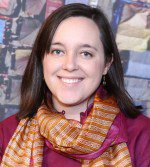 Meghan Smith, Communications and Outreach Coordinator
Meghan manages SAI's  digital, print, and outreach efforts. Meghan's responsibilities include managing SAI's website, producing SAI's weekly email newsletters, designing publicity materials, and managing SAI's social media presence.
Meghan has a Bachelor's degree in Political Science, with a minor in Faith, Peace, and Justice Studies, from Boston College. While at BC, she managed a student-run news magazine, the BC Gavel, which led to her interest in communications. She also interned at Boston Magazine and wrote for the website. She had the opportunity to study and live in Granada, Spain while in college, which sparked an interest in travel and other cultures.