Mobile Technology
Spurring social and economic enterprise in emerging markets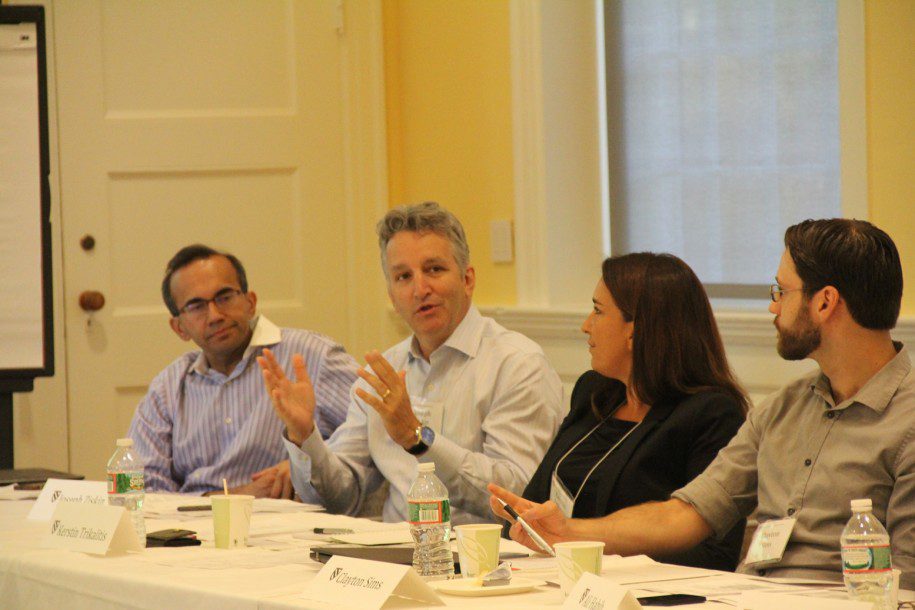 Radcliffe Institute Exploratory Seminar, 2014
Radcliffe Institute Exploratory Seminar, 2014
Using Cellphones to Change Societies Seminar
September 4 & 5, 2014
Hosted by the Harvard South Asia Institute at the Radcliffe Institute for Advanced Study, Cambridge MA
A group of faculty and practitioners will meet at the Radcliffe Institute of Advanced Study for a seminar to discuss the potential of cell phone data for enabling economic and social mobility. The seminar will lay foundation for future interdisciplinary research.
April 24, 2014
Cambridge, Massachusetts
This workshop, led by Tarun Khanna, HBS, and JP Onnela, HSPH, focused on the promise of data from mobile technology and the challenges of using this data. One of the major current challenges is the tension between data privacy, sharing of data to promote scientific research, and the potential insights this data may be able to generate. This project aims to increase knowledge of, and provide better access to services in areas of mobile-healthcare, banking, education, and improve livelihoods.
Participants also discussed the varying ways societies have adjudicated or ignored tensions about privacy, as well as some of the methodological challenges raised by large datasets. The data and research work done during the Kumbh Mela was also highlighted, which provided powerful insights for further research and teaching on understanding social networks and behavior through studying large data gathered from cell phones used at this mass gathering. In addition, issues about governmental, institutional and regulatory guidelines were also raised.
Kumbh Mela: Mapping the Ephemeral City
August 29 & 30, 2013
Harvard University's Radcliffe Institute for Advanced Study
The spirit of collaboration and community that made this year's Kumbh Mela festival so successful was on vivid display at the Kumbh Mela: Mapping the Ephemeral City workshop August 29 and 30 at Harvard University's Radcliffe Institute for Advanced Study. This gathering of government officials from the Indian state of Uttar Pradesh responsible for planning and managing the Kumbh Mela, faculty and students from FXB Center for Health and Human Rights, Harvard Divinity School (HDS), Faculty of Arts and Sciences (FAS), Harvard University Graduate School of Design (GSD) and School of Public Health (HSPH) ; Harvard Business School (HBS); the Harvard South Asia Institute (SAI) and Harvard Global Health Institute (HGHI), epitomized the spirit of interdisciplinary collaboration and academic curiosity that inspired the HGHI and SAI to sponsor the workshop.
Representatives from Uttar Pradesh included Higher Education Secretary Devesh Chaturvedi, Professor and Head of the Department of Community Education Shraddha Dwivedi, Mani Prasad Mishra, District Magistrate and Mela Chief Officer, and Deputy Inspector General of Police Rajesh Rathore. Mela Inspector General, Alok Sharma, joined the team from India via Skype.