Finalist Program
This year's cohort of 80 finalists convened virtually over the course of two weeks due to the ongoing COVID-19 crisis. The group included a mechanic from Kumasi, Ghana; an artist from Belo Horizonte, Brazil; a writer from Kolkata, India; and an engineer from Charlotte, North Carolina; whose curiosities ranged from theology to activism to civil engineering. Women comprised 58% of the finalist cohort.
This program gave me insight into the type of innovation that is needed in the education sector.
The finalist program covered an extensive, multidisciplinary curriculum curated by Harvard Professors Tarun Khanna, Karim Lakhani, Caroline Elkins, and Kristin Fabbe. Sessions included an investigation on how nations should spend their wealth exploring Chile's copper surplus, and an exercise tracing the historical effects of global pandemics on politics, economics, and social life.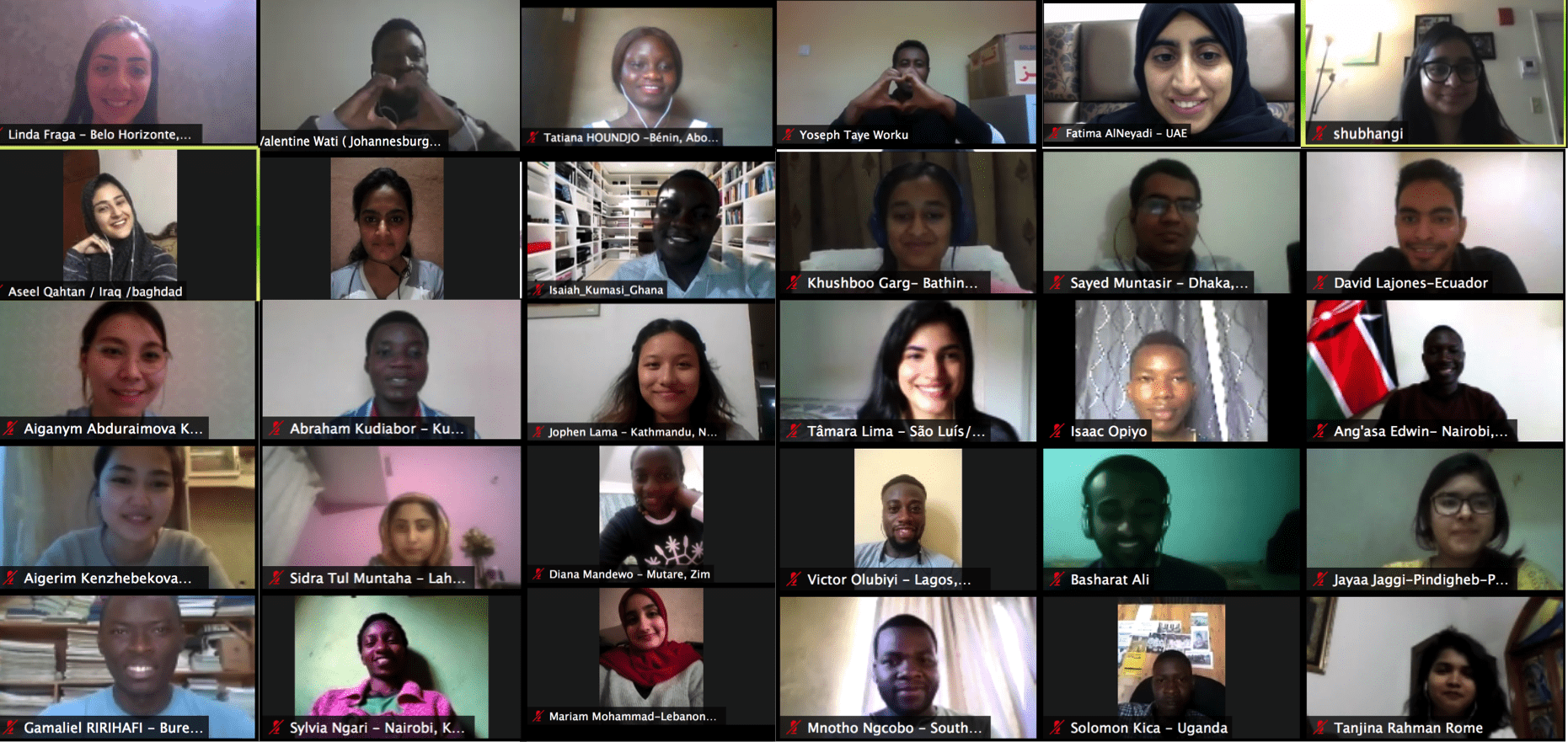 As their eyes were opened to new cultures and connections, the students imagined new futures, new structures, and new hopes with other youth across multiple continents. Finalists also connected with mentor speakers, including Nobel Laureate and founder of Grameen Bank, Muhammad Yunus, and internationally recognized keynote speaker Tariq Qureishy.
The Crossroads Virtual Program motivated me to explore subjects beyond what I have been immersed in and integrate concepts between disciplines, such as history and engineering.
A Global, Interdisciplinary Classroom
In 2020, we launched a virtual seminar experience for program candidates who successfully moved through the first two rounds of selection. A global classroom of students, from Chittagong to Dakar and Almaty to Sao Paulo, joined senior Harvard faculty from a range of academic backgrounds for sessions curated to their intellectual and professional interests.
Ranging from an exploration of elephant habitat design to the use of data visualization across languages, these sessions are designed to encourage, affirm, and inspire Crossroads students. Interdisciplinarity is a central facet of the Crossroads Virtual Program, and students often participate in both science- and humanities-focused sessions.
In 2020, a team of 12 senior Harvard faculty taught the Crossroads Virtual Program to Crossroads students. The faculty involved and the courses they taught can be viewed in the image to the right.