Bangalore Boston Nutrition Collaborative (BBNC)
About
The Bangalore Boston Nutrition Collaborative (BBNC) was established in 2009 between scientists at St. John's Research Institute, the Harvard T.H. Chan School of Public Health, and Tufts University to address the gap in the training of nutrition and global health professionals.
It conducts multidisciplinary courses that help professionals convert policy to practice. The project aims to build an online course where a large number of participants can be provided free access. The broad goal is to build a global community of online students and improve the education and training for all. E-learning and distant learning courses can transcend geographic boundaries with the ability to share quality information quickly and widely, leveraging knowledge from around the world and influencing evidence-based decisions in community settings.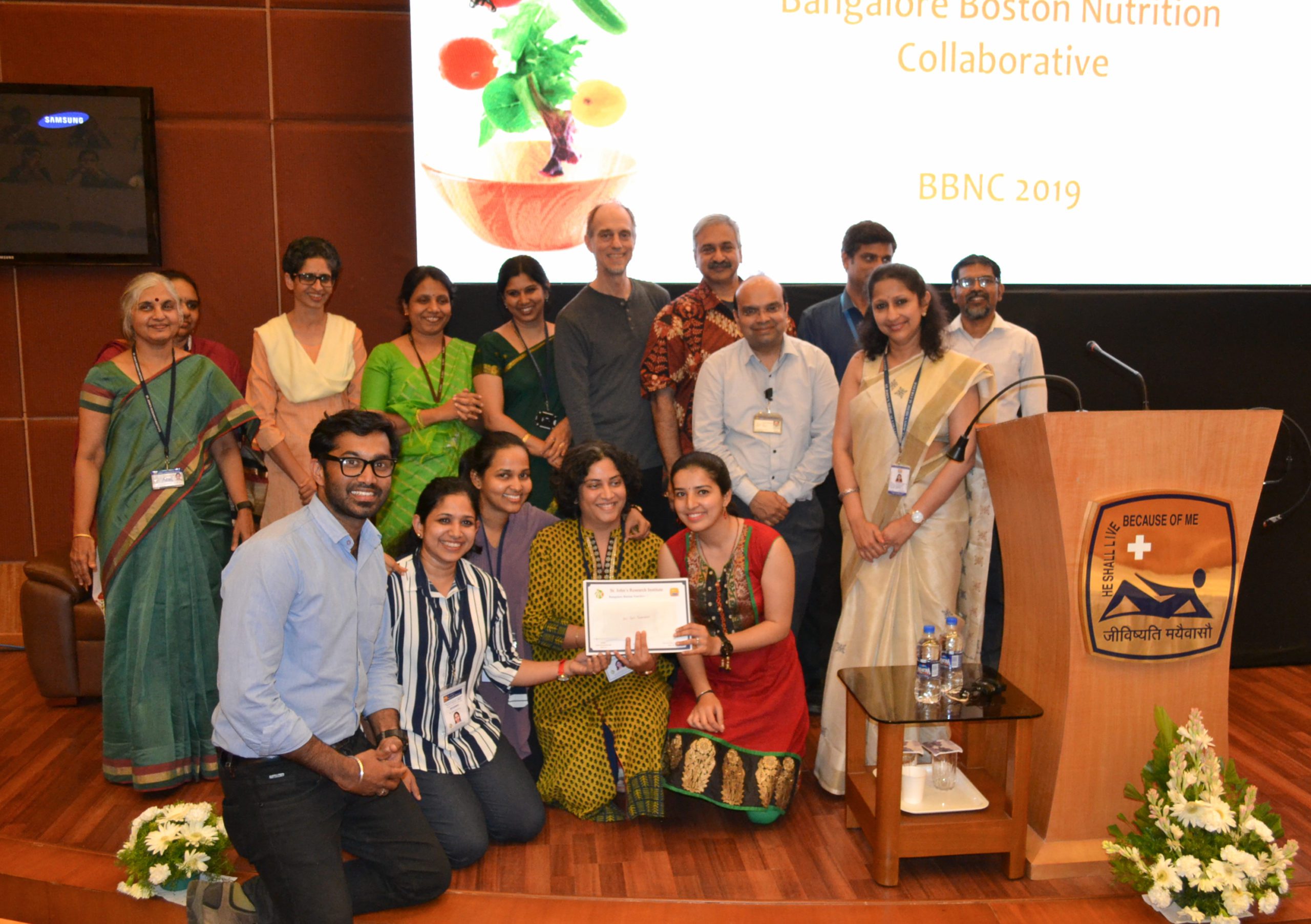 Background
India faces high levels of maternal and child mortality and morbidity directly related to undernutrition, micronutrient deficiencies, and infectious diseases. This leads to a wide range of health problems that impede both individual and national economic attainment. There is a need to further expand and improve educational opportunities in nutrition research and develop a cohort of nutrition and global health research professionals trained in public health and translational research, including biostatistics, epidemiology, nutritional epidemiology, research ethics, and nutritional biochemistry. Additionally, work must be done to determine how to effectively translate scientific discoveries into policy.
Overview
Under this project, Professor Chris Duggan and his team identify and train professionals who have the necessary skills, knowledge, and interdisciplinary collaborative abilities. The BBNC conducts an annual two-week course in nutrition research methodology at St. John's Research Institute, Bangalore, to train professionals and help influence policymaking at the national and global level. Nine courses have been conducted from 2010–18, and over 350 participants have been trained. The BBNC Nutrition Project is in the process of digitizing a free, two-week course developed by scientists from St. John's Research Institute, Harvard, and Tufts for public health workers in India and the US to build a global community of online students and improve nutrition education and training.
The First Year
November 2017 – October 2018
Reviewed alternative efforts to improve the quality of data collected by frontline health workers.

Proposed to engage IT professionals from India and Boston to help turn lectures into content and a Massive Open Online Course (MOOC).

Initiated discussions about connecting to other Tata Trusts projects working in the fields of nutrition and maternal health.
The Second Year
November 2018 – October 2019
Held a two-week course, wherein students collaborated with faculty members on research proposals. In total, 50+ participants from different regions of India, as well as Nepal, Sri Lanka, and Uganda, successfully completed the course in this timeframe.

Began developing a MOOC as an extension of the BBNC Course that took place in Bangalore, India in January 2019 in order to reach a wider audience of people with an interest in topics related to global nutrition.

The MOOC, which will be added to SJRI's website and edX, will consist of a trailer and two learning modules

—

one related to environmental health (featuring Dr. Jeffrey Griffiths from Tufts University), and one related to nutritional assessment (featuring Dr. Tony Raj from SJRI). A short quiz consisting of multiple-choice questions relevant to the topic was developed to follow each module.
Looking Ahead
The fully developed MOOC will be tested and hosted on a Learning Management System (LMS), which is SJRI's version of Open-edX eLearning platform. This platform will ensure that the modules are easy to access, device agnostic, and able to function in low bandwidth settings such as those in LMICs. Lessons learned from the process of developing this MOOC may be used to develop additional eLearning content at both BBNC and SJRI, and more widely.