Inclusive Innovation: The Emerging Game Changer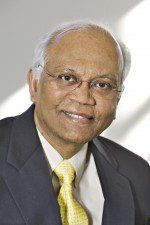 R.A. Mashelkar, President of the Global Research Alliance
Chair: Tarun Khanna, Director of SAI and Jorge Paulo Lemann Professor, Harvard Business School
Dr. Ramesh Mashelkar is President of Global Research Alliance, a network of 60,000 scientists from five continents. He is a Fellow of Royal Society, NAS, NAE & AAAS.
Inclusive innovation is any innovation that leads to affordable access of quality goods and services for the excluded population, primarily at the base of the pyramid, on a long term sustainable basis with a significant outreach.
The lecture will show how inclusive innovation can fuel the creation of not only an `inclusive society' but also `inclusive business'.