START
Sat, Oct 3, 2020 at 10:30am
END
Sat, Oct 3, 2020 at 11:45am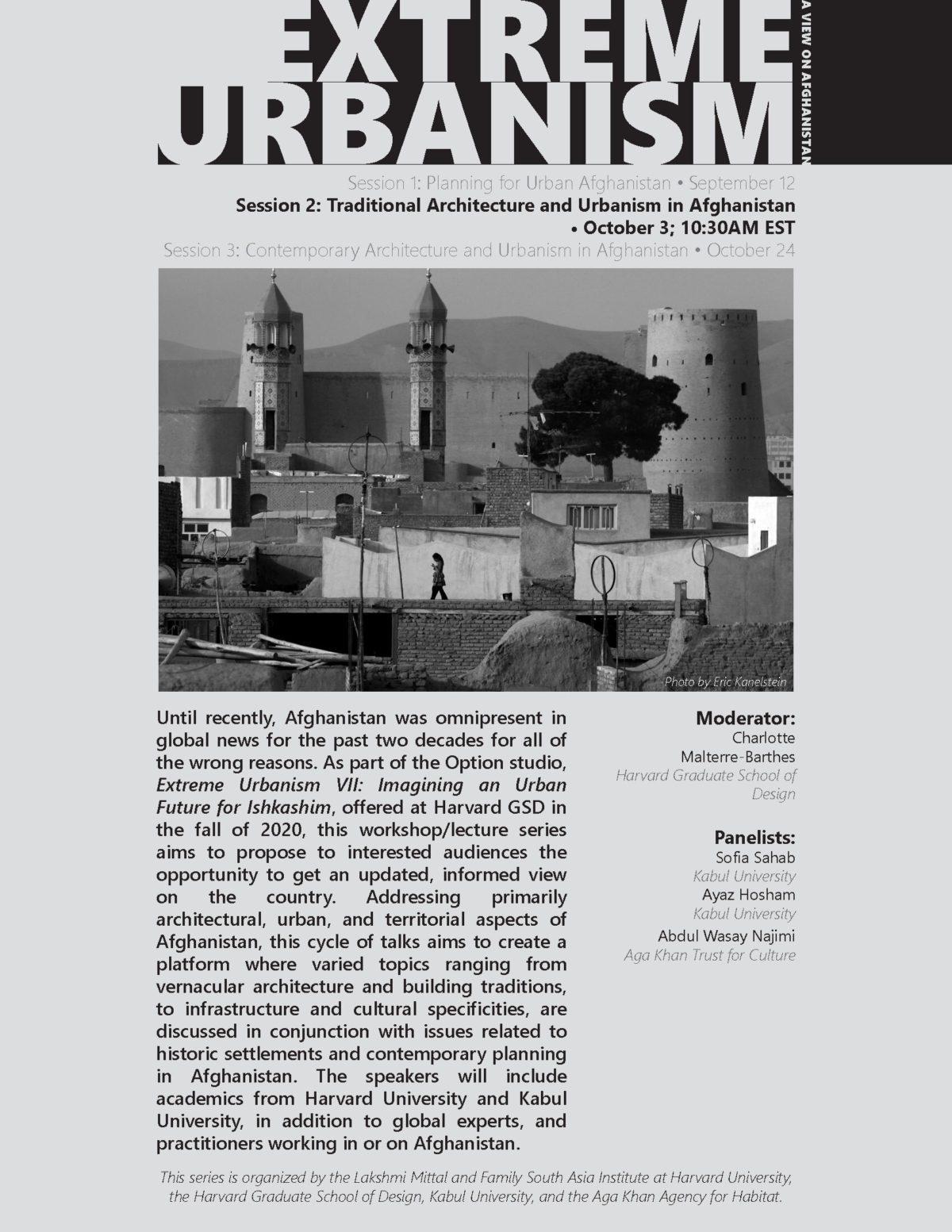 Session 2: Traditional Architecture and Urbanism in Afghanistan
This event belongs to a 3-part series.
The second session of our Extreme Urbanism series will explore the history and traditions of architecture and urbanism in Afghanistan.
Until recently, Afghanistan was omnipresent in global news for the past two decades for all of the wrong reasons. As part of the Option studio, Extreme Urbanism VII: Imagining an Urban Future for Ishkashim, offered at the Harvard GSD in the fall of 2020, this workshop/lecture series aims to propose to interested audiences the opportunity to get an updated, informed view on the country.
Addressing primarily architectural, urban, and territorial aspects of Afghanistan, this cycle of talks aims to create a platform where varied topics ranging from vernacular architecture and building traditions to infrastructure and cultural specificities are discussed in conjunction with issues related to historic settlements and contemporary planning in Afghanistan. The speakers will include academics from Harvard University and Kabul University, in addition to global experts, and practitioners working in or on Afghanistan.
Chair
Charlotte Malterre-Barthes, Assistant Professor of Urban Design, Harvard Graduate School of Design
Speakers
Ayaz Hosham, Faculty, Architecture Department, Kabul University
Sofia Sahab, Former Lecturer, Urban Design and Planning Department, Kabul University
Abdul Wasay Najimi, Architect and Conservator, Aga Khan Trust for Culture
This series is organized by the Lakshmi Mittal and Family South Asia Institute at Harvard University, the Harvard Graduate School of Design, the Aga Khan Agency for Habitat, and Kabul University.