SAI Welcomes 2012-2013 Graduate Student Associates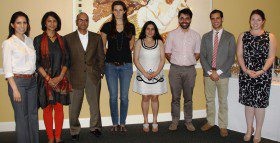 On Friday, September 14, SAI held a welcome meeting for the six Graduate Student Advisors: Mariam Chughtai, Bridget Hanna, Bilal Malik, Benjamin Siegel, Anand Vaidya and Namita Wahi. Parimal Patil Professor of Religion and Indian Philosophy, Chair of the Department of South Asian Studies, and head of SAI's GSA program, introduced the program.
Click here to read more about the GSA program, including profiles of past and current GSAs.