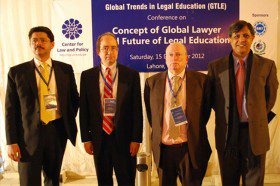 Center for Law and Policy (CLP) hosted the second conference of Global Trends in Legal Education (GTLE), titled "Concept of Global Lawyer and Future of Legal Education," on December, 15 2012 at Royal Palm Golf and Country Club, Lahore. The conference was designed to discuss:
The concept and significance of "global lawyer".
Whether existing systems of legal education are doing enough to produce sufficient "global lawyers"?
What reforms are required in Pakistani system of legal education in order to prepare students for a globalizing legal services market?
The conference was convened by Syed Imad-ud-Din Asad, Harvard Law School Alum; Founder and Director, Center for Law and Policy, and included remarks by Mark Tushnet, William Nelson Cromwell Professor of Law, Harvard Law School, among other prominent academics and practitioners from Pakistan and the US, including several Harvard alumni.
It was the second time in Lahore that distinguished professors from prominent law schools in the United States engaged in a meaningful dialogue with Pakistani lawyers and law professors on such a scale. Read more here.