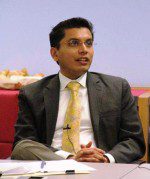 What does the "business" of corruption-fighting look like? What are the key challenges and how does one measure successes? Corruption is the top issue in emerging market economies — and transparency is the most potent tool available to combat corruption. In a video conference with thirteen sites in Bangladesh, Pakistan and Sri Lanka (see list below), Professor Karthik Ramanna of Harvard Business School described his recent work on how entrepreneurs in China, Russia, and India built organizations to combat corruption. These entrepreneurs have leveraged transparency in their anti-corruption businesses, although they differ in important ways in their reliance on the Internet, their use of anonymity, and their engagement with local political and cultural institutions.
In China, Professor Ramanna talked about Caijing Magazine, which works within the Chinese elite to enforce accountability from a privileged near-insider position. Learn more about the case here. In Russia, Rospil.info is a crowd-sourced website that uses the anonymity of the internet to fearlessly enforce anti-corruption and whistleblowing with a much greater militancy. In just over a year, Rospil claims it has prevented $1.5 billion in bribes. Learn more about the case here. Finally, Profsesor Ramanna discussed the website ipaidabribe.com, based in India (though there are sites in several other countries). The website encourages people to report bribes they have paid or resisted paying.
Common themes from these three examples include the use of transparency as a tool against corruption, the Internet as a key vehicle for this transparency, and the deployment of transparency is contextualized by political/cultural barriers.
Professor Ramanna then opened the discussion to questions and input from participants on what entrepreneurial corruption-fighting in Bangladesh, Pakistan, and Sri Lanka might look like.
To follow the conversation on twitter, check out #SAItroublemakers.
The participating sites included:
Bangladesh:
BRAC University, Dhaka
Pakistan:
Foundation for Advancement of Science and Technology (FAST), Lahore
Higher Education Commission (HEC), Islamabad
Lahore University of Management Sciences (LUMS), Lahore
Institute of Business Administration (IBA), Karachi
College of Business Management (CBM), Karachi
University of Gujrat, Gujrat
COMSATS Institute of Science and Technology (CIIT), Lahore
University of Agriculture, Faisalabad
Karachi School for Business & Leadership (KSBL), Karachi
QuaId-i-Azam University (QAU), Islamabad
Forman Christian College University (FCCU), Lahore
Sri Lanka:
American Center, Colombo