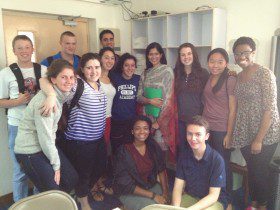 Since 2004, there have been six groups of students and teachers from Phillips Academy in Andover, MA who have participated in the Niswarth (Hindi for "non sibi" or "not for self," Phillips' motto) program spending up to three weeks in India. Guided by the Mahatma Gandhi¹s quote, "Be the change you wish to see in the world", the Niswarth curriculum builds a kind of understanding that connects scholarship, community engagement, deep reflection and action.
Students have returned to Andover with a changed view of the world intellectually, emotionally and ethically.  The experience helps to put their course work in a broader perspective and gives them a powerful sense of agency. Beyond PA, the program has also influenced real change in Mumbai communities with Indian schools shifting their approach to service in their local contexts. Niswarth has gained national and international acclaim for a sophisticated approach to learning about complexity, multiple perspectives as well as the need for empathy and intellectual humility when engaging with any issue within a community. Their work in schools and communities will be coordinated with organizations such as Teach for India and the Akanksha Foundation.  More information about the program at:  www.andover.edu/niswarth <http://www.andover.edu/niswarth> and http://niswarthprogram.wordpress.com/
Namrata Arora, the Associate Director of the SAI India office, conducted a classroom session on June 19th with the students around the Harvard Business School case study on Dharavi, titled, "Dharavi, Redeveloping Asia's Largest Slum."  The case was published in 2009 and was co-authored by HBS Professors Lakshmi Iyer and John Macomber and Namrata Arora.
Namrata spoke to the students about slum development, stakeholder conflict and public private partnerships in infrastructure development.  This is the third consecutive year where SAI has been involved with Niswarth's efforts in India.