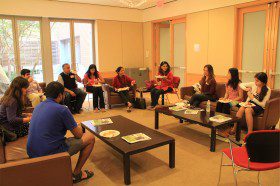 This past weekend, South Asia Institute's 2013 Prasad Fellowhip grant recipients gathered for a lunch along, with Mukesh Prasad and several 2012 recipients, to share stories and experiences from their time abroad.  The Prasad Fellowship is given to Harvard undergraduate students for hands-on, in-region experience working with non-profit and development organizations in South Asia.  This year, with the generous support of the Prasad family, the South Asia Institute funded eleven students from various disciplines to contribute towards and learn from some of the most innovative and impactful initiatives.
Mukesh Prasad graduated in 1993 from Harvard College.  He is an Associate Professor of Clinical Otolaryngology at Weill Cornell Medical College and is an Associate Attending Otolaryngologist at NewYork-Presbyterian Hospital.  His clinical interests include the management of sinus disease, including advanced endoscopic sinus surgery, as well as the treatment of sleep apnea, and other ear, nose, throat, and head neck disorders.
2013 Prasad Fellowship Recipients
Dipona Bandy, 2014 Social Studies: Conducted thesis research on transnational and national approaches to feminist organizing around sexual violence in India.
Sophia Chua-Rubenfeld, 2015 Philosophy: Interned at VidyaGyan, a leadership academy for the most promising underprivileged students of rural Uttar Pradesh.
Tabata de Pontes, 2016 Government: Interned at Mission Apollo assisting with after-school curriculum development in Pune, Maharashtra.
Michael Drumm, 2015 Neurobiology: Conducted research at the National Centre for Biological Sciences in Bangalore, India.
Marcelle Goggins, 2014 Human Development: Teacher at Biology and Chemistry teacher at Taktse International School in Sikkim, Nepal.
Victoria Gu, 2015 Computer Science: Interned at Jana Care, a small tech start-up in Bangalore, India.
Muhammad Sarib Hussain, 2015 Neurobiology: Worked at Interactive Research and Development, a non-profit public health research group in Karachi, Pakistan.
Shengxi Li, 2015 Social Studies: Interned at the Bangaldesh Legal Aid and Services Trust in Dhaka, Bangladesh.
Corinne Maguire, 2015 Human Evolutionary Biology: Studied neurotransmitters in honeybees at the National Centre for Biological Sciences in Bangalore, India.
Bharath Venkatesh, 2016 Social Studies: Consulted for the NGO arm Dishtree, a social enterprise that combats poverty in rural India in Noida, India.
Darshali Vyas, 2014 Social Studies: Completed thesis research on participatory healthcare as a means of rights advancement with the Self Employed Women's Association in Ahmedabad, India.