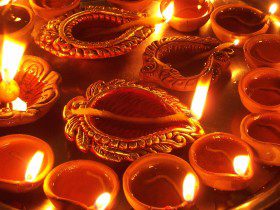 The Boston Children's Museum and the Harvard India Student Group seek volunteers to help with the Diwali Celebration at the Museum on Sunday, October 27 from 10 – 3:30 pm.
Museum visitors will be invited invited to participate in various activities led by the student volunteers, including making a crown for Sita and Rama, whose homecoming and coronation is remembered each year by the lighting of lamps in observation of Diwali. Other activities include crafting a diya from egg cartons and aluminum foil, creating a rangoli using chalk, and exploring the flavors of Indian spices. There will also be an opportunity for children to try on saris.
To sign up to volunteer, contact Ishani Mehta, Harvard India Student Group Co-President, at ishani.mehta.85@gmail.com.