India's Foreign Policy and Regional Multilateralism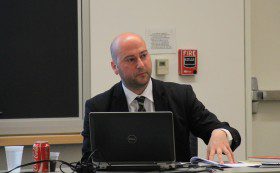 In a South Asia Institute Book Talk on India's Foreign Policy and Regional Multilateralism, Professor Tarun Khanna (Director, South Asia Institute; Jorge Paulo Lemann Professor, Harvard Business School) hosted Professor Arndt Michael (Department of Political Science, Chair of International Relations, University of Freiburg) whose book, India's Foreign Policy and Regional Multilateralism (UK: Palgrave, MacMillan, 2013) won the Association of Third World Studies' Cecil B. Currey Book Award and the German-Indo Society's Gisela Bonn Award 2013.
The South Asian Association for Regional Association (SAARC) was first suggested by Bangladesh in 1978 and after years of negotiations, it was founded in 1985. Given this cooperative mechanism, Professor Michael asks why South Asia has not developed a NATO-like (collective security) mechanism to date. He interviewed more than sixty decision-makers during his research to evaluate South Asian attempts at regionalism from 1947 to 2013. His fieldwork in the region was primarily in India and at the SAARC Secretariat in Kathmandu, Nepal. He started with the evidence that increasingly, the world has become one of regions as evidenced by the Nobel Peace Prize given to the European Union in 2012, but that South Asia's efforts at regional integration and organization remain far behind those of other parts of the world.
At independence, the hope was that there would be a distinctly Asian way of interacting with the world as evidenced by this statement by Prime Minister Jawaharlal Nehru in 1958, 'The emergence of the independent nations in Asia naturally leads to what might be called vaguely an Asian way of looking at the world. I do not say there is one Asian way, because Asia is a big continent, offering different view-points. However, it is a new angle, and is a change from the Europe-centered or any other view of the world'. In contrast, in 2003, Sonia Gandhi said that, 'In today's interdependent world there is simply no alternative to working in concert and collaboration with each other'. This too has not come to pass, as this statement by Indian Prime Minister Manmohan Singh from 2005 shows, 'The honest answer is [that after 20 years] regional economic cooperation in South Asia has fallen far short of our expectations and the dreams of our founding fathers. It remains far behind the more successful examples in both Asia and other regions of the world'.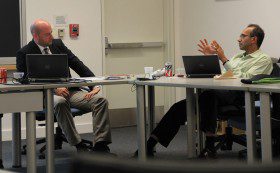 Professor Michael's research shows that India's self-imagination, in particular the Panchsheel principles (mutual respect for each other's territorial integrity and sovereignty, mutual non-aggression, mutual non-interference in each other's internal affairs, equality and mutual benefit, and peaceful coexistence) and its efforts to appropriate the language and methods of regional cooperation, have worked in fundamental contradiction, hampering any tangible success of regional multilateral moves. While the five Panchsheel principles by themselves can be made to strengthen regional cooperation towards the collective good of the nations' citizens, the fundamental commitment of India's policy-makers, in particular those who formulate its foreign policy, to a Nehruvian understanding of India's regional and global role, hamper substantive cooperation and meaningful Asian regional multilateralism.