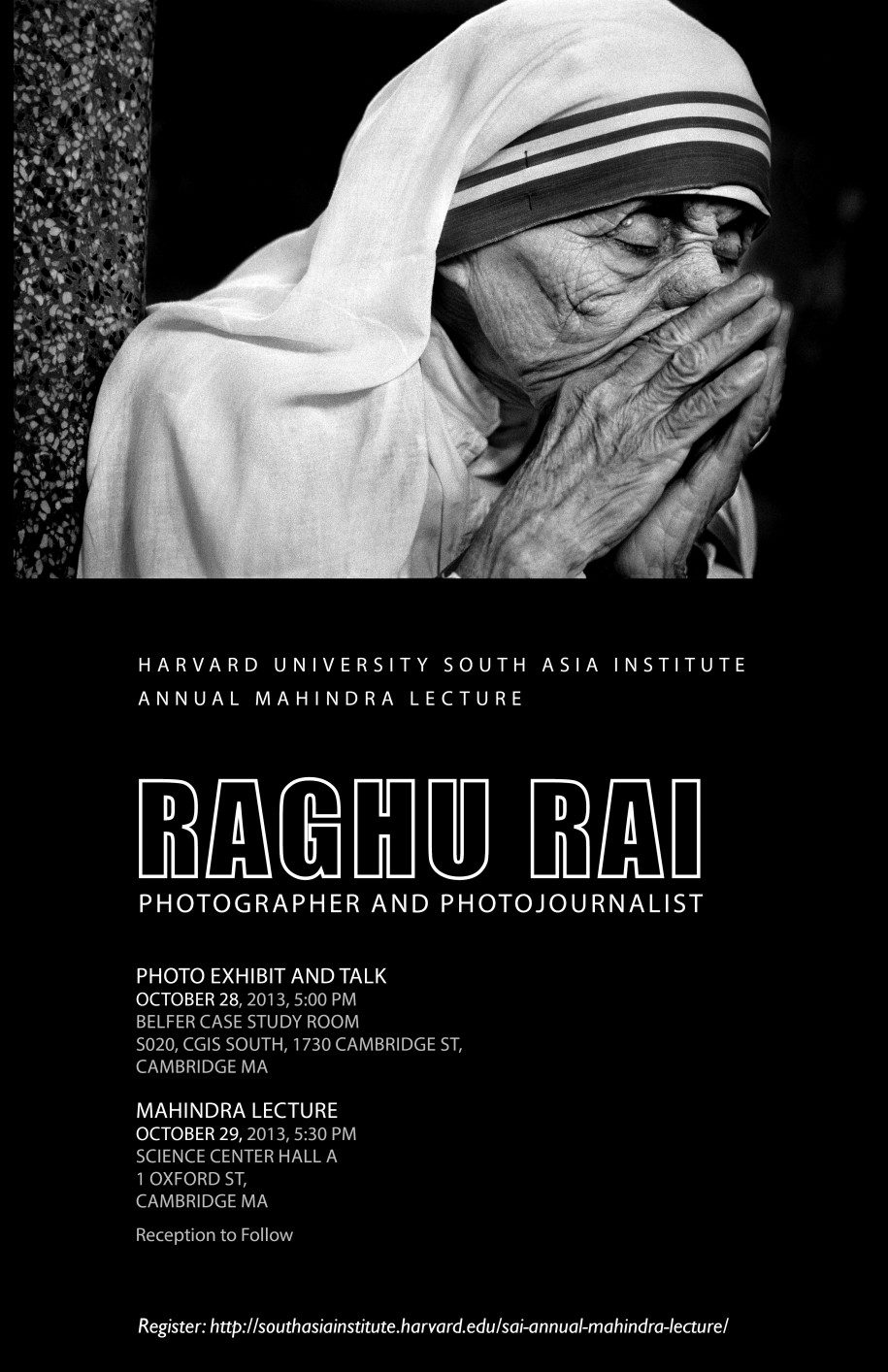 Monday, October 28 at 5:00 pm
Photo Exhibit and Gallery Talk
Belfer Case Study Room
CGIS South, 1730 Cambridge Street
Cambridge MA 02138
Tuesday, October 29 at 5:30 pm
Mahindra Lecture
Science Center Hall A
Harvard University
Cambridge MA 02139
Reception to follow
Raghu Rai was born in the small village of Jhhang, now part of Pakistan. He took up photography in 1965, and the following year joined "The Statesman" newspaper as its chief photographer. Impressed by an exhibit of his work in Paris in 1971, Henri Cartier-Bresson nominated Rai to join Magnum Photos in 1977.
Rai left "The Statesman" in 1976 to work as picture editor for "Sunday," a weekly news magazine published in Calcutta. He left in 1980 and worked as Picture Editor/Visualizer/Photographer of "India Today", India's leading news magazine, during its formative years. From 1982 to 1991, he worked on special issues and designs, contributing trailblazing picture essays on social, political and cultural themes, many of which became the talking point of the magazine.
In the last 18 years, Rai has specialized in extensive coverage of India. He has produced more than 18 books, including Raghu Rai's Delhi, The Sikhs, Calcutta, Khajuraho, Taj Mahal, Tibet in Exile, India, and Mother Teresa.
For Greenpeace, he has completed an in-depth documentary project on the chemical disaster at Bhopal in 1984, and on its ongoing effects on the lives of gas victims. This work resulted in a book and three exhibitions that have been touring Europe, America, India and southeast Asia since 2004, the 20th anniversary of the disaster. Rai hopes that the exhibition can support the many survivors through creating greater awareness, both about the tragedy, and about the victims – many who are still uncompensated – who continue to live in the contaminated environment around Bhopal.
Rai was awarded the 'Padmashree' in 1971, one of India's highest civilian awards ever given to a photographer. In 1992, his National Geographic cover story "Human Management of Wildlife in India" won him widespread critical acclaim for the piece. Besides winning many national and international awards, Rai has exhibited his works in London, Paris, New York, Hamburg, Prague, Tokyo, Zurich and Sydney. His photo essays have appeared in many of the world's leading magazines and newspapers including "Time", "Life", "GEO", "The New York Times", "Sunday Times", "Newsweek", "The Independent," and the "New Yorker".
He has served three times on the jury of the World Press Photo and twice on the jury of UNESCO's International Photo Contest.
Raghu Rai lives in Delhi with his family.
The Harish C. Mahindra lecture series, inspired by Mr. Mahindra's passion for education, is an important component in continuing the education and understanding of the challenges facing the region, and provides an ideal forum for the next generation of global leadership.  It is given in honor of the late Harish C. Mahindra, a distinguished alumnus of Harvard College and a visionary leader of business and industry in India.
Mr. Harish Mahindra was founding chairman of the Mahindra Ugine Steel Company, was a Director of Mahindra & Mahindra Ltd., and was instrumental in developing the Mahindra United World College of India, located in Pune.