The Future of Diplomacy Project will be hosting its second Fisher Family Fellow/Diplomat-in-Residence in October.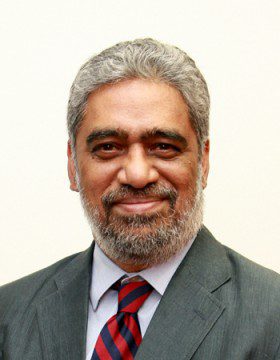 Raja Mohan is an Indian academic, journalist and foreign policy analyst. Currently, he is the head of Strategic Studies, at the Observer Research Foundation, India. He was previously Senior Fellow at the Centre for Policy Research, New Delhi, and prior to that, a professor at the S. Rajaratnam School of International Studies, Nanyang Technological University, Singapore and Professor of Centre for South, Central, Southeast Asian and Southwest Pacific Studies, School of International studies at Jawaharlal Nehru University, New Delhi, India. Mr. Mohan was a member of India's National Security Advisory Board during 1998-2000 and 2004-06. His books include "Crossing the Rubicon: The Shaping of India's Foreign Policy" and "Impossible Allies: Nuclear India, United States and the Global Order." His most recent work is "Samudra Manthan: Sino-Indian Rivalry in the Indo-Pacific." He will be in residence with the Future of Diplomacy Project as a Fisher Family Fellow from October 19 to November 1st.
Raja Mohan will offer three master classes on India. The master classes are open to HKS Degree Students and visiting fellows. Only 25 spaces will be allocated for the study groups. Please be aware that by signing up you are making the commitment to attend all sessions. All sessions will be 4:10-5:30 PM.
Location: 1st class: Tuesday, October 22, 2013, 4:10 – 5:30pm
"India's Naval Diplomacy and Prospects for Power Projection in the Inod-Pacific"
Houser Center Conference Room, Belfer Building, First Floor
Location: 2nd class: Thursday, October 24, 2013, 4:10 – 5:30pm
"Using Force Beyond Borders: India and International Peace Operations"
Belfer Center Library, Littauer Building, Third Floor
Location: 3rd class: Monday, October 28, 2013, 4:10 – 5:30pm
"Territorial Sovereignty and International Intervention: Explaining India's Ambivalence"
T-401, Taubman Building, Fourth Floor
Details regarding readings will be announced to those signed up. Deadline for signing up is Friday, October 18th, at 5:00 PM. Priority will be given to those who can attend all sessions.
RSVP Lottery: