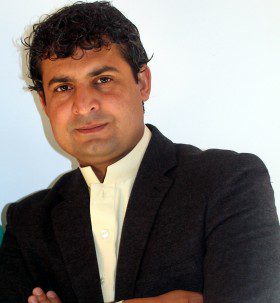 SAI is pleased to announce that Dr. Muhammad Zahir has been selected as the inaugural Aman Fellow for spring semester 2014.
Dr. Muhammad Zahir, born in 1978, belongs to a small village Abazai of the historic region of Charsadda (ancient Puskhalavati).  His family moved to Peshawar early in his life in order to provide better education opportunities to their offspring, so almost all of his early and undergraduate education was based at the historic city of Peshawar.
He completed his Master of Arts degree in Archaeology from University of Peshawar in 2001 and was awarded the Gold Medal for securing the highest marks in the history of the Department of Archaeology since 1991 until 2013.  The provincial Public Service Commission of Khyber Pakhtunkhwa Province selected him as one of the youngest lecturers in 2002 in his province. He joined Hazara University, Mansehra – Pakistan, as lecturer in 2007 and has been working there since then. In 2008, he won a scholarship to pursue PhD degree at the University of Leicester, United Kingdom. His PhD thesis, "The Protohistoric Cemeteries of Northern and Northwestern Pakistan: The Deconstruction of Archaeological and Burial Traditions", was "accepted as submitted", a very rare honour in the UK education system in general and Arts and Humanities, and Social Sciences in particular.
Since 2001, Dr. Zahir has been extensively involved in different archaeological excavations and survey, publication and museums' documentation and management projects both in Pakistan and abroad.  He has also worked in the development and implementation of the UNESCO project for the preservation of the endangered movable cultural assets of Gandhara art in Pakistan.
Beside his teaching and research responsibilities, Dr. Zahir has recently teamed up with a production team from Pakistan Television (the largest television network in Pakistan) as its lead researcher, scriptwriter and presenter of a documentary series on the chronicle of Buddhism in Pakistan.  Despite the ongoing Talibanization and radicalization in the Pakistani society, this documentary series on Buddhism, currently on air, has elicited tremendous positive response from viewers all over Pakistan.
He plans to use the resources at Harvard to deconstruct and conduct a genealogical analysis of the concepts of Aryans in Pakistan archaeology; its use in the interpretation of archaeological remains, ethnic identities, and the personal and professional interests of archaeologists/academics involved, and the state patronage, and acceptance in Pakistan. This will be published as a research paper in a peer reviewed journal.
During his time at Harvard, Dr. Zahir will be under the mentorship of Professor Richard Meadow, who is the Director of the Zooarchaeology Laboratory at the Harvard Peabody Museum, a Senior-Lecturer in Anthropology at Harvard, and Project Director of the Harappa Archaeological Research Project. He has been excavating at sites in Pakistan since 1974.
Of Dr. Zahir, Professor Meadow wrote,
"He has both the possibility and dedication to raise the bar quite significantly on the quality of archaeological work, interpretation, and instruction that is done in Pakistan, which would be a great boon to the country. He is developing a public presence within Pakistan and promises to be an important spokesman for the importance of the study and the preservation of the past for Pakistan's future…"
While at Harvard, SAI will connect him to the intellectual community at Harvard and other peer institutions. He will also be engaged in our seminar series and symposium, and will facilitate a seminar discussion on his past and current research.