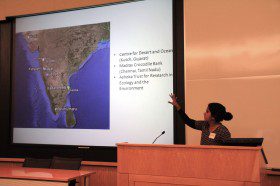 SAI's Open House event on Tuesday, November 5th was the perfect way to wrap up the 2013 student funding cycle and move into our 2014 opportunities. The open house gave interested students a forum to learn about SAI's undergraduate and graduate research, internship, and entrepreneur grant opportunities. Programs Manager Nora Maginn and graduate intern Abigail Russo (HGSE) walked students through the process of applying for SAI funding and explained the numerous types of work and research that students can pursue to advance scholarship and interest in South Asia.
Most importantly, prospective grantees heard from seven 2013 grant recipients. Eric Dunipace (HSPH) spoke about the adventures and challenges of mapping traffic accidents in Bangladesh, while Marcelle Goggins (Class of 2014) explained the unique East-meets-West teaching model she encountered at a school in Sikkim, India. Ambika Kamath (GSAS) showed stunning images from her continuing research on the fan-throated lizard in Gujarat, India, followed by startling photos of waste management systems in the Maldives presented by Krishna Matturi (GSD).
Charlotte Page (HMS) and Paolo Singer (Class of 2014) both emphasized the importance of fieldwork in their presentations about evidence of the link between biomass fuel and anemia during pregnancy in Nagpur, India and senior thesis research in the field of economics in Delhi, India. Lastly, Abbas Jaffer (GSAS) engaged the audience in a discussion on contemporary music and the rock music landscape in Lahore, Pakistan. These presentations illustrated the spectacular and critically important work that students have done in South Asia with the help of SAI funding and showed potential grantees the vast array of options they have in pursuing scholarly opportunities in this region.
We look forward to working with interested students to help them find their niche in South Asian studies!
Click here to learn more about SAI summer funding opportunities.