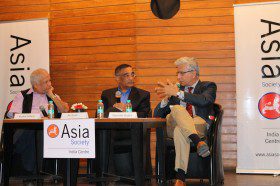 The Foundations and Future of Identity Politics
On November, 20th, Professor Ali Asani participated in an event in Mumbai about identity politics in Asia. There was a great deal of interest in the panel discussion on 'The Foundations and Future of Identity Politics, which was held at the Auditorium of the National Gallery of Modern Art in Mumbai. This programme was part of the "AsiaLive" series, which provides a platform for informed discussions relating to important and topical issues that significantly impact Asia. The panellists were Dr. Ali Asani, Professor of Indo-Muslim and Islamic Religion and Cultures, Harvard University and Dr. Dipankar Gupta, Distinguished Professor and Director of the Centre of Political Affairs and Critical Theory, Shiv Nadar University. The Moderator was Kumar Ketkar, Chief Editor, Dainik Divya Marathi.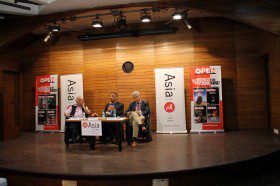 The discussion traced the origin and the rise of Identity politics, especially in the last two to three decades, and the effects on society. While other bases of identity politics were addressed, discussions focused particularly on Identity politics based on religion and culture. Increased globalisation has brought different people in closer proximity, which has paradoxically lead to increased polarization with people retreating further into their religious and cultural groups. This has had an adverse and dangerous impact on all aspects of society and politics.
Harvard's Professor Ali Asani sees the current trend to be a result of the failure of today's education system to provide the tools for understanding differences in religion and culture. He terms this as 'religious illiteracy.'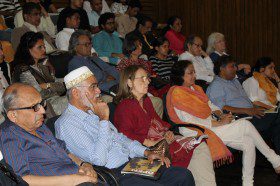 Following the discussion there were several questions from the audience regarding multiple identities, where one may become dominant, the impact of social media on identity politics, linguistic politics and the threats to unity, and others.
The event was cosponsored by SAI, Asia Society India, and Open Magazine India.