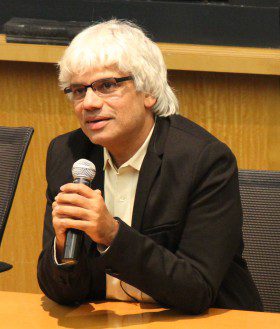 On December 9th, SAI hosted a film screening of The Good Road with director Gyan Correa. The film is India's official entry for the Best Foreign Language Film at the 86th Academy Awards. The event, which was moderated by Harvard Law School Professor Vikram Khanna, also allowed the audience to interact with the director in a Q&A session after the screening.
The film, which is set in Kutch and is filmed in Gujarati, follows three intertwined stories, all along the same highway. It follows a couple searching for their lost son, while a truck driver develops a friendship with the lost boy. A young girl is trying to visit her grandmother on the highway, but ends up unexpectedly in a brothel. The beautiful cinematography complements the intertwined plot lines and immerses the viewer in local Gujarat culture.
SAI caught up with Gyan Correa before the screening and talked about the film, and the cinema industry.
South Asia Institute: Thanks for coming! How does it feel to be showing you film at Harvard?
Gyan Correa: It's a great honor. I'm quite excited, I don't know what to expect. I don't know who's going to be here. But I'm sure it will be interesting and lively.
SAI: I know that you previously worked on commercials and advertising in India. How did you come to decide to make a feature film?
GC: I used to, and I still direct more than produce ad films. I guess the skill sets for the two overlap at some stages. In every great ad film maker there is a great desire to tell a story, which is of more depth and gravity or gravitas. And I think advertising is a medium of ideas, and film is a medium of drama, and it's often been said. Not that the two don't overlap again, but essentially the cause comes from these things. Every filmmaker needs a story to be told dramatically, and not just in a small idea basis.
SAI: One thing that is unique about this film is that it is set in Gujarat, in Kutch. How did you choose that region and area for your story?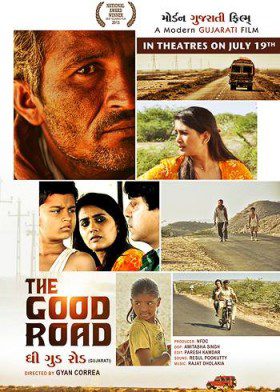 GC: Well when you see the film, you'll understand. The story is really about people whose voices we don't hear enough of, and particularly not in cinema in India, and actually in literature as well. Not now, anyway. There used to be a cinematic and literary tradition where people like this were discussed in depth, but somehow, over the last 15 years, this whole thing has kind of been bypassed. I don't know why. I could hazard a guess, but I don't know why. And I think I wanted to explore this area and these people because I think they are interesting and highly, in terms of a narrative, highly neglected. So I thought that we should do something in this region of stories. And I researched this for 7 years, travelling around India. And at the end of all that, I had this idea of story lines, which came out of the highway while I was traveling. And after I completed the scripts, then I was looking for a home to place this film. And I felt that Kutch was perfect because of the topography, because of the culture, and because of the people. And there's this incredible blend of gentleness in a very harsh environment. And that's what I really was looking for, and I was quite excited  by it.
SAI: How challenging was it to make a film in a language you're not familiar with? Was that a challenge or did you see it as an opportunity?
GC: No, no, definitely an opportunity, and not very challenging. As a filmmaker, we are not dealing with language, we're dealing with cinema. And it helps to know language of course, but it's not crucial. I should also say that I understand Gujarati. It's not altogether alien to me. And I knew my script. But I should also say it would be silly, foolish of me to not recognize the contributions of my ADs [Assistant Directors], because if they were not around, then I would really be lost. So on a basic mechanic level, as well as making the artsists, and catering to their requirements, that was taken care of.
SAI: So do you think that India is starting to embrace more regional films as opposed to other types? Do you think this film represents any sort of change in the Indian cinema industry?
GC: That's a good question. I think that this film, per say, doesn't, but I think the fact that this year there have been three regional films that were in contention to come here, as a nation's Oscar submission, I think bodes well. And there are three different vernaculars, styles of filmmaking, and I think that may suggest that it's a good thing. But It's going to take while for us to reclaim what we were since the 80s, it's going to take a while.
SAI: When you were casting, what kind of people were you looking for in your cast?
GC: When I was looking for people in the cast, I was looking for people who belonged to that world of the story. So for the urban couple, I wanted someone from Bombay, and for the truck driver, I wanted a truck driver. For the little girl, I wanted a girl who was somehow familiar with this world, but not altogether. So I looked in spaces where I could find them.
SAI: Congratulations on being chosen as India's submission for the Oscars! That must be exciting.
GC: Thank you.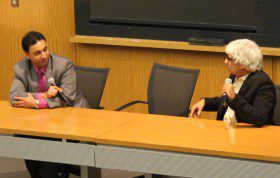 SAI: What was your reaction like when you found out?
GC: Well I was stupefied. I went from complete shock to being convinced that my friends were pulling a prank on me, to fear, and everything. Then at some point, it felt really good, because I have always believed in my film, and I think it's a good film, and I felt that, now, ok, the odds are always going to be against us, but we've just got to get down and do our best.
SAI: I'm curious- what other films are you hoping to see nominated at the Oscars? Any good ones stand out for you?
GC: The category that I am in is called the foreign language category. I haven't seen very many of that category. But I have seen the Gloria [Chile's submission for the Oscars], which I really liked, I thought it was a very nice film. I've heard the Italian film is very good. And the Saudi film is interesting in that it is the first time that a film is being made from that country, and that too the director had to stay in a van, because she can't be out in the street directing, culturally, and legally I think, she's not allowed to do that.
SAI: It's great that these films get the exposure.
GC: But there's something very interesting happening in the US as well. I saw Dallas Buyers Club, recently, and I've heard really good things about Nebraska, I've heard really good things about 12 Years as a Slave. I think there's a kind of film that's being made that's more connective to the core issue, and rely less on stars and technology.
SAI: So is that your philosophy for filmmaking?
GC: Oh absolutely. Film should move you, and should connect with you on that level. The drama of the film must stand out above all else, that's for me personally. Everything else should be subservient to that, including by the way, acting, including music, including cinematography, editing, etc.
SAI: So now that you are going to have an American and international audience, what are you hoping that they learn or take away from this film, and people that maybe aren't familiar with the culture?
GC: I don't know, I've never made a film thinking of one particular audience reaction or how people would react. I made a film. But I do know that we have tried to make an international story that has universal values.
-Meghan Smith