On February 19, 2014 SAI hosted a Social Enterprise Seminar in partnership with the Harvard Graduate School of Design, titled 'The Emerging Political Situation in India' with Sunil Khilnani, Avantha Professor and Director, King's India Institute at King's College London and Senior Loeb Scholar at the Harvard Graduate School of Design and author of The Idea of India, along with Ashutosh Varshney, Sol Goldman Professor of International Studies and the Social Sciences at Brown University, Director of the Brown-India Initiative and the author of Battles Half Won: India's Improbable Democracy.
In front of a crowd of around 60 people, Khilnani and Varshney discussed the current political situation in India by highlighting the changing political landscape, major candidates in the upcoming election, and campaign strategies of the major parties. Khilnani started by discussing how the political situation in India has been evolving and changing over recent years.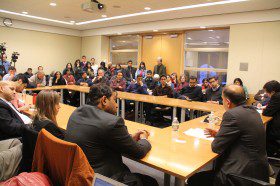 Sharing his observations, he explained some of the major recent changes in Indian politics: an expansion of electoral competition and a high growth rate have both contributed to changing the political landscape. This deep shift has meant that institutions are unlikely to function as they were designed. Khilnani noted that although there is a loss of faith in many democratic countries, India is seeing very high turnout in elections, as a result of anger and changing expectations.
Due to youth optimism and new media, the electorate today has a more sophisticated view of politics, which has given rise to one of the most interesting political scenes in recent memory. Khilnani also discussed each of the major candidates in the 2014 elections and how their strategies are each responding to the changing landscape.
Varshney started by examining several democratic theories about Indian politics. Although some political thinkers thought that democracy in India was unlikely, he explained that India has been a surprise as an improbable democracy.
He then talked about the big themes in Indian politics, and how each are playing out in the 2014 elections. Secular nationalism, Hindu nationalism, and caste-based injustice are the major narratives in Indian politics, and each are evident in the strategies of the major parties – the BJP and the Congress Party. By analyzing statistics of voting parties and turnout, he shared his observations on how the parties are reacting to the changing political landscape.
Khilnani and Varshney engaged with the moderator Tarun Khanna, Director of SAI and Jorge Paulo Lemann Professor at Harvard Business School, and answered questions from the audience about the changing perceptions of rich and poor, how caste is weakening, nationalism in Indian politics, and predictions for the 2014 elections.