"How can you possibly not be excited to study what the brain does?" This is what Professor Venkatesh Murthy, Professor of Molecular and Cellular Biology at Harvard, asked viewers across South Asia at SAI's second webinar of the semester on Friday, March 14.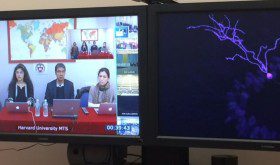 Using video conference technology provided by the Higher Education Commission of Pakistan (HEC), 15 universities in South Asia participated in the interactive session about the importance of studying neuroscience. Because everything we do comes down to the brain, the field has implications not just for science, but for all disciplines, Professor Murthy explained.
Murthy explained that the brain is incredibly complex. With 100 billion neurons, there are many things scientists still have to learn about the brain. Looking at just one area of the brain is like saying, "I know what the entire city is doing on a whole by looking at just one person." We should think of how the brain works as a world wide web network: many computers talking to each other in a complex language.
Murthy predicted that in the next 100 years, we will see many advances in neuroscience. He explained that the brain's ability to make sense of chaos can help us learn how to create things like machines and other technologies. For example, creators of Facebook's facial recognition software can take inspiration from how the brain processes visual images. The growing field of big data can also learn from how the brain processes large amounts of information.
Murthy answered several questions from students and faculty at participating universities, as well as questions submitted on social media. When asked about how aging affects the brain, he explained that, similar to an old bicycle, material in the brain degrades and neuron connections get worse. To counter this effect, he recommended that people work as late in life as possible, which helps keep the brain productive. Exercise is just as important for the body as it is for the brain, so we should take advantage of mental exercises that are available.
Are there differences in the composition of the brain based on gender? Murthy explained that it is "very difficult to separate brain differences form cultural differences." The difference between genders is very subtle, so we must instead consider cultural influences to differentiate between what is learned and what is intrinsic.Several questions focused on how external factors affect the brain. Murthy explained that most scientists agree that the amount of power in phones is too small to affect neurons in the brain. Mood is clearly affected by the weather, although he said it is still unclear why this happens in the brain.
Answering a question about how someone can become a neuroscientist, Murthy commented that there is no reason you cannot change your path – just be open-minded. "It's never too late to learn more," he said.
The participating sites were: Agha Khan University, Institute of Educational Development, Karachi; Bahria University, Islamabad; Bahria University, Karachi;  Balochistan University of Engineering and Technology, Khuzdar; Dadabhoy Institute of Higher Education; Dow University of Health Sciences, Karachi;  Fatima Jinnah Women's University; GIK Institute of Engineering Sciences and Technology; Institute of Management Sciences, Peshawar; King Edward Medical University, Lahore; Kinnaird College For Woman, Lahore; NED University of Engineering and technology, Karachi; Riphah international university, Islamabad; University of Health Sciences, Lahore; and University of Sargodha, Sargodha.
Click here to watch a full recording of the webinar.
The next SAI webinar 'Women in Politics: The Case of India,' will be Thursday, May 8, 2014.
-Meghan Smith