The following article appeared in Nikkei Asian Review on April 3, 2014. It features the work of Tarun Khanna, Director of the South Asia Institute and Jorge Paulo Lemann Professor, Harvard Business School.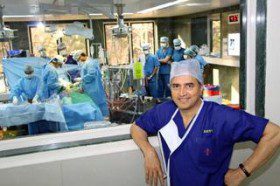 TOKYO — Asian companies are on the march around the world, with some offering innovative ideas that challenge rivals in the U.S. and other advanced economies. But to succeed globally, they need to become more open to outsiders.
    Tarun Khanna, who teaches strategy at Harvard Business School, was among a group of people who toured a new hospital in the Caribbean.  Health City Cayman Islands, on Grand Cayman, opened on Feb. 25. The visitors were mostly U.S. health care professionals, but the professor joined them to learn more about the hospital's Indian operator, Narayana Health. Khanna began looking into Narayana Health in 2003. He was the first scholar to examine the company's innovative business model.
     Grand Cayman is only a 90-minute flight from Miami. The hospital, which specializes in cardiology and orthopedics, has an ambitious plan to increase its number of beds from over 100 today to 2,000 within a decade to meet high demand from American patients.