By Sunayana Kachroo, Member, South Asian Poets of New England.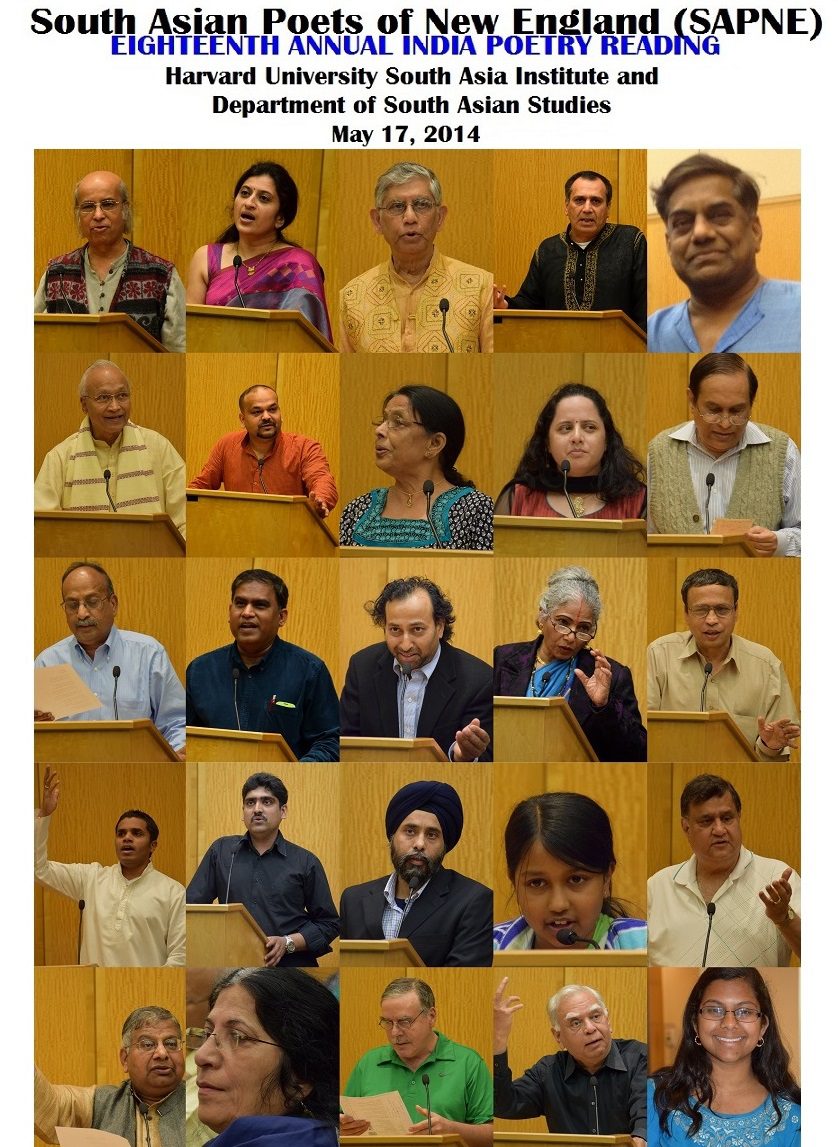 On May 17, 2014, Harvard was reverberating with echoes of poets from different regions of South Asia at the 18th annual South Asian Poets Meeting, cosponsored by SAI. The theme of the event for this year was 'Matrubhasha,' which means 'Mother Tongue' in Hindi.
Twenty-seven poets from India, Bangladesh and Nepal participated in this year's event.  Among the participants from India, there were Hindi, Urdu, Bengali, Gujarati, Marathi, Telugu, Tamil, Kashmiri, Kannada, Malayali and Oriya recitations. Each year, this event attracts poetic talents and wonderful pieces of poetry from diverse regions of South Asia.
Dr. Bijoy Misra, organizer of the event, welcomed the poets and also honored the long time patrons of SAPNE (South Asian Poets of New England) for supporting and promoting the cause of poetry. He recognized Sajed Kamal, Maya De, Alok De and Shantamma Prakash, who were all present in the first poets' meeting in 1997. Dr. Misra talked about SAPNE's new endeavor to create a book display of the published authors in the group to sell.
The first poet to recite a poem was Professor Sajed Kamal, who hails from Bangladesh. He talked about the history of Mother Tongue day and recited his Bangla poem "The Meaning of Ekushe." Ekushe ("twenty-first") refers to February 21, 1952 when Bangladesh fought to preserve "Bangla" as its official language.
In 1999, in response to a proposal initiated by Bangladeshis living in Canada and submitted through the Bangladeshi government, the UNESCO declared February to be the "International Mother Language Day." Starting in 2000, mother languages are honored annually.
Sejal Kothari, a Gujarati poet, recited her poem "Ganga-the river." She compared the journey of River Ganga with the journey of the life. The values of "Samarpan" and the transition to other phases from its birth to when it merges into the ocean were included in the poem.
Alok De, a Bengali poet, recited "My Language," a Bengali poem about what Matrubhasha means to him.
Syed Ali Rizvi, a well-known Urdu poet and a promoter of Urdu language in the local area, recited a few beautiful Urdu couplets to honor and celebrate Mother Language Day. He then proceeded to recite a beautiful Nazm "Urdu" by Iqbal Ashar, narrating the state of Urdu language in the South Asian region.
Dr. Dinesh Shah, a scientist by profession, recited a wonderful Gujrati poem "Lamps of Humanity" about a scientist's quest to unravel the essence of life through the life of "Fireflies." He played a section of the song to vocal and instrumental music.
Maneesh Srivastav is a young poet originally from U.P. India. He recited a very beautiful and well-crafted poem 'यादों की संदूक", about two estranged brothers. When at some point in life nostalgia kicks in, and one of them remembers the good old time and realizes how big their childhood happiness was with nothing in hand and how small their current ego is with everything in hand.
Maya De recited her Bangla poem "Rainbow," detailing the fact that choosing a national language in India was a conflict itself. The poet said we all rejoice seeing a rainbow and do not complain about seven colors, so why can't we appreciate all languages?
Nila Shah echoed the sentiments of many mothers and grandmothers through her poem "Garden." She related the joy of raising two children and compared it to blooming flowers in her garden and then the beautiful transition of becoming a grandmother.
Neena Wahi, a Hindi poet, recited a very beautiful poem "A conversation between a bud and a flower," about the mortality of the flower.
Sunayana Kachroo, a young poet who has a published collection of poems and also writes for movies, recited a few lines to honor Mother Language Day. She recited a Kashmiri Poem "Nalmott-A Hug," about a Kashmiri Pandit who is forced to leave his home in Kashmir due to militancy and aspires to go back to his home.
Chandrakant Shah, a very well-known poet and theatre personality, recited a very interesting poem "Blue Jeans," a thought-provoking perspective on how wrinkled and torn jeans can be compared to the different phases of a human life.
Badiuzzaman Nasim, a Bengali Poet, recited "Aamader Ghore Nayee." The poet says that even if we may not have Glittering Gold and Treasure to relish, we do have Some Shining alphabets to be proud of. That is our Mother Tongue.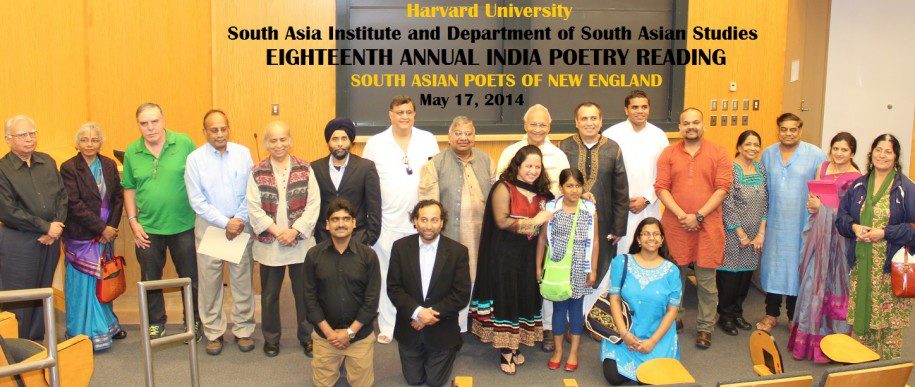 Annamalai Velmurugan recited a Tamil poem "Tamil has many names." Until independence in India, most poets' main theme was the national freedom movement. Themes in the post-independence era were about regional movements, which enriched India's integration. This author praised the role of Tamil language and how it contributes to people's life.
Arun Chaudhari is a Bhakt poet and often sings his own poems as bhajans. He read his Marathi poem "Mother Maharastra," conveying the glory and honor that Marathi language has brought to the people of Maharashtra.
Abha Chaudhari was the youngest poet of the group. She recited her poem "English" and highlighted the importance of English as a language of communication and the unifying language with so much diversity.
Shantamma Prakash recited a Malyalam poem "Gyana Panna" by a famous Malyali poet, Shankara Namburi. In this very beautifully articulated poem, the poet discussed the essence of life and the vedanta aspect of it. Shantamma recited the "Sansar Varnan" part of the poem.
Anil Mehrotra, a Hindi Poet, recited "Matrubhasha," a Hindi poem emphasizing the sweetness factor and the soothing effect our Mother Tongue has on us. The same words in a different language do not bring the same emotion that a Mother Tongue would.
R. Balachandra recited a Kannada Poem, "Kannada." The poet encourages and inspires the people of Karnataka to fulfil their duties towards their land and language. Progressing many times means death of beauty.
Shiva Gautam, a Nepali poet, recited a Nepali poem "Naya Purana" meaning New and Old Roads. In our journey of life we leave memories of different roads we travel. When we decide to walk those roads again to collect those memories, we discover that the memories have changed and are not as we might think they would be.
Paromite De, a young Bengali poet, recited an English poem "Joy of words" about Rabindranath Tagore. Her parents influenced her interest in poetry and music.  As she got older, she realized that these works of literary art were a social force. Her poem was in dedication to Tagore's "pen as a sword."
Janmejay Shishupal recited "Namanjoor" ("Unapproved"), a Marathi poem by a famous Marathi Poet "Sandeep Khare." The poet said, "I refuse to wait for the wind to come and move my boat. I believe in myself and I make things happen in my own way. I don't change myself as per time/people. I am independent, responsible, and optimistic."
Amandeep Singh, a Punjabi poet who also helps young Punjabi families to teach and educate their children in Punjabi, recited his own poem reflecting this work. The Poem was titled "Voice of Mother."
Dr. Bijoy Misra, the organizer and the facilitator of the event, recited a poem in his Mother Tongue Oriya, "Mother and Mother Tongue." He explored the meaning of Mother in the poem. Mother is an eternal concept of love, protection and nurture. Mother's language lives in the heart and is universal.
John Payne read a poem by the English poet Wayne Blake, in English, exploring the purpose of soul and the reason we are here.
The concluding reading was done by Dr. Pramod Thaker, a well-recognized Gujarati Poet, and author of many books in Gujarati. He writes under the pen name "Kṛiṣṇāditya." In the poem, the poet explores the sources of language. What really is "Language?"
Sunayana Kachroo concluded the session by thanking the poets and the audience members, and thanked SAI, the Dept. of South Asian Studies, SAPNE, and Dr. Bijoy Misra. She ended the session with a quote from the movie Dead Poets Society calling all poets to becoming "Free Thinkers."
During the social hour with chai and samosas, various authors displayed their books and engaged conversations on words, literature, language and poetry continued with jubilation and nostalgia.
Dr. Bijoy Misra of Harvard University began organizing this event in 1997 when there were efforts to celebrate the golden jubilee of India's independence.  Late Catherine Galbraith and Late Swami Sarvagatanandas were the principal motivators to guide the program.  An informal group called South Asian Poets of New England (SAPNE) was formed in 2008.  The group has been inviting poets and planning the event each year.
The event is scheduled every year in May with a pre-announced theme.  Until 2012, Harvard's Department of Sanskrit and Indian Studies hosted the event. The program is now facilitated with SAI and the reorganized Department of South Asian Studies.