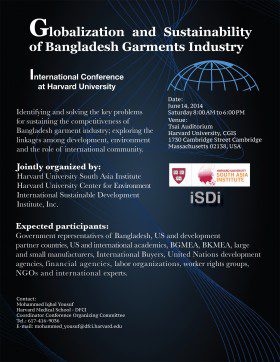 On Saturday, June 14, 2014, SAI is co-sponsoring the 2014 Bangladesh Development Conference, titled 'Globalization and Sustainability of Bangladesh Garment Industry.' The objective of this year's conference is to explore the linkages among development, garment sector and health and safety issues in Bangladesh.
It will highlight the actors and factors that impinge on this linkage at national and global levels. The deliberation will explore how the development partners can more effectively facilitate and assist in solving the key problems for sustaining the competitiveness of Bangladesh garment industry. How to enhance the role international community and of industry experts for practical solutions will come up for discussion.
The seminar is bringing together experts, industry people, NGO representatives and practitioners from development agencies and high level policy makers from Bangladesh and the USA (see list below).
Participants will include representatives from Bangladesh Garment Manufacturers and Exporters Association (BGMEA) and Bangladesh Knitwear Manufacturers and Exporters Association (BKMEA), other manufacturers, international brands and retailers, workers rights groups, international labor organizations, United Nations Agencies, and representatives from international financial institutions.
The organizing committee invites you to attend this seminar and to participate in the discussion dealing with aspects of the global economy, garment industry, trade and development in the context of Bangladesh garments and apparel industry and the role of international community and development partners.
The day-long seminar is cosponsored with the Harvard Center for Environment (HUCE) and Harvard University Safra Center for Ethics.
This event is free and open to the public.
Register here for the conference.
Resources:
Bangladesh – Savar Solutions and Fast Fashion may not be Compatible
By Heather White, Network Fellow, Harvard University
Improving workplace conditions for the Bangladesh Garment Industry
By Arnold Zack Senior Research Associate, Harvard University
Schedule:
7:30 AM – 8:00 AM  Registration & Breakfast
7:45 AM – 8:00 AM  Welcome Addresses
8:00 AM – 9:30 AM Session 1: State of Bangladesh Garment Industry
9:30 AM – 11:00 AM Session 2: Globalization and Labor Standards
11:00 AM – 12:30 PM  Session 3: Trade and Investment Cooperation – Worker rights and Safety
12:30 PM – 1:00 PM   Lunch Break
1:00 PM – 2:30 PM  Session 4: Working Condition, Fire and Building Safety Challenges
2:30 PM – 4:00 PM  Session 5: Responsible and Sustainable Sourcing
4:00 PM – 5:30 PM   Session 6: The Role of International Development Partners
5:30 PM – 7:00 PM Concluding session
The following is a list of participants:
John A. Quelch
Professor, Harvard University
John A. Quelch is the Charles Edward Wilson Professor of Business Administration at Harvard Business School. He also holds a joint appointment at Harvard School of Public Health as Professor in Health Policy and Management.  In addition, he is also a fellow of the Harvard China Fund, a Member of the Harvard China Advisory Board and Associate in Research at the Fairbank Center for Chinese Studies.
Between 2011 and 2013, Professor Quelch was Dean, Vice President and Distinguished Professor of International Management at CEIBS, China's leading business school. Between 2001 and 2011, he was the Lincoln Filene Professor of Business Administration and Senior Associate Dean at Harvard Business School, teaching Marketing in the Advanced Management Program.
Rick Darling
Executive Director, Li & Fung Trading
Rick Darling serves as Executive Director,Government & Public Affairs for Li & Fung Trading, a multi-national consumer goods sourcing company recognized as a leader in design, development, sourcing and distribution with over 300 offices and distribution centers in more than 40 economies. He is a longtime advocate for bringing innovation, creativity and sustainability to the apparel industry and its related supply chain. Rick oversees the company's government relations, public affairs and supply chain sustainability on global industry and multi-stakeholder initiatives such as improving worker safety in Bangladesh. Rick represents Li & Fung as an Advisor to The Alliance for Bangladesh Worker Safety formed by North America's major global retailers and, The Accord on Fire & Building Safety in Bangladesh formed by major European retailers and brands.
Tofail Ahmed
Member of Parliament and Minister of Commerce, Government of Bangladesh
Tofail Ahmed is the Minister of Commerce of Bangladesh and is a Member of Parliament. He is  one of the decorated and senior political leaders in the history of Bangladesh. He joined in active politics since his student life and has ever been involved with different social, political, cultural and developmental activities. As a student leader in 1960's and as an ideal follower of Bangabandhu Sheikh Mujibur Rahman, the role Tofail Ahmed played for independence movement of Bangladesh is well known and unique. He inspired the people from all walks of life across the country during all democratic movements in Bangladesh. He suffered huge hardship on the journey of achieving the civil rights, democratic rights, and human rights and freedom of people of Bangladesh. He is 7 times elected Member of Parliament since 1970 and currently serving third term as a minister in the cabinet with previous experience of being Minister of Commerce and Industry (1996 – 2001) and minister of Housing & Public Works (2013 – 2014).
Congressman George Miller
11th Congressional District of California, United States Congress
Representative George Miller is the senior democrat on the House Education and the Workforce Committee and a leading advocate in Congress on international labor and human rights. First elected in 1975, he represents the 11th District of California. The fifth most senior member of the House, Miller will not seek another term this fall. Throughout his career, Miller has been an aggressive and unapologetic defender of the health and safety of children and workers. The Nation magazine named Miller the 2013 "Most Valuable Member of the House" for his work on the minimum wage, garment worker safety, and fair trade policy.
He was the first member of Congress to visit Bangladesh following two major tragedies that claimed the lives of more than 1,240 garment workers; he met with workers and survivors and inspected factory working conditions. He recently called upon the International Labor Organization to adopt a convention to combat gender-based violence in the workplace as part of an effort to force businesses to better protect their female workers.
Meher Afroze Chumki
Member of Parliament, State Minister for Women Affairs, Government of Bangladesh
Meher Afroze Chumki is a three time elected Member of Parliament in Bangladesh. She is also serving her second term as the State Minister for Women and Children's Affairs. She addresses the issues on the betterment of the capacity of women. She also raises awareness of women on their political rights and self-respect. As a Minister of State for the Ministry of Women and Children Affairs, she guides and supervises all the activities of this Ministry, Department of Women Affairs, Bangladesh Shishu Academy and Jatiya Mohila Sangstha.
Ellen O'Kane Tauscher
Board Chair, Alliance for Bangladesh Workers Safety
Honorable Ellen O Tauscher is the independent Chair of Board of Directors of the Alliance for Bangladesh Workers Safety. The coalition of North American apparel companies and retailers, industry associations, and nongovernmental organizations has been established to improve worker safety at Bangladeshi garment factories.  Ellen Tauscher is a seven-term member of Congress and has worked for the US Department of State. She was appointed by President Barack Obama as under-secretary of state for arms control and international affairs, serving in the role from 2009-2012.
Jonathan Gold
Vice President of Supply Chain and Customs Policy, National Retail Federation
Jonathan Gold is vice president of supply chain and customs policy at the National Retail Federation. In this role, Gold is a primary spokesperson and is responsible for representing NRF before Congress and the Administration on supply chain, international trade, and customs related issues impacting the retail industry. Prior to joining NRF, Gold served as a policy analyst in the Office of Policy and Planning for U.S. Customs and Border Protection (CBP). Before joining CBP, Gold spent nearly a decade with the Retail Industry Leaders Association holding several government relations positions including director and then  vice president of international trade policy before being named vice president of global supply chain policy in January 2005.
Heather White
Network Fellow, Harvard University
Heather White's investigative work on transparency in global supply chains has led to improved industry standards in social auditing and verification practices. She is founder of Verité, a non-profit organization which has won international recognition for its efforts to reduce labor violations in factories producing for American consumer brands. An advisor to the socially responsible investment community for over a decade on labor and human rights issues, she served on the National Academy of Sciences' Monitoring International Labor Standards committee, and was lead consultant on labor standards performance of the State of California (CalPERS) and NYC pension funds from 2001-05. She currently runs New Standards, a consulting network with audit and training teams based in China and South Asia.
Erik Autor
Representing Retail Council of Canada
President and CEO of Autor Global Strategies LLC
Erik Autor is President and CEO of Autor Global Strategies LLC, which he formed in 2013 to provide business consulting services to companies, associations, and governments on public policy advocacy, legal/regulatory, and strategic communications with a focus on international trade/business, corporate social responsibility, transportation/global supply chain management, and customs issues.  He is also affiliated as a partner with DC public affairs firm, Total Spectrum/Steve Gordon & Associates.
From 1998 to 2013, Mr. Autor was Vice President and International Trade Counsel to the National Retail Federation in Washington, DC, where he served as the principal advisor on international trade, customs, international transportation, and supply-chain management issues. From 1992 to 1998, Mr. Autor was International Trade Counsel to the U.S. Senate Committee on Finance.
Michael O'Donovan
Bureau of International Labor Affairs, U.S. Department of Labor
Michael O'Donovan is an international economist at the Bureau of International Labor Affairs (ILAB) in the U.S. Department of Labor, where he works in the Trade Policy & Negotiations division. In his work, O'Donovan represents DOL on the GSP Subcommittee of the interagency Trade Policy Staff Committee (TPSC), which implements the Administration's preferential trade program for developing countries. In addition to his responsibilities on the GSP Subcommittee, O'Donovan also monitors labor affairs throughout South and Central Asia. ILAB closely works on the GSP Action Plan, and on the EU/US/ILO/Bangladesh impact, and have ever closer engagement with the Bangladesh government.
Celeste Drake
Trade & Globalization Policy Specialist, AFL-CIO
Celeste Drake is the Trade & Globalization Policy Specialist at the AFL-CIO, where she advocates for reforms to U.S. trade policy to create shared gains from trade.  She serves as the AFL-CIO's primary advocate for the labor rights cases under the Generalized System of Preferences and free trade agreements and covers issues related to global economic development and foreign investment policy, among others.  She has  been actively involved in negotiations on the Trans-Pacific and Trans-Atlantic trade and investment deals and has testified before the Senate Foreign Relations Committee, various House Subcommittees, the International Trade Commission, and the Executive Branch's Trade Policy Staff Committee.
Alyssa Ayres
Senior Fellow, Council on Foreign Relations
Alyssa Ayres is senior fellow for India, Pakistan, and South Asia at the Council on Foreign Relations. She served most recently in the Obama administration as deputy assistant secretary of state for South Asia during 2010–2013, covering all issues across a dynamic region of 1.3 billion people (India, Bangladesh, Sri Lanka, Nepal, Maldives, and Bhutan), and providing policy direction and support for four U.S. embassies and four consulates. Dr. Ayres previously served the U.S. Department of State as special assistant to the undersecretary for political affairs as a Council on Foreign Relations international affairs fellow.
Aleix Gonzalez Busquets 
Corporate Social Responsibility, Inditex
Aleix Gonzalez Busquets is the Senior Supply Chain Compliance Manager at Inditex Group. This apparel retailer company is based in A Coruña (Spain) and owns brands such as Zara, Massimo Dutti, Bershka Pull & Bear, among others. Nowadays it is one of the largest garment retailers in the world with up to 6,500 stores. Gonzalez Busquets joined Inditex Corporate Social Responsibility Department in 2004 with the main objective of consolidating its supply chain and ensuring a continuous improvement. Aleix is responsible for looking after the working conditions of the suppliers producing for Inditex in countries such as Bangladesh, India, Cambodia, Vietnam, and Turkey among others. On June 2013, he was appointed as member of the "Accord on Fire and Building Safety in Bangladesh" Steering Committee representing the 170 brands signatories.
Dan W. Mozena
US Ambassador to Bangladesh
Since presenting his Letters of Credence to the Honorable President of Bangladesh on November 24, 2011, Ambassador Dan Mozena has endeavored to strengthen, deepen and broaden relations between the United States and Bangladesh.  He has worked to advance the interests of the people of America, Bangladesh and the region by promoting a Bangladesh that is peaceful, secure, prosperous, healthy and democratic.  He and his staff are forging strong partnerships with the Bangladesh government and civil society to bolster Bangladeshi food security and nutrition, improve health, and increase capacity to cope with climate change, natural disasters and other security challenges.
Scott Nova
Executive Director, Worker Rights Consortium
Scott Nova is the founding Executive Director of the Worker Rights Consortium (WRC), a non-profit organization that investigates working conditions in factories around the world producing goods for the US market. The WRC promotes compliance with internationally recognized labor standards on behalf of more than 175 universities and colleges and is the only factory monitoring organization operating on a global level that accepts no funding from industry. A public interest advocate for more than twenty years, Nova is a specialist on international trade, labor rights and corporate accountability issues and has written and spoken widely on these subjects.
Julia K. Hughes
President, USFIA
Julia K. Hughes is the President of the United States Fashion Industry Association (USFIA). USFIA represents all segments of the fashion industry, from apparel brands to retailers to service companies.  Ms. Hughes represents the interests of textile and apparel importers on trade policy issues to government officials, both in the United States and overseas. She has testified before Congress and the Executive Branch on textile trade issues.
Robert Solomon, PE
Division Manager, NFPA
As the Division Manager for NFPA's Building Fire Protection and Life Safety Department, Robert oversees the operations of the department whose projects include the NFPA Fire Code, Life Safety Code and the Building Construction and Safety Code ™. Upon graduation from the University of Maryland he worked with the Naval Facilities Engineering Command in Charleston, SC. Since coming to NFPA in 1986, he has held several positions. He has been an author, editor and technical reviewer for several NFPA publications and handbooks including the Automatic Sprinkler Systems Handbook, Fire and Life Safety Inspection Manual, the NFPA Fire Protection Handbook, Quick Compare™ Life Safety Code® 2000 & 2012 for Health Care and The Joint Commission NFPA Life Safety Book for Health Care Organizations.
Ajay Narayanan
Head of Sustainability and Climate Business Unit, International Finance Corporation
Mr. Narayanan is currently the Head of the Sustainability and Climate Business Unit in the Global Financial Markets department at the International Finance Corporation (IFC), the private sector arm of the World Bank Group. Also part of the Climate Business Group in IFC, his team is mandated with the role of growing the financing of climate change mitigation and sustainability projects through financial market clients of IFC in areas such as Sustainable Energy, Sustainable value chains, Cleaner Production, and sustainable logistics. He has experience both within and prior to IFC in looking at the sustainability aspects in emerging financial markets covering both E&S risk management as well as opportunities.
Arnold Zack
Senior Research Associate, Harvard University
Arnold Zack is an Arbitrator and Mediator of over 5,000 Labor Management Disputes since 1957; President of the Asian Development Bank Administrative Tribunal; designer of employment dispute resolution systems; member of the Steering Committee for the Permanent Court of Arbitration in the Hague; occasional consultant for the governments of the United States (Department of State, Peace Corps, Department of Labor, Department of Commerce), Australia, Cambodia, Greece, Israel, Italy, Philippines, and South Africa, as well as the International Labor Organization, International Monetary Fund, InterAmerican Development Bank, and UN Development Program. He has also been a Member of Four Presidential Emergency Boards (chair of two).
Alfredo (Al) Ramirez
Global Regulatory Services Manager, UL LLC
Al Ramirez has been with UL LLC since 1989.  Al is UL LLC's Global Regulatory Services Manager and primarily works with code authorities in North American and South America. His group assists Authorities Having Jurisdiction (AHJs), domestically and internationally, to resolve product acceptance issues and resolve potential conflicts between UL requirements and installation codes, among other things.  Mr. Ramirez's previous UL assignments in conformity systems were both domestic and international (Asia, Europe and Latin America) in scope. His primary international focus has been in Asia – China, Hong Kong and Taiwan and Latin America—Argentina, Brazil, Chile, Venezuela, Colombia, and Mexico, in particular. His product certification portfolio includes gasoline dispensing and storage equipment, industrial control equipment, fire suppression equipment, fire operation equipment, and hazardous location equipment.
Saifuzzaman Chowdhury
Member of Parliament, State Minister of Land, Government of Bangladesh
Mr. Saifuzzaman Chowdhury is two-time member of the parliament and currently the Bangladesh State Minister of Land. He is the Chairman and Managing Director of Aramit Group and the Chairman of Executive Committee of United Commercial Bank Limited, Bangladesh. He is also a past president of the Chittagong Chamber of Commerce and Industries (CCCI) and under his dynamic leadership, Chittagong Chamber started building the first ever World Trade Centre of Bangladesh. Mr. Saifuzzaman Chowdhury was also the Member of Bangladesh Better Business Forum, National Council for Industrial Development, Chittagong Port Maritime Council and National Management Committee of BATEXPO-2007.
Fauzia E. Ahmed
Visiting Scientist, Harvard School of Public Health
Fauzia E. Ahmed has worked with gender and development programs and policies for low-income families in a variety of countries, including the United States. Early community-based experiences with the African American population, in health and education, enhanced her subsequent work with Non-Governmental Organizations (NGOs) and with the United Nations Development Program (UNDP) in India, Indonesia, Thailand, and her native Bangladesh. She has been Director, Women's Studies at the Indiana University of Pennsylvania since 2006 and currently holds a joint position in Sociology and Women's Studies at the Miami University of Ohio. She is also a Visiting Scientist, in the Women's Health Initiative Program at the Department of Global Health and Population, in the Harvard School of Public Health.
Mara M. Burr
Deputy Assistant United States Trade Representative for South and Central Asian Affairs
Barr is currently responsible for negotiating trade and economic policy issues for Bangladesh.  Ms. Burr works with Members of Congress and staff to brief them on trade and investment matters in this region.  She also is responsible for relations with U.S. state government officials, including assisting in briefings on trade and investment issues for trade delegations and addressing trade and investment concerns for South and Central Asia.  Ms. Burr also leads outreach activities with the state and provincial officials for all the South and Central Asian countries.  Ms. Burr leads USTR's efforts on a number of Trade and Investment Framework Agreements (TIFA) sub-committees, including those on women's economic empowerment, transparency and public participation, and outreach on trade and investment policy issues.
Avedis Seferian
President & CEO, WRAP
Avedis H. Seferian joined WRAP in 2004 and became its President and CEO in April 2012.
During his time with WRAP, Mr. Seferian has developed extensive knowledge of social responsibility issues within the highly complex worldwide supply chains of the apparel, textile and footwear sectors. A recognized expert in the area of social compliance and responsible sourcing, he often speaks on topics in this field at different forums around the world, and is on the Board of Advisors of The Alliance for Bangladesh Worker Safety.
Mark Anner
Associate Professor, Penn State University
Mark Anner is an Associate Professor of Labor and Employment Relations, and Political Science. He is the director of the Center for Global Workers' Rights. He holds a Ph.D. in Government from Cornell University and a Master's Degree in Latin American Studies from Stanford University. Dr. Anner's research examines labor responses to globalization in the auto and apparel industries, corporate social responsibility, and labor law reform and enforcement in Latin America. He is the author of Solidarity Transformed: Labor Responses to Globalization and Crisis in Latin America (Cornell University Press, 2011) and "Corporate Social Responsibility and Freedom of Association Rights: The Precarious Quest for Legitimacy and Control in Global Supply Chains" (Politics & Society, December 2012). Before beginning his academic career, Dr. Anner was a union organizer in Boston and spent eleven years working with labor unions and labor research centers in Central America and Brazil.
Ian Spaulding
Senior Partner, ELEVATE
Mr. Spaulding works with a range of supply chain partners to develop and implement a progressive and more impact-oriented approach to improving working conditions in global supply chains. Mr. Spaulding is the former Director of Global Compliance for a large US-based retailer where he pioneered the largest effort to promote greater transparency and continuous improvement among thousands of factories in China. Previous work for Mr. Spaulding has included working as the Director of Global Compliance for Sears Holdings Corporation (parent company of Sears, Kmart, Lands End and Sears Canada). Mr. Spaulding developed and led Sears' labor compliance efforts globally for more than 6,000 factories in 43 different sourcing countries.
Pascalle Grotenhuis
Head of Division Private Sector, CSR and Infrastructure, Ministry of Foreign Affairs, the Netherlands
Pascalle Grotenhuis is head of division for the private sector and CSR within the Ministry for Foreign Affairs of the Netherlands. She is also leading the taskforce on CSR/Bangladesh. She joined the ministry 12 years ago and held various positions, a.o.at the Africa department, at Royal Netherlands Embassy in London, advisor to the DG for International Development and coordinator for the MDGs. Before that she worked at a Political Institute and for NGO's.
Liana Foxvog
Director of Organizing and Communications, ILRF
Liana Foxvog is ILRF's Director of Organizing and Communications. In 2004, Liana joined SweatFree Communities as National Organizer, and has coordinated ILRF's campaigns in the apparel industry since the merger with ILRF in 2010. By leading workshops and coordinating national conferences, she has played a critical role in helping launch new grassroots campaigns to promote transparency and respect for workers' rights in apparel supply chains. She has been interviewed extensively on ILRF's work advocating for workplace safety and corporate accountability in the Bangladesh garment industry, including by ABC, BBC, CBC, CBS, In These Times, International Business Times, New York Times, NPR, Salon, The Nation, and Wall Street Journal.
Americo Beviglia Zampetti
Head of Economic Section, European Union Delegation to the UN
Americo Beviglia Zampetti was educated at the University of Rome and The Johns Hopkins University, School of Advanced International Studies, Washington, D.C., where he studied international economics and international relations. He received his PhD in social sciences from the Katholieke Universiteit Leuven, Belgium. In 1999-2000 he was Fulbright Research Scholar at Harvard University, John F. Kennedy School of Government. His professional experience includes the Economic Research Department of Italian Institute for Foreign Trade, the Trade Directorate of the OECD, and the Directorate General for Trade of the European Commission. Between 2001 and 2006 he was with the United Nations in Geneva. Since 2010 he is Head of the Economic Section at the European Union Delegation to the UN in New York. He has published widely in the area of trade and investment policy.
John Smith
International Coordinator, United Nations Industrial Development Organization
John Smith has been working with UNIDO as the Long Term Advisor and International Coordinator (LTA/IC) for Textiles and Garment projects in Bangladesh for more than seven years. He is a Chartered Textile Technologist, Companion of the Textile Institute and Fellow of the Textile Institute who has enjoyed a continuous involvement with the Textile and related industries. His career has included Product and Process Development, Management, Marketing, Research and Consultancy both within the UK and Internationally. For the past twenty four years he has worked around the world as an International consultant –specialising in textile company turn-around management in numerous countries for the European Bank for Reconstruction and Development, The European Union, numerous Governments and Aid Donors in 39 countries from China and Mongolia in the east through to Germany and Switzerland in Europe.
Srinivasa Reddy Baki, PhD
Country Director in Bangladesh, ILO
Dr. Srinivasa Reddy Baki is the ILO Country Director in Bangladesh since May 2013. Prior to that, he was the International Expert on Technical and Vocational Education Reforms at ILO Dhaka office.  Before joining ILO he was the senior labor administrator for the state government of Andhra Pradesh in India. As the country director for ILO in Bangladesh, Dr. Srinivas B Reddy is facilitating the $40 million Rana Plaza Trust Fund created for the compensation to the victims' families and welfare of the survivors. ILO is playing a vital role in improving garment factory environment and safety of the workers.
Scott MacMillan
Head of Communications and Outreach, BRAC USA
Scott has worked at BRAC USA since 2011, handling communications and public fundraising for North America. A former journalist, he has spent most of his working life in developing countries, covering covered the transition from communism in central and Eastern Europe in the 1990s as a business journalist, then moving to the Middle East in 2005, living in Cairo and Dubai, where he worked as an editor and freelancer writer. From 2009 to 2011 he worked as a travel writer, travelling full-time through Southeast Asia, China, India, and Africa. His work has been published in Slate, The Boston Globe, and The Chicago Tribune.