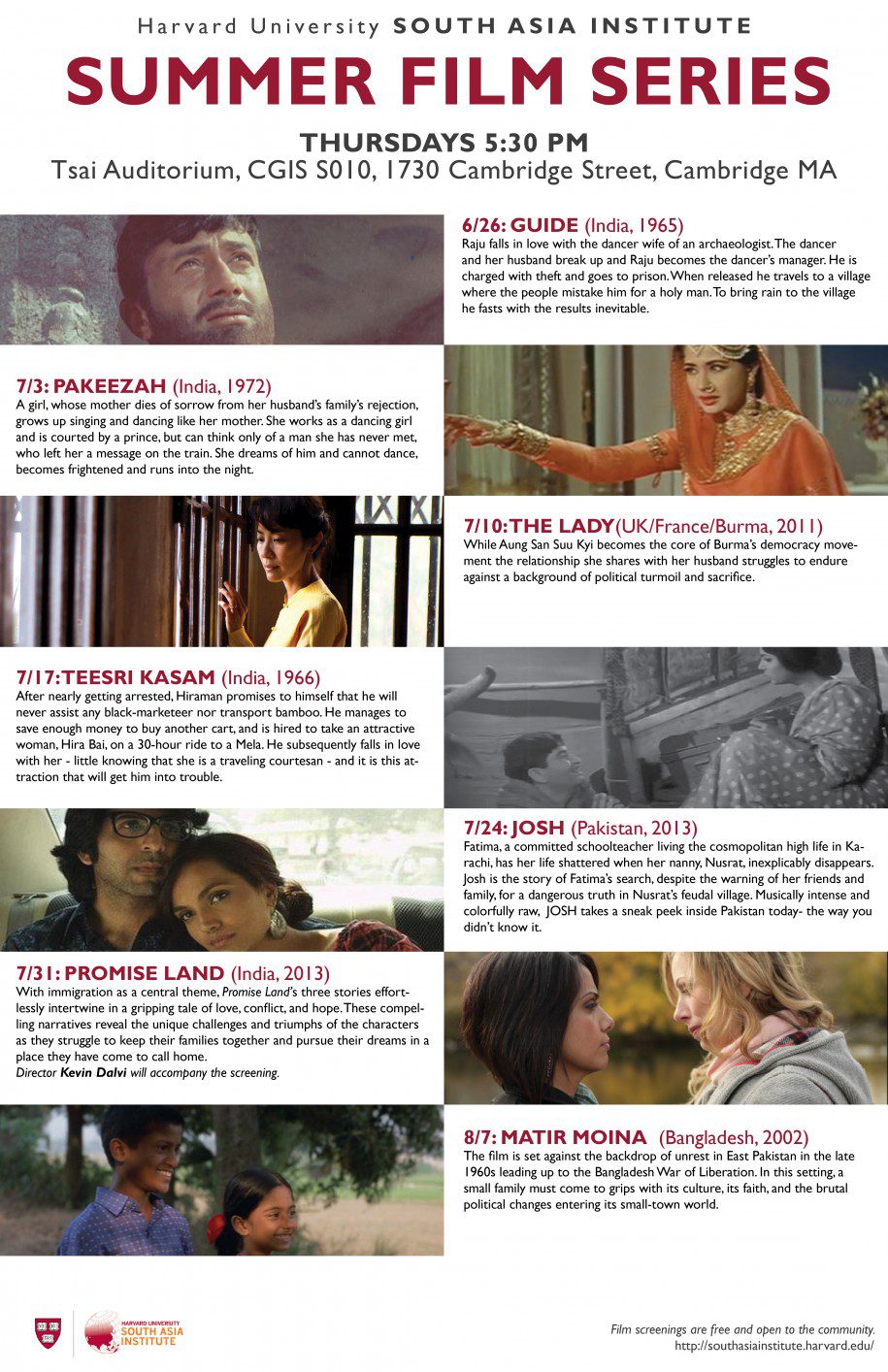 Join SAI this summer for our annual Summer Film Series! Each Thursday, SAI will screen a different film from South Asia. These screenings are free and open to the community.
All screenings begin each Thursday at 5:30 PM, in CGIS S010, 1730 Cambridge Street, Cambridge, MA.
June 26: Guide (India, 1965)
Raju falls in love with the dancer wife of an archaeologist. The dancer and her husband break up and Raju becomes the dancer's manager. He is charged with theft and goes to prison. When released he travels to a village where the people mistake him for a holy man. To bring rain to the village he fasts with the results inevitable.
July 3: Pakeezah (India, 1972)
A girl, whose mother dies of sorrow from her husband's family's rejection, grows up singing and dancing like her mother. She works as a dancing girl and is courted by a prince, but can think only of a man she has never met, who left her a message on the train. She dreams of him and cannot dance, becomes frightened and runs into the night.
July 10: The Lady (UK/France/Burma, 2011)
While Aung San Suu Kyi becomes the core of Burma's democracy movement the relationship she shares with her husband struggles to endure against a background of political turmoil and sacrifice.
July 17: Teesri Kasam (India, 1966)
After nearly getting arrested, Hiraman promises to himself that he will never assist any black-marketeer nor transport bamboo. He manages to save enough money to buy another cart, and is hired to take an attractive woman, Hira Bai, on a 30-hour ride to a Mela. He subsequently falls in love with her – little knowing that she is a traveling courtesan – and it is this attraction that will get him into trouble.
July 24: Josh (Pakistan, 2013)
Fatima, a committed schoolteacher living the cosmopolitan high life in Karachi, has her life shattered when her nanny, Nusrat, inexplicably disappears. Josh is the story of Fatima's search, despite the warning of her friends and family, for a dangerous truth in Nusrat's feudal village. Musically intense and colorfully raw, JOSH takes a sneak peek inside Pakistan today- the way you didn't know it.
July 31: Promise Land (India, 2013)
With immigration as a central theme, Promise Land's three stories effortlessly intertwine in a gripping tale of love, conflict, and hope. These compelling narratives reveal the unique challenges and triumphs of the characters as they struggle to keep their families together and pursue their dreams in a place they have come to call home.
Director Kevin Dalvi will accompany the screening.
August 7: Matir Moina (Bangladesh, 2002)
The film is set against the backdrop of unrest in East Pakistan in the late 1960s leading up to the Bangladesh War of Liberation. In this setting, a small family must come to grips with its culture, its faith, and the brutal political changes entering its small-town world.