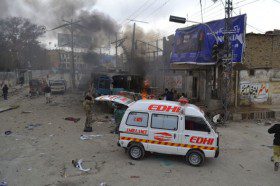 By Satchit Balsari, Fellow, FXB Center for Health and Human Rights, Harvard University; Director, Global Emergency Medicine Program, Weill Cornell Medical College / NewYork-Presbyterian Hospital
Earlier this year, a delegation from SAI visited the Aga Khan University Hospital and observed some of Pakistan's unique emergency care challenges.
One of the most populous cities in the world, yet one of the least understood, especially in the West, is the bustling port-city of Karachi, home to over 20 million residents and financial capital of Pakistan. Spread over 1360 square miles, Karachi is a dense urban agglomeration accommodating over 15,000 people per square mile. Tracing its roots back to the old town of Kolachi, settled by Sindhi and Baloch tribes, Karachi saw exponential growth in the second half of the 20th century. Starting with a population of about 400,000 on the eve of Pakistan's Independence in 1947, the city absorbed wave after wave of migrants—first Muhajirs from partitioned India, then immigrants from the newly independent Bangladesh (erstwhile East Pakistan), and finally Pashtuns from Khyber Pankhtunkhwa, the Federally Administered Areas, northern Balochistan, and Afghanistan.
Consequently, Karachi is now a bustling South Asian metropolis, with all the trappings of modern South Asian cities: overcrowding, unplanned growth, inadequate rapid transit facilities, poor water and sanitation facilities, unsafe housing, unorganized labor, and an unflappable, can-do populace with hopes for a better tomorrow.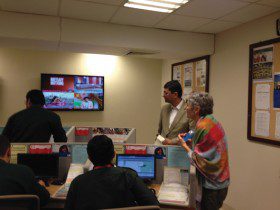 In addition to the challenges faced by rapidly expanding urban centers, Karachi faces the constant threat of terrorism. In 2013, there were 94 bombings in Karachi—one every four days. More than 700 Karachiites were injured, and 124 died. As recently as April 24, 2014, six people were killed and over 30 injured as a result of another suicide bomb in the city.
The bombings have not spared healthcare facilities, either. In 2010, as victims of a bomb blast were being brought to one of Karachi's premier public hospitals, Jinnah Post Graduate Medical Centre, a bomb went off outside the emergency department, shattering glass, breaking walls and injuring and killing patients and staff. Dr. Seemin Jamali, who has served as chief of the emergency department at JPMC for two decades recollects the day vividly. "We were busy taking care of the crowded emergency department when there was a huge explosion and I was thrown to the ground. One of my staff helped me out." The sporadic bombs and targeted killings continue unabated, adding a sheen of perpetual uneasiness to daily city life. This reign of violence overlays all other medical emergencies in Karachi, including an astounding 30,000 annually reported road traffic injuries.