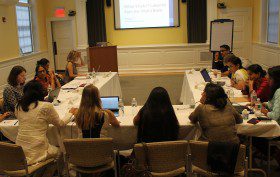 On August 26 and 27, practitioners, researchers, government leaders and academics from both the US and India gathered to explore how gender violence in South Asia can be prevented in a workshop hosted by SAI and the Radcliffe Institute for Advanced Study, titled 'Gender, Civil Society, and the State in Contemporary South Asia: Preventive Approaches to Gender Based Violence.'
The workshop was meant to shed light on the research being undertaken as part of the Harvard Gender Violence Project, a research initiative coordinated by SAI and led by Jacqueline Bhabha, FXB Director of Research, Professor of the Practice of Health and Human Rights, Harvard School of Public Health, Jeremiah Smith, Jr. Lecturer in Law, Harvard Law School, Adjunct Lecturer, Harvard Kennedy School, and Akshay Mangla, Assistant Professor, Harvard Business School.
This workshop was an important step in exploring how to reduce gender violence in South Asia, Bhabha explained, given that there is an urgent need to consider the relation between gender and violence focusing on legal reform, civil society and changing norms.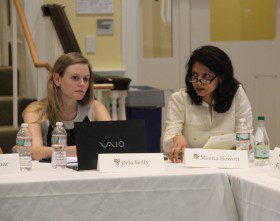 In the Indian context, the seminar brought forth the idea that there is a need to examine what ideas about sexuality, puberty and gender roles mean for violence. Education, Bhabha said, can be the first place to think about changing norms. When working on education and sexuality, there is an assumption that change will take place by changing the curriculum and investing in education.
Over a series of sessions, participants discussed the current policy landscape related to education, successes and failures of implementing programs on gender and education, current research being undertaken, and what the next steps should be in addressing these issues.
This seminar examined: Ideas about agency and the role of violence in gender norms; incorporating life skills and various other strategies to engage with young people and develop conceptions about themselves and others in education curriculum in schools; how norms can be changed, and how people, institutions and bureaucracies change; and how these initiatives can be better implemented in India.
Participants stressed that although India has made progress in promoting women's empowerment and gender equality, there is still much work to be done. Participants noted that patriarchy is deeply ingrained and resilient to change, and violence increases when it is threatened.
There is a need to understand masculinity and work with men, according to some participants. Efforts must be made to move beyond individual ideology and labels to find the most effective way to achieve highest impact using what works best for a community.
Many experts point to sex education in schools as a solution, although politics remains an obstacle to implementation. Social norms still make it difficult for countries like India to enact proper sex education in schools, and at home.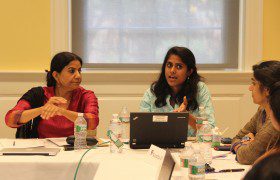 Furthermore, education for girls is critically linked to women's empowerment. According to participants, residential spaces and schools for girls are crucial to empower girls as they support each other, and a bond is created which acts as a support system that helps them stand up against exploitation.
The workshop framed several further research questions, including: How can we engage adolescents in India, who make up a large part of the population? How can state structures meet the needs of the population better? What roles do parents and teachers play? What are the appropriate agencies that should intervene? How can large-scale impacts across India be measured? How can we advocate for ending this form of marginalization of institutions in private sector, civil society and within the government? How can we mobilize young boys and men to reduce violence?
Next steps: The idea of holding another conference held in January was discussed as a way to bring together government, NGOs, academics and practitioners. A dialogue could be started with the appropriate government authorities to share challenges in implementation, drawing from examples mentioned at the workshop.
View full list of participants.