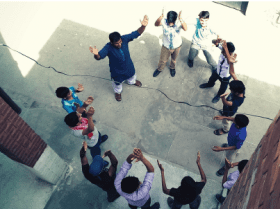 Rabtt was awarded a SAI Omidyar Grant for Entrepreneurship in 2013, an award given to students who wish to pursue projects that provide entrepreneurial solutions to social and economic problems in South Asia. The grant was awarded to: Saniya Ansar, Harvard Kennedy School, Asad Husain, Harvard Business School, Nora Elsheikh, Harvard Graduate School of Education, Haider Raza, Harvard Kennedy School, and Imran Sarwar, Harvard Kennedy School.
Rabtt operates in public schools as well as private schools in Pakistan, working to improve three core competencies among students: critical thinking, tolerance, and creativity.
Read more about what they are up to this summer on SAI's Summer Blog.
Connect. Educate. Evolve – A Story of Rabtt from Rabtt Official on Vimeo.