Harvard University, established in 1636, celebrated its 378th anniversary on September 8th, 2014. Coincidentally, Chennai (formerly called Madras) in Tamil Nadu, India, celebrated its 350th anniversary on the same day with week-long festivities. In partnership the Harvard South Asia Institute (SAI), the Harvard Club of Chennai celebrated the historic event in a unique gathering that included a cartoonist, pianist, and a quiz about famous Harvard quotes.
Although light-hearted, the event skillfully brought out threads of commonality between the iconic institution of Harvard, the oldest institute of higher education in the United States, and the historic city of Chennai, the oldest modern city of India. Through art and music, the event displayed how both have the potential to catalyze social change.
The event was held at The Forum, a leading art gallery in Chennai where cartoonist Biswajit Balasubramanian and pianist Anil Srinivasan joined forces to produce a music-and-cartoon event depicting the humorous side of the often serious business of life in Chennai. Also on exhibition were a collection of over 100 Chennai-themed cartoons drawn by Biswajit over the years. Anil Srinivasan is a classical pianist, best known for his collaborative work with Carnatic vocalist Sikkil Gurucharan.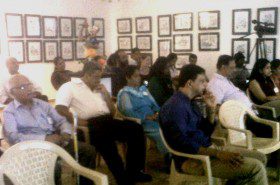 "It might be said now that I have the best of both worlds. A Harvard education and a Yale degree." – John F. Kennedy
"Harvard makes mistakes too, you know. Kissinger taught there." – Woody Allen
"A Harvard Medical School study has determined that rectal thermometers are still the best way to tell a baby's temperature. Plus, it really teaches the baby who's boss." – Tina Fey
"Harvard takes perfectly good plums as students, and turns them into prunes." – Frank Lloyd Wright
The audience participated enthusiastically, and the quiz set the mood for the second half of the program. Anil played music by various veterans of Tamil music while Biswajit showed slides of his cartoons-in-progress. Anil played well-known pieces by famous musicians of Tamil Nadu like M.S. Subbulakshmi, Illiaraaja, A.R. Rahman while humorous caricatures were displayed.
The event was organized by Kapil Vishwanathan and Sridevi Raghavan of the Harvard Club of Chennai, with Payal Narain of the Harvard South Asia Institute.