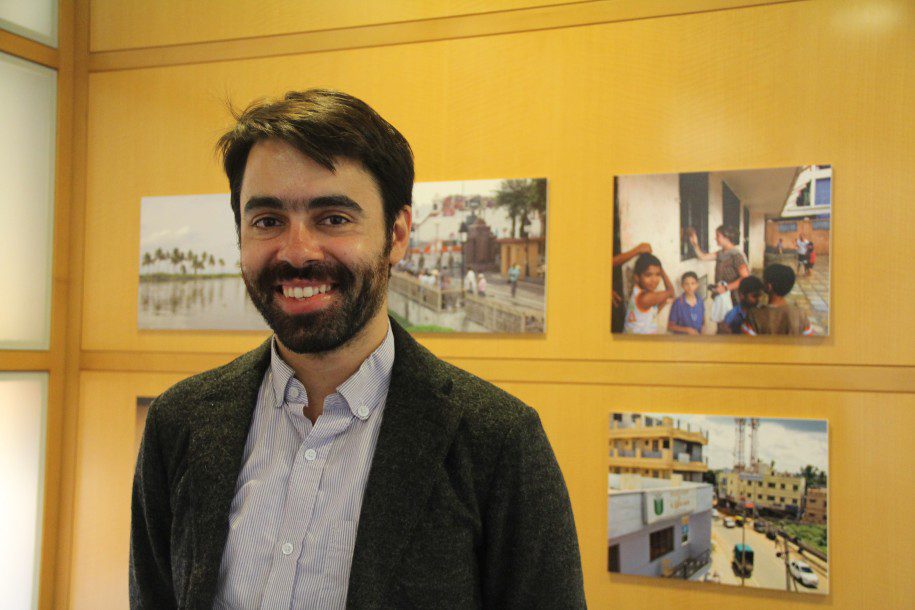 In a Q+A, SAI's 2014-15 South Asian Studies Fellow Anand Vaidya explains his interdisciplinary research on the politics conservation in India, and why India is the best place in the world to study the social sciences.
SAI: Could you talk a little about your background, and what led you to the Raghunathan Family Fellowship?
Anand Vaidya: Well when I began my undergraduate, I was originally a biologist. I went to high school in Bangalore, in South India, and I slowly became interested in anthropology via the anthropological study of science and its political uses, particularly in conservation in India. I ended up double majoring in anthropology and biology. It was something that was interesting enough to me that I decided to go on and do my PhD in Anthropology, studying the politics of conservation in India.
Soon before I started my PhD in 2007, a law had been passed in India, called the Forest Rights Act, which was passed in 2006. The law recognizes for the first time, the rights of forest-dwelling people to the land that they live on. Over the last century or more, millions of forest-dwelling people have had their land claimed, they have been evicted from their land, and they have been harassed on an ongoing basis. So this law was passed, and it was very controversial.
A number of my friends who were involved in environmentalist NGOs in India were talking about the new Forest Rights Act, and I decided to focus on it for my dissertation. And it's that work on this law, and the movements that helped pass it, and the groups now involved in organizing people to claim land rights through it, that I wrote my dissertation on, and it's that work that I am continuing right now at the South Asia Institute. I'm writing articles based on the research I did for my PhD, and I'm beginning my book manuscript.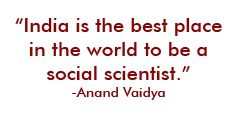 SAI: What was so significant about the 2006 Forest Rights Act that you devoted so much of your research to it? 
AV: It's huge. The forest department in India controls nearly a quarter of the country's land area. There are millions of people who either live on the land, or who live outside the forest and depend on it for their livelihoods. Denying them land rights has been a major cause of the Maoist insurgency that is going on. It is one of the major causes of the poverty of the Adivasi people who live in these areas.
The politics around it are really complicated too, because obviously, India needs to protect its forests if disastrous climate change is to be averted. India is more sensitive to climate change than most countries because it is so dependent on the monsoon, and because it is such a large population in a small area of land. I think the politics of it are fascinating.
Q: What role does gender play in the movement?
AV: The movement I did my research on was actually a women's Dalit and Adivasi forest-dweller organization. It was led by women, and they really see the struggle to get rights to the forest as being simultaneously a question of gender justice. Something that one of the women in the village I was working in told me, was that even if they don't get land rights, the struggle for land rights will have changed their lives. Before they started the struggle for land rights, the higher-caste men in their village and outside the village used to harass them regularly, and gender violence was much more common. Just the fact that they had been organized in this way made them feel a lot safer and a lot more powerful. So this organization that was formed for land rights had really changed gender relations in the area.
SAI: Why India, when studying biology and anthropology? What makes India a good subject for these fields? 
AV: So first it [working in India] was to see my family and do my work at the same time. But I do think that India is the best place in the world to be a social scientist. I think it's the best place in the world to study politics. I think the politics are more complex – it might be the scale of the country, the parliamentary system, the depth of the problems. There are so many different political parties, so many different formations, so many different languages, religions, caste and community groups. There is also a very long history of political mobilization and political consciousness.
SAI: You are bringing in multiple disciplines (anthropology, history, biology, political science, political economy, legal studies) to study this issue. Why is an interdisciplinary perspective so important?
AV: It was kind of an organic outcome of the question I asked. If you're looking at how this law got passed, what it does to political relations and this movement, you can't answer that without looking at the history of property and law in these areas. There are critical economic questions, as well as critical ecological questions. There is just no way to understand what has happened and what's happening without drawing on a variety of disciplines.
This interview has been edited for clarity and length. 
The South Asian Studies Fellowship (Now known as Raghunathan Family Fellowship) supports recent PhDs in the humanities and social sciences related to South Asia. Read more.