"Bartholomew's calm and measured narration of his time spent in the city and the ethics of photojournalism more generally, at once contextualized this otherwise unimaginable tragedy and helped us reflect on its legacies."
Indian photographer Pablo Bartholomew, spoke at two SAI events during his week at Harvard, part of SAI's Arts Initiative.  In a seminar on Nov. 4, 'Anatomy of a Man-Made Disaster: Thirty Years Later, Remembering the Bhopal Gas Tragedy' Bartholomew shared his first-hand experience documenting the tragedy that killed thousands. Many of his photos became the iconic images of the event and exposed the horrors to the world.
Read: Interview with Pablo Bartholomew
Since first visiting Bhopal in 1984, Bartholomew has since returned several times to document the healing process. "I feel I have a kind of responsibility to give something back," he said of his efforts to document the aftermath.
In 'A Personalized History of Indian Photography, 1880 to 2010' on Nov. 5, Bartholomew took the audience on a photographic journey, in which he shared a collection of Indian photographers who have influenced him, including: his father, Richard Bartholomew, Sunil Janah, Homai Vyarawalla, Kulwant Roy, Dayanita Sing, Raghu Rai (who he called the 'godfather of Indian photography'), Kishor Parekh, Ketaki Sheth, Swapan Parekh, and Gauri Gill.
Bartholomew's exhibit Coded Elegance will be on display at Harvard until Jan. 31, 2015 (CGIS South Concourse, 1730 Cambridge Street, Cambridge, MA; Open to the public Mondays-Thursdays 7am – 9pm; Fridays 7am – 7pm). Coded Elegance is a series of ethno-anthropological photographs of tribes and people of the hills and valleys of Arunachal Pradesh, Nagaland, and Manipur, taken from 1989 to 2000.
SAI spoke with several attendees to get their reactions to the events and photo exhibit:
"Pablo Bartholomew's lecture offered a fascinating exploration of the history of photography in India.  It was wonderful to see the work of senior artists such as Raghu Rai as well as the experimental images of younger photographers.  Pablo's color images of Manipur and Nagaland in the exhibition are very striking.  But his black and white images of urban subcultural milieus in the seventies leave deep impressions – of rebellion, intimacy, and desolation."
–Shankar Ramaswami, Director of Undergraduate Studies, Deptartment of South Asian Studies, Harvard University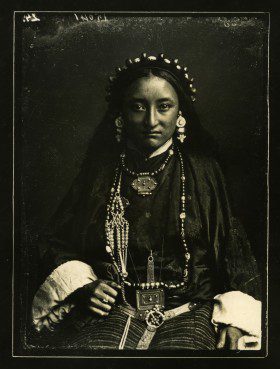 "I was deeply moved by the seminar with Pablo Bartholomew on Bhopal, and equally inspired by his lecture on Indian photography the following day. As a long-time admirer of Bartholomew's work, I was eager to see and hear him in person. The images of Bhopal, shown in rapid-fire succession, were intense and almost overwhelmingly powerful. And yet, Bartholomew's calm and measured narration of his time spent in the city and the ethics of photojournalism more generally, at once contextualized this otherwise unimaginable tragedy and helped us reflect on its legacies. The lecture on Indian photography, on the other hand, was more about others' work, from pioneers to contemporaries to the younger generations – which speaks to Bartholomew's generosity of spirit. The highlight, for me, was the juxtaposition of his father Richard Bartholomew's photographs with his own. Both events gave the audience a unique opportunity to view hundreds of photographs that we would not otherwise have seen in one place, rather like going through a fascinating museum exhibit curated especially for us."
– Mircea Raianu, PhD Candidate, Department of History, Harvard University
"Having visited his exhibition called 'the Calcutta Diaries' in Delhi about two years ago, I felt overjoyed after reading this news [that Bartholomew would be at Harvard.] I remember I was doing my Master's in English from University of Delhi back then.  And, for a class presentation I needed to work on Arthur Miller's 'Tragedy and the Common Man'. The essay echoed with me as I watched the photographs of immigrant Chinese community of Calcutta. The feelings they evoked did not lose in the ebb of time. Instead, these resurfaced with an unprecedented intensity when I saw the exhibition at CGIS. Though this exhibition had a different theme, Pablo's interest and keen eye for individuals and cultures were quite evident.  In his talk, the photographic journey on which Pablo took his audience was mesmerizing. Hearing him speak about the history of Indian photography left me wanting for more, as photography as an art and form interests me. Overall, I found the two events really enterprising and inspiring."
–Shivani Sharma, Fulbright Foreign Language Teaching Assistant (2014-2015), Boston University
Bartholomew was SAI's first artist to come to Harvard as part of SAI's new Arts Initiative. With support from the Donald T. Regan Lecture Fund, the Arts Initiative at SAI brings experienced and emerging artists to Cambridge whose work focus is on social issues related to South Asia.