By Mariam Chughtai
''When elephants fight, it is the grass that suffers"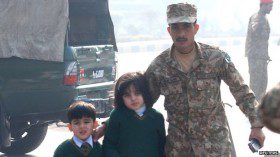 Pakistan was struck with tragedy on Dec 16, 2014. Seven men armed with guns and suicide vests, went classroom-by-classroom killing children at a local Army Public School in Peshawar, Pakistan. The Army was able to rescue 960 people; of the 141 people killed, 132 were children.
A Kenyan saying encapsulates today's events: 'When elephants fight, it is the grass that suffers.' Earlier this week, people of South Asia came together in celebration for children's rights, as Malala Yousufzai from Pakistan shared the Nobel Peace Prize with Kailash Satyarthi from India.
Today, we come together in grief to realize the extent of work that needs to be done. The killing of school children today was claimed to be a planned and symbolic revenge by the Taliban for attacks against their women and children in the ongoing Pakistan Army operation Zarb-e-Azb.
This is a day of deep reflection. War strategy against extremists, whether through drone strikes or carpet-bombing, must factor in the lives of children beyond collateral damage and prepare especially to protect the most vulnerable in society on both sides.
Pakistan has spent much time preparing for outward existential threats but has yet to address the enemy within. A real solution needs judicial, political and civil society bearing responsibility in this fight against extremism.
**The Harvard Pakistan student community has organized a vigil today at 5:30pm in Harvard Yard (by John Harvard's statue) to share in each other's grief and to unite in the standing up to extremism.
Mariam Chughtai is a doctoral candidate at the Harvard Graduate School of Education.